Good Weeds Lounge was only open for about a month in Toronto's east-end. It was the first cannabis lounge / dispensary that allowed non-medical users to purchase and vaporize marijuana on the premises.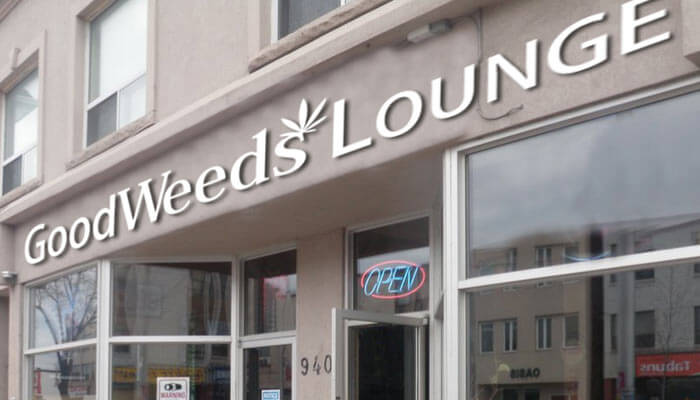 "Totally Illegal" Toronto Dispensary Shut Down, Owners Charged
A reported from Vice News covered the story shortly after they opened their doors, calling the business "totally illegal." Just 9 days after the Vice story was published on January 12th, the Good Weeds Lounge was raided by Toronto police and owners Erin and Chris Goodwin were put into police custody.
The owners of the Good Weeds Lounge were charged with two counts of possession for the purpose of trafficking, both marijuana and cannabis extracts, as well as a charge for possession of the proceeds of crime. Erin also got a charge for possession of marijuana.
Vice reporters asked Chris Goodwin if he was afraid of being shut down, he replied "I have been doing this a long time, and I have complete confidence in what we're doing. I've thought this through endlessly." he said.
Unfortunately Chris didn't think it through thoroughly enough. Legalization is underway in Canada, with the new Prime Minister promising to make pot prohibition history. However, cannabis is not legal in Canada yet.
Change Is Coming. Slowly
Some judges are deciding to take it into their own hands, protesting the wasted police effort and lives ruined because of possession and personal marijuana use. One Quebec judge spat in the face of law enforcement by charging a man $1.30 after he was charged with possession of 30 marijuana plants.
Clearly not everyone is on board with the legalization movement sweeping across Canada. Some officers are voicing their support for legalization, while others are continuing to enforce the unjust and baseless laws that have ruined so many lives.
I find it difficult to feel too bad for Chris and Erin Goodwin. It's always great to see people voicing their opinion when it comes to ending prohibition, but taking such a bold step while cannabis is still illegal probably isn't the best idea.
A dispensary in Winnipeg, Manitoba was shut down a few months ago, even after PM Trudeau voiced his support for it. The dispensary didn't provide cannabis for anyone without a medical marijuana card, yet the police still decided to shut it down and arrest the owner.
Cannabis prohibition in Canada is still a reality, and change is slow; far slower than we had hoped for. Police seem to be turning their heads when it comes to possession and personal use, but opening up shop and selling to anyone off the street is sure to garner some attention from the RCMP.
Comments