The Arizer Air is one of the most popular portable vaporizers because of it's friendly price point, virtually unlimited customizability and remarkable efficiency. We are super stoked we're able to review the Arizer Air for you and put this fantastic vape on display. Keep in mind, we are reviewing the 'stock' Arizer Air, no special attachments or mods, just what comes in the box.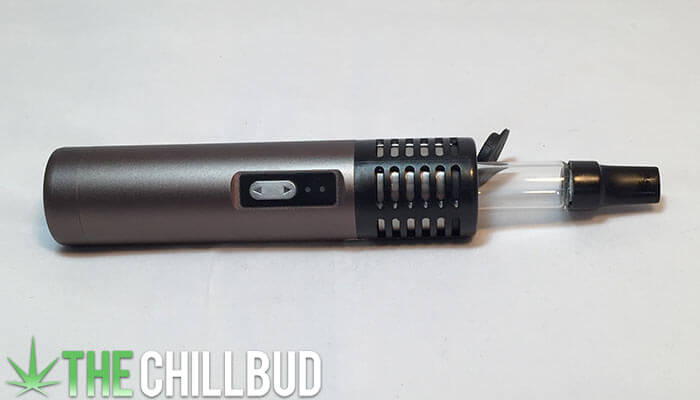 Arizer Air Review
Coming in at $229, the Arizer Air isn't the cheapest portable vape available, but it's a far cry from some of the most expensive models. The price puts it in the same league as the Pax 2, DaVinci Ascent and Haze Dual V3, and in my humble opinion, it gives them all a run for their money. Before we get into why the Arizer Air is such a great vaporizer, let's take a look at what comes in the box.
Found in the box:
Arizer Air Vaporizer

Wall charger

Protective silicone vaporizer skin

Carrying case

Stainless steel stir stick / pick

1 Glass aroma dish

2 Glass stems / mouthpieces

2 Rubber stem caps

Sample herb pack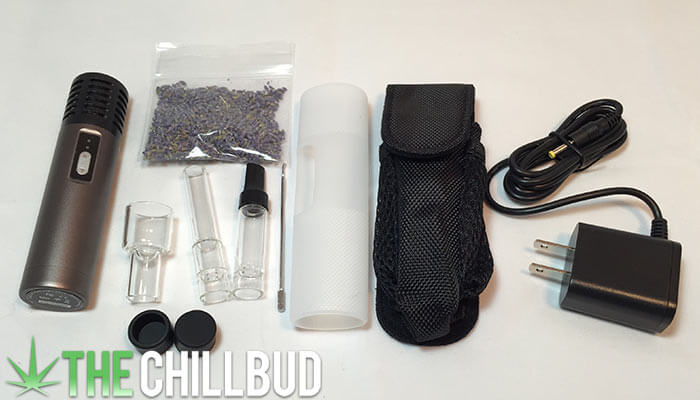 Arizer spruced up their Solo model and released the sleeker, more refined Air model. The Air uses the same high quality heating chamber as the Solo, but in a much smaller and lighter body. A user-replaceable lithium battery is another great touch that sets the Air apart from other similar vaporizers. You have the option to get a couple of batteries to ensure you always have one fully charged, or you can easily replace a battery that has reached the end of its life.
There are 5 pre-set temperature settings to choose from, ranging from 356° F to 410° F, and the heat up time is lightning quick! A fully charged battery will offer between 4-6 full uses (about an hour of continuous use), which isn't much. I found myself needing to use a little more than 1 full heat cycle in order to get the most out of my bowl, meaning I only got 2-3 total uses before I needed to charge the Air up again.
Vapor quality is the most important factor regardless of the vaporizer, and the Arizer Air offers some amazing vapor! Taste is clean, density is fantastic, it isn't harsh at all, and it's one of the most efficient portable vaporizers I've used. Having just reviewed the Arizer desktop model, the Extreme Q, which also has awe-inspiring efficiency, I didn't expect anything less from their top tier portable model, and I wasn't disappointed. The draw was
The Arizer Air feels very solid, there are no rattling parts or cheap feeling components. They use a dual purpose button for cycling through temperature settings as well as turning the device on and off. You do have to choose your temperature each time you turn the device on, which can be a bit of a nuisance when you forget about it and draw from an ice-cold vape.
The vapor draw from the glass stem that has the mouthpiece is slightly restricted, but not enough to make it a con. I found the draw to be totally comfortable, offering thick clouds of cool vapor without any effort. One issue I had when I first fired up the Arizer Air was the lack of a screen in the mouthpiece. I had little bits of herb traveling up the stem and into my mouth the entire session, which would make the vape almost unusable until remedied. Switching from a very fine grind to a coarser grind will also fix this issue. I'd like to see them include a screen in the box, but thankfully I had one lying around that fit perfectly. 
Pros
I love how the Arizer Air delivers clean, smooth and dense vapor clouds time after time. Of the similarly priced vaporizers mentioned above, I'd say the Air offers the densest vapor clouds hands down. Seeing as this vaporizer is popularly paired with a water pipe, users will really appreciate the extra thick clouds.
The Air is easy to use and I found it extremely efficient. I'd be hardpressed to think of another portable vaporizer that offers similar efficiency, the only ones that come to mind are desktop models. The bowl itself is rather small though, perfect for solo-sessions but a bit small for company. But you can rest assured you're getting every bit of goodness out of each pack.
Even though I just used the Arizer Air as is, I can why it is one of the most popular 'modded' herbal vaporizer. It is sleek, light and it's just begging for a glass on glass stem to make it compatible with your favorite bong. The fact that you can easily unscrew the battery compartment and switch them out freely is another huge boon of the Air.
Cons
My main gripe with the Arizer Air is the battery. I understand there are limitations here, and the battery usually takes up the majority of the space in any portable vaporizer. The fact that you can easily swap batteries is great, but I would like to see a longer battery life. Only getting a few full sessions per full charge just isn't enough if I'm supposed to consider this a portable vape. Also, the low battery warning isn't very helpful, I'd like to see a feature that allows users to check the battery life regardless of the charge level, not just when the vape is 2-minutes from dead. The Air does give you an indicator light when it's turned on to let you know where you're battery is at, but it's not very specific and easily missed.
The glass stems have 4 small holes where the vapor pours through, and plenty of finely ground herb. Using a coarser grind did help things, but there was still tiny pieces of herb finding their way through the stem to my mouth, especially deeper into the session. I don't need to see a full overhaul of the glass mouthpiece, but including a few small screens in the box would be a good idea.
Having to set the temperature each and every use seems a bit unnecessary. I'd like to see the Air just pick up where it left off and assume I want it to heat up to the last temperature setting used. There is a feature that allows you to re-set the last used temperature setting by hitting the down arrow twice.
A very minor problem that many other portable vapes are guilty of and I didn't mention anything, is the omission of a USB charger. I can't really fault Arizer for this, but for convenience sake, a USB charger in addition to the wall charger would be awesome! But this is just me reaching for cons because the Arizer Air is so dope it's hard to find many problems.
Final Thoughts
Arizer truly impressed me with the Air. I had some pretty major expectations after reading all the Air-fanatic posts on vaporizer forums and /r/vaporents, and it lived up to the hype. The battery life situation came as a bit of surprise because not many people found this to be an issue, so maybe I'm just expecting too much from such a refined vaporizer.
Again, the Arizer Air blew me out of the water and it was completely stock! I can only imagine how amazing this thing performs after sprucing it up a bit with a glass on glass adapter and a small water pipe. I'd recommend the Air to anyone who primarily uses their vape at home, but likes to have the option to take it on the go. It's best suited for solo tokes, but can easily accommodate a 2-person session as well.
Get yours here: arizer.com
Arizer Air
Vapor Quality -

8.5/10

Build Quality -

8/10

Usability -

7.5/10

Stealth -

7.5/10

Value -

7/10
Overall Score
High quality performance with dated tech compared to newer Arizer models.
Comments