We reached out to our friends at Arizer to put together a review for their prestigious Extreme Q desktop vaporizer. Not only did they send over a unit for us to try out and review, they sent their whole line of vapes to try out! To say we we're stoked would be a massive understatement. After all we're on a mission to put together the ultimate list of the industries best vaporizers, and it wouldn't be complete without the Arizer line.
Arizer Extreme Q Review
The Arizer Extreme Q is a very important desktop vaporizer for a few reasons, primarily because it's the Volcano's main competition. Seeing as the Arizer Extreme Q is only $239, about half the price of a Volcano, the choice seems pretty clear to me. Let's take a look at what comes with the Extreme Q before we dive into the details.
Found in the box:
Arizer Extreme Q Vaporizer

Remote control

2 Glass cyclone bowls

1 Glass aromatherapy bowl / dish

Extra flat & dome screens

2 extra glass whip mouthpieces

Glass stirring tool / poker

3 foot whip

Glass mini-whip adapter for bags

2 Bags with glass adapter

Wall charger

Sample herb pack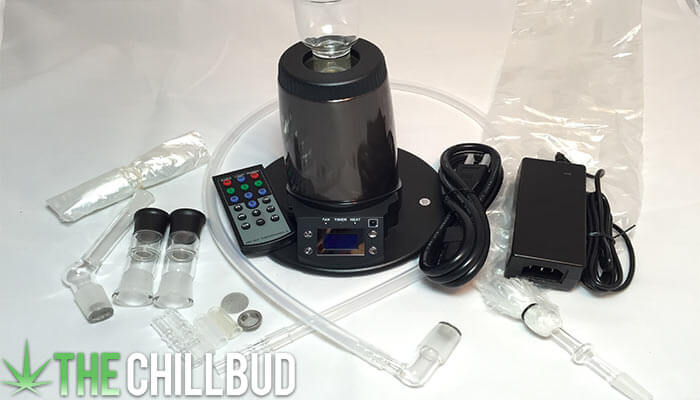 Essentially an upgraded version of the class Arizer V-Tower, the Extreme Q has all the bells and whistles you want, and then a couple more for good measure. Dial in the temperature to within 1° C, displayed on the easy to read digital screen. Choose between 3 different fan speeds (or turn it off), and enjoy the dope blue light surrounding the base! All controlled conveniently from the remote control or by the buttons located on the front of the unit.
Heat up time is a bit of a tricky thing. It heats up extremely quickly, I'd say about 30-60 seconds. However, I find it takes a while to actually start producing vapor, so I like to wait a few minutes to allow everything to heat up. This way I can get a nice full vapor pull on the very first toke, as opposed to hauling next to no vapor for the first couple of minutes.
The Extreme Q doesn't cut any corners when it comes to quality. All the glass fittings are very well made, fit snugly together and give the vapor a flawless taste compared to conventional plastic fittings. The one exception here is the hose itself (on the whip) and the plastic bag, these didn't seem to affect the taste from what I could tell though. Perhaps it's because the vapor is quite cool by the time it reaches these plastic areas, so it doesn't leach any of the taste / smell.
I guess I'm pretty easily amused, but I was over the moon with the Extreme Q's remote control. Being able to turn the unit on and off from across the room is purely a novelty for me, but now that I've had this luxury I wouldn't have it any other way! It makes me wonder if I should have reviewed the remote-less V-Tower first…
The Arizer Extreme Q takes a bit of getting used to, for example, I found the temperature needed to be a bit higher than I would normally use in order to get proper rips. Nothing crazy, but it's certainly a few degrees higher than I typically like to vape, but the end result is the same, cool, full vapor rips and lightly toasted brown herb. Another thing that takes some practice is filling the bag. You'll want to let the herb sit in the bowl and reach temperature for a few minutes before filling the bag. We found the most success by starting with the second fan speed for 10 seconds or so, then dialing it up to the third fan speed for the remainder of the fill.
Pros
First and foremost, vapor quality is the most important thing when it comes to choosing the right vaporizer for you. Well, the Extreme Q offers supreme vapor quality, it tastes great, you can get fantastic density and it is efficient as hell! It's probably one of the most efficient vaporizers we have ever used, one modestly sized bowl offers rip after rip of cool, dense vapor.
The sleek and modern design are a joy to look at. It looks as if it would be right at home in a luxury kitchen (mostly because of the brushed aluminum look). But even the design of the bowls / glass fittings themselves are fantastic! Yes it all looks very nice, but it's functional and super simple to clean which is even more important.
Price. Looking for a premium desktop vaporizer can be a costly endeavor, especially if you want all the latest gizmo's and fancy features. At $239, the Arizer Extreme Q is a hell of a bargain! Yes, many vapor snobs say "Volcano or bust", but that's just insane to us. For half the price, and with such fantastic usability and vapor quality, the Extreme Q seems like the desktop to beat.
Cons
Heat up time is one of our only gripes with the Extreme Q. Yes it's fast as hell if you're looking at the display, but this doesn't give you the full picture. Having to wait a few minutes after the device already reached the desired temperature in order to get a proper vapor pull needs to be factored in. Thankfully, you get a super handy remote, so you can turn the unit on and let it heat up while you do something across the room. The future is now!
There is plenty of airflow when pulling from the whip. However you will need to 'sip' it a bit before each pull in order to heat the herb up. Otherwise you'll need to pull for a good 5-6 seconds to get a good pull.
That's really all we could come up with as far as cons for this thing. And as you can probably tell, we had to dig deep for the two we did come up with. This is really a fantastic vaporizer that operates as advertised for a really great price.
Final Thoughts
The Arizer Extreme Q is raising the bar for desktop vaporizers. If you're looking for a vaporizer to use in-house, and don't mind forfeiting the 'Volcano' decal for a 50% price reduction, then meet your new vape.
I want to mention the efficiency one last time. We were blown away with how 'lifted' we could get on such a small bowl. It just kept on hitting, again and again! The herb was evenly heated, required one small stir halfway through, and that's it. Really a fantastic piece of equipment that I would happily recommend to anyone looking for a top notch desktop vaporizer.
Get yours here: arizer.com
Arizer Extreme-Q
Vapor Quality -

8.5/10

Build Quality -

8.5/10

Usability -

8/10

Value -

8/10
Overall Score
Virtually perfect desktop vaporizer.
Comments