DaVinci is a well-known brand among true vapor fanatics, it's considered to be a top tier portable vape. The Ascent model boasts an all glass vapor path that is supposed to offer an unadulterated flavor profile second to none. Naturally, we were stoked to hear that DaVinci wanted us to try out their Ascent vaporizer and put together a review. Let's see if this vape is really all it's cracked up to be.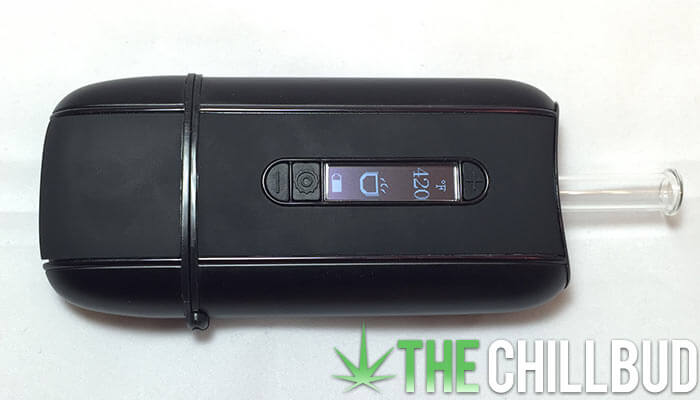 DaVinci Ascent Review
The DaVinci Ascent's packaging alone gives you the sense of how top tier this vaporizer is. Right on the box it reads, "Engineered for the ultimate vaporizer enthusiast." Coming in at $249.99 USD, the Ascent is priced right where it should be in my mind. In fact it's a pretty good deal when you compare it to some $300 portable vaporizers that do as good at best.
Found in the box:
DaVinci Ascent Vaporizer

Extra glass straw set

3 stainless steel screens

Extra metal pick

2 glass oil jars

Wall charger

Carrying case
DaVinci's Ascent vaporizer is a wonderful mix of simplicity and customizability. Turning it on is as easy as pressing the on button, but dialing in your desired temperature couldn't be more straightforward. For the vapor fiends out there that really want to customize their vape experience, you can program the Ascent to cycle through 3-different temperature settings for a designated period of time. Everything is pretty easy and intuitive thanks to the digital LED screen on the front.
The Ascent reaches temperature very quickly, and it keeps you appraised of the current temperature as it heats up. Which makes it seem even faster than just waiting for a light to turn on or off.
From the size and weight of this unit, I wouldn't go so far as to call it stealthy, but it doesn't stick out like a sore thumb either. It fits comfortably in my pocket, but I wouldn't have to worry about forgetting it's in there.
The all glass vapor path of the DaVinci Ascent is one of their major selling features. There is a glass straw set that rests inside the vaporizer unit, the mouthpiece simply slides in and out of the glass sheath. While this seems like it would be a recipe for a disaster, the fragile glass stems are actually quite securely fastened into the unit. You don't get the sense that much would break be able to break them, unless you are pulling them out to clean or something along those lines.
The Ascent uses a glass-lined ceramic oven to heat the herb up through conduction. Generally conduction vaporizers need a little stir halfway through to ensure even heat distribution, not in this case though! I found the Ascent did a great job of evenly heating the herb, there was a very even light brown color throughout the herb, from the edges to the very middle. This is a big bonus for any portable vaporizer, you don't want to have to fiddle around mid-session, especially if you're on the go. Also, very efficient!
I'll admit, I was pretty worried about the taste of the vapor. Right when I pulled the unit out of the box I took a draw from the glass straw, and there was a very plasticy flavor. Once I loaded it with herb and took a draw, there was no plastic flavor whatsoever, in fact it is one of the cleaner tasting vaporizers I've tried.
Pros
Complete control of your temperature, right down to the degree. Coupled with super even heat distribution, you can really dial in your perfect temperature once you get a feel for the unit.
The all glass vapor path is a really nice touch. Plus I'm a major fan of glass mouthpieces, it lets you watch the vapor as you inhale, giving users a much better sense of vapor density between pulls.
A portable vape with a digital LED screen is pretty rare. Quite a few desktop vaporizers don't even offer such luxury. It really sets the Ascent apart from other portable's.
Vapor quality was great. At my preferred vape temperature (around 370° F – 375° F) I don't get massive clouds, but it delivers nice cool vapor pulls and a great flavor.
I also found the Ascent to be quite efficient. The oven itself is pretty large, I'd say slightly bigger than the Pax 2 even. But you get a full session with plenty of great vapor rips per bowl, you can easily set it aside and get a couple of sessions per bowl as well.
Cons
My major problem with the DaVinci Ascent is the way you open / close the oven area. It pivots open with a simple twist, but this gets everything gunky after a fresh session. The herb sticks to the upper glass area and then gets scraped off by the bottom plastic area making for an unnecessary mess that requires cleaning every few uses.
Another problem I have with the pivoting oven area is that it doesn't seem to sit completely flush when it's closed. This is a minor aesthetic detail, it doesn't affect the performance at all. But when you're purchasing a vaporizer in the 2-3 hundred dollar price range, it would be nice if everything fit flush.
Final Thoughts
The DaVinci Ascent is truly a vaporizer designed for discerning vapor connoisseurs. It offers users the freedom to totally customize their vapor session and tailor to their specific needs.
If you're alright with a slightly larger portable vape, I couldn't think of any off the top of my head that would beat the Ascent. The retail price of $249.99 is a totally fair price for all the features you get, but DaVinci goes a step further and regularly offers discounts & promotions so you can pick one up for around $200. A deal you would be crazy to pass up if you're in the market for a top tier portable vaporizer.
Get yours here: davincivaporizer.com
DaVinci Ascent
Vapor Quality -

8/10

Build Quality -

7/10

Usability -

6.5/10

Stealth -

7/10

Value -

7/10
Overall Score
Performs very well, but the design isn't as user friendly as it could be.
Comments