As election day draws ever closer, voters in Nevada and a few other states seem poised to join Colorado and the District of Columbia in legalizing cannabis for recreational use.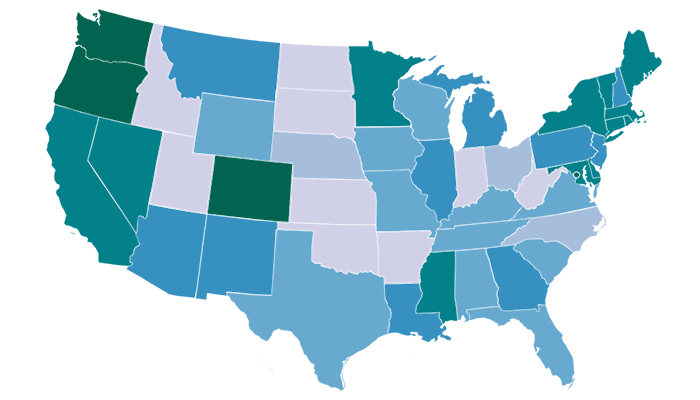 The United States of Legalization
The dam seems most likely to burst in the Silver State, where a recent poll conducted by the Las Vegas Review-­Journal found that a whopping 88-­percent of adults support legalization. If that number is anywhere near close, passage is just about certain in an expected high­-turnout election fueled by the polarizing nature of the presidential race.
Supporters of Question 2 are taking no chances. They point to an earlier poll (Rasmussen) which pegged support at 50­-41 (9­-percent undecided), and have raised more than $800,000 to flood the airwaves with ads. But right now backers seem to have some wind at their backs, and even non-users are recognizing the financial benefits of complete legalization.
Polling next door in California is viewed as more valid, and the numbers there are almost as promising. A Los Angeles Times survey showed that a solid 58­-percent of the electorate is down with recreational legalization (with some restrictions). Interestingly, the measure is supported across age, race, gender, and income levels, which greatly enhances the chances of passage. This all comes just six years after Californians rejected a similar measure.
"Some of the calamitous predictions of legalization opponents haven't come to pass" in other states, said Jon Cohen, a member of the Survey Monkey firm which helped execute the Times poll.
The first major poll in Arizona, released in early September, showed 50­-40 support for legalization. There was no surprise on the breakdown, with Democrats and young voters in favor, Independents split, and Republicans opposed. Both sides caution that things could change quickly, because neither side has spent much on advertising.
In the Northeast, both Maine and Massachusetts will vote on marijuana legalization, and oddly it appears likely that conservative Maine is more likely to vote to legalize than its more liberal New England neighbor.
The most recent Maine poll is several months old, but showed that voters endorse legalization by a 24­-point margin (59­-35), a slight increase from the previous poll. Still, politics in Maine have been a mess since outspoken governor Paul LePage ranted about drug dealers infesting the state from New York and Connecticut; so anything could happen there.
Prospects in Massachusetts are cloudy. A poll last week showed supporters with a slight (50­-45) edge, but it was weighted by strong support among young voters (who vote in small numbers) and significant opposition from those over 60 (the largest voting bloc).
Comments