Pax is arguably the largest and most recognizable vaporizer company in the world. In September of 2016 Pax Labs announced the release of their newest vaporizer model, the Pax 3. We were beyond excited to check out the latest and greatest vaporizer that Pax has to offer, and the time has come to put the Pax 3 through its paces and report our findings to you.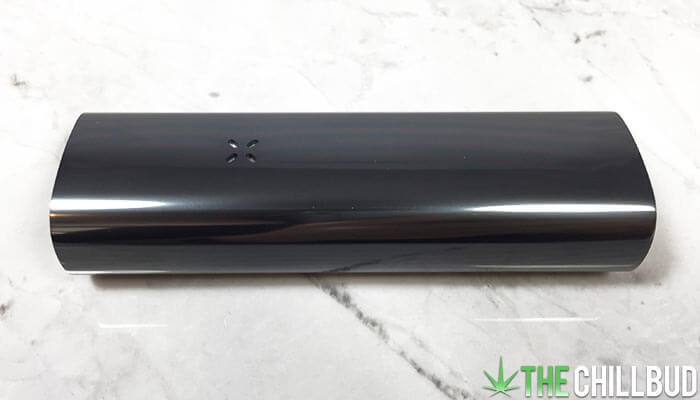 Pax 3 Review
The Pax 3 costs $274.99 USD, placing it among the markets more expensive vaporizer models. This isn't too much of a surprise considering Pax is well known for their premium quality, exceptional warranty and customer service. On the outside, the Pax 3 is almost identical to the previous Pax 2 model. Digging into the details reveals some of the changes Pax has introduced, and overall we are extremely impressed!
Found in the box:
Pax 3 Vaporizer

Concentrate insert / lid

Regular oven lid

Half pack oven lid

Charging cable + dock

2 mouthpieces (flat and raised)

Pax multi-tool

3 extra screens

Pipe cleaners

Cleaning brush

Spare o-ring for concentrate insert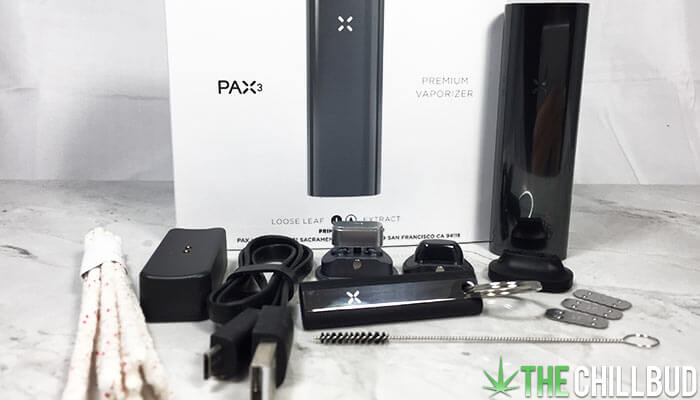 Pax has added all sorts of awesome new features including, haptic feedback, a better battery and the ability to vaporize concentrates on the go. The thing we're most excited about however is relatively small and tech-free, the half-pack oven lid.
One of the most common complaints people had about the Pax 2 was the oven size. A large oven is great, but it's not always ideal for solo-sessions. Under packed ovens wouldn't deliver nearly the same vapor density or efficiency, forcing consumers to get innovative and use stainless steel screens as spacers if they wanted a smaller oven load. Pax listened and included a hassle-free way to pack half an oven load with their half-pack oven lid. If you're a Pax 2 owner and don't plan on upgrading to the Pax 3 anytime soon, you can pick up a half-pack oven lid for $12.99.
Haptic feedback (vibration) is another major advancement that makes the Pax 3 even more user friendly than previous versions. I've always thought Pax was among the easiest to use, it has a single button and doesn't require a cheat-sheet to change the temperature or check battery life. Haptic feedback is becoming increasingly common, and was executed wonderfully by Pax.
Battery life is a major selling point for the Pax 3 over previous models. It boasts a 3500 mAh battery, an upgrade from the 3000 mAh battery found in the Pax 2. It takes about 90 minutes to fully charge the Pax 3, and you can expect around 90 minutes of continuous use before needing to charge it up again.
Heating time on the Pax 3 is absurdly fast! The first time using the Pax 3 I actually said "wow" out loud after seeing how fast it reached temperature. It takes a measly 15 seconds to reach temperature (18 for the highest temperature), this is about 3x faster than the Pax 2. If you want an on-demand vaporizer that's ready when you are, this is about as good as it gets.
Users can expect the same 4 temperature settings that were found in the Pax 2, but if you download the new Pax Vapor App for your smartphone you can take advantage of the more intuitive temperature settings including, Standard, Stealth, Boost, Flavor and Efficiency settings.
Standard – Temp boost when you draw, auto-cools when you don't.
Boost – Temp boost aggressively and auto-cools slower.
Efficiency – Temp settings ramp up gradually throughout your session in addition to standard temp boost and auto-cooling.
Stealth – LEDs dim, auto-cools fast. Helps to reduce the odor.
Flavor – Temp boosts more during draw and decreases quickly after draw.
The Pax App also allows users to fine tune their desired temperature between 360° F – 420° F.
For those familiar with Pax, you can expect the same attention to detail, solid feel, seamless design and functionality that have made Pax Labs a favorite among vaporizer enthusiasts. If you don't have any experience with Pax products, consider them the Apple of the vaporizer world. Top quality components, flawless design, unmatched ease of use and to top it all off you also get a 10-year warranty.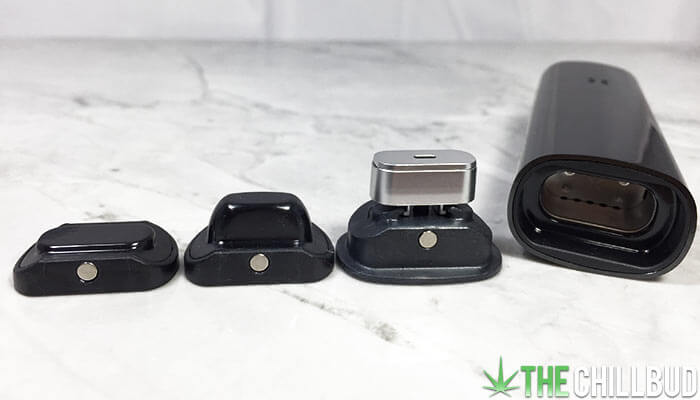 Pros
The ability to choose between dry herb and concentrates in a flash is a huge bonus! Pax isn't the only vaporizer that allows users to vaporize both herb and concentrates, but they've done it in true Pax style so it couldn't be easier to make the switch on the fly.
I found the heat distribution was fantastic, especially when using the half-pack oven lid.
Get a robust vapor pull immediately. With a 15-second heat up time it's one of the fastest units we've had the pleasure of trying.
It's extremely easy to give the Pax 3 a thorough clean with a bit of isopropyl alcohol and the supplied pipe cleaners. Regularly cleaning the screen in the oven will help to maintain a healthy air-flow.
The Pax App is very easy to use and it provides a fully customizable vaporizing experience. With regular updates, who knows what kind of awesome features Pax will add in the coming months.
The combination of power and usability that Pax offers in such a small and sleek package is unparalleled.
Cons
Similar to the con I had with the Pax 2, the Pax 3 is pretty expensive. It's difficult to say this is a huge con though considering what they give you for the price.
The Pax 3 vaporizes concentrates well, but it will never deliver a robust rip like a coil atomizer vaporizer pen will.
While the unit itself is very sleek and stealthy, the smell when vaporizing herbs can be a bit more conspicuous. If smell is an issue for you then I suggest picking up the caps that help to seal the smell in.
Prolonged use on the highest temperature setting makes the device quite hot to the touch.
Pax 2 vs Pax 3
A quick and easy breakdown between the Pax 2 and Pax 3 vaporizers.
Pax 2 costs $199.99 USD. Pax 3 costs $274.99 USD.

Pax 2 is herb only. Pax 3 is herb + concentrate.

Pax 2 has a 3000 mAh battery. Pax 3 has a 3500 mAh battery.

Pax 2 has a 45+ second heat up time. Pax 3 has a 15+ second heat up time.

Pax 2 has 4 temperature settings. Pax 3 has 4 pre-set temperature settings, 5 dynamic settings and the ability to choose any temp between 360° and 420°.

Pax 2 has no haptic feedback. Pax 3 does have haptic feedback.
The Pax 3 also comes with multiple oven lids, a Pax tool and a Pax App that allows users to control and customize their vaporizer with their smartphone.
Final Thoughts
The Pax 3 is an upgraded Pax 2, what more could you ask for? Since trying the Pax 2 I have considered it to be the standard for portable vaporizers. Pax Labs perfectly delivered a durable, stylish, discreet, powerful and user friendly vaporizer with the Pax 2. I really appreciate that they didn't stray far from their previous design, in fact the dimensions of the vaporizers are identical. Updating the battery, significantly improving the heat up time and allowing it to pair with your phone via bluetooth brought the Pax 3 back to the future.
The price drop of the Pax 2 has a lot of people trying to decide between the fantastic price of the older model vs the new features of the Pax 3. I'd wholeheartedly suggest saving a few more dollars to grab the 3. Not only does it provide the half-oven lid ($12.99) and the ability to vape concentrates, it has significantly enhanced 'guts' and gives you complete control via the App.
Knocked it out of the park… again!
Get yours here: paxvapor.com (+ free shipping!)
Pax 3
Vapor Quality -

7.5/10

Build Quality -

9.5/10

Usability -

9.5/10

Stealth -

9/10

Value -

8/10
Overall Score
Top quality, feature rich vaporizer.
Comments