These cannabis infused granola bars are both delicious and simple to make. The hardest part will be keeping yourself from eating the mixture before you can form it into convenient bars.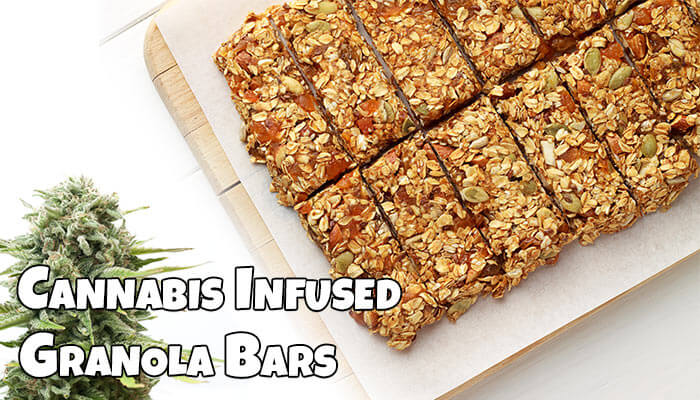 As with all marijuana edibles always start low and slow, especially if you're inexperienced with edibles. Use this recipe as a template, you can increase or decrease the dosage as you see fit. You can even exclude the cannabis infused honey all-together and just enjoy some delicious granola bars!
Cannabis Infused Granola Bar Recipe
This recipe makes 12 bars with roughly 15-25 mg of THC per serving (depending on the potency of your cannabis infused honey).
Ingredients
2-3 Tablespoons of Cannabis Infused Honey (recipe here)

¼ Cup Honey

¾ Cup All-Natural Peanut Butter

2 Tablespoons Coconut Oil

2 Teaspoons Vanilla Extract

½ Teaspoon Sea Salt

2 Cups Oats

½ Cup Almonds (chopped or sliced)

¾ Cup Shredded Coconut (unsweetened)

¼ Cup Roasted Pumpkin Seeds

¼ Cup Mini Chocolate Chips or Raisins (optional)
Cooking Instructions
Line a 9-inch square baking pan with parchment paper.

In a saucepan, combine peanut butter, coconut oil, honey and cannabis infused honey.

Gently simmer mixture on low for 2-3 minutes while stirring.

Remove mixture from heat.

Add vanilla extract and salt and mix well.

Incorporate oats, almonds, shredded coconut, pumpkin seeds and chocolate chips / raisins.

Stir well and ensure all ingredients are thoroughly combined.

Press granola mixture firmly in the parchment paper lined pan.

Place pan in the fridge and chill for 2-3 hours before slicing into 12 evenly sized bars.
*Toast your almonds prior to mixing them in the granola mixture for added deliciousness.
*Add or subtract nuts, seeds, dried fruit etc… to make these bars your own.
Dosage
Depending on whether you purchased your cannabis infused honey or you've made your own using our recipe, you'll want to know the approximate dosage of each bar.
If you've purchased your cannabis honey the dosage should be clearly labeled on the packaging and you can determine the dosage per bar quite easily.
If you've made your own cannabis honey here's a simple way to approximate the dosage. Using our recipe as an example: 1 cup of honey combined with 7 grams of 20% THC cannabis provides 1,400 milligrams of THC in 1 cup of honey. 1 Cup of honey is 16 Tablespoons. So 2 tablespoons of honey has 175 milligrams of THC. If you use 2 tablespoons of cannabis honey in your granola bar recipe then you'll have 14.5 milligrams per bar.
Bon appétit!
*Also see – How to decarboxylate cannabis
Comments