Over 100 protesters on Saturday gathered at the White House to protest the federal government's continued cannabis prohibition.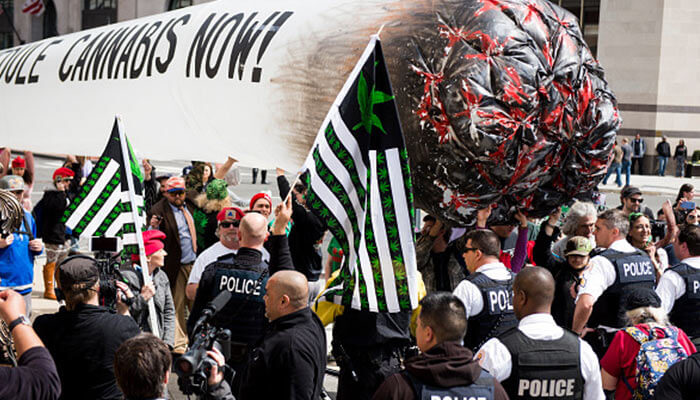 Activists In Front of White House with 50 Foot Joint
The protest, which culminated in the lighting of a massive inflatable fake joint, was organized by DCMJ, a D.C.-based cannabis advocacy group.
"Just like good stoners everywhere, we snuck in a 51-foot joint, past the Secret Service," said Adam Eidinger, a DCMJ founder who was instrumental in the District's 2014 push to legalize recreational cannabis. The Secret Service ultimately asked the activists to deflate the joint, citing security concerns.
Eidinger expressed his support for presidential candidate Bernie Sanders and said that if Democratic front-runner Hillary Clinton hopes to absorb Sanders' support among young people, an embrace of liberalizing federal cannabis laws could do the trick.
"As a Bernie supporter, I do want to see a united Democratic Party, but you gotta give us something — this is like in the top three or four issues of Bernie supporters," Eidinger told the Huffington Post.
Other activists at the rally stated their support for medical cannabis, saying that it accomplishes what many approved medications do not.
"The only harm that [legalization] would cause would be to the pockets of the pharmaceutical companies," said Sandra, D.C.-based cannabis grower. "There are so many medications I don't have to take because I smoke marijuana."
Activists began smoking at the rally just past 4:17 PM. No arrests were made at the rally; however, two citations and $25 fines were issued for public marijuana consumption.
Recreational cannabis was legalized by the D.C. city government last year. Since then, the city government has been in something of a tug-of-war with the federal government over its cannabis laws, since it is Congress that retains exclusive control over the District's laws. The District won a significant court decision last month that offered it more autonomy over its cannabis laws. The decision was greeted by the Marijuana Policy Project, a national advocacy group.
"We are thrilled that DC will have budget autonomy and no longer be subject to appropriations riders on the local portion of the budget – which will allow them to finally move forward with taxing and regulating marijuana," said Kate Bell, an MPP legislative analyst.  
The liberalization of cannabis laws is currently take place in states around the country, with such states as Ohio, Vermont, and Georgia facing such initiatives.
Comments