Democratic presidential candidate Hillary Clinton on Thursday helped clarify her position on medical and recreational cannabis.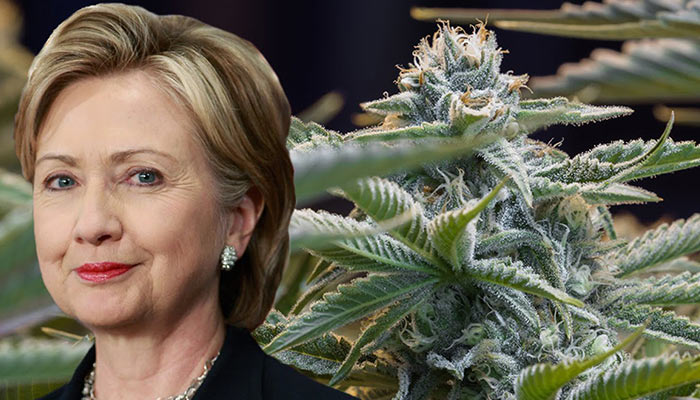 Hillary Voices Support forMedical Marijuana States
Clinton, appearing on the ABC talk show "Jimmy Kimmel Live," touched on such topics as the state of the presidential campaign and the nomination of judge Merrick Garland to the Supreme Court. She then turned her attention to cannabis laws.
"What the states are doing right now needs to be supported," she said. "And I absolutely support all the states that are moving toward medical marijuana, moving toward absolutely legalizing it for recreational use. But I want to see what the states learn from that experience, because there are still a lot of questions we still have to answer on the federal level."
The former secretary of state also showed optimism about the ability of cannabis to treat those with life-threatening illnesses, as well as those suffering from pain. She also said that she is in favor of reclassifying cannabis' status as a Schedule 1 controlled substance.
"There's some great evidence about what marijuana can do for people who are in cancer treatment, who have other kinds of chronic diseases, who are suffering from intense pain," she said. "There's great, great anecdotal evidence, but I want us to start doing the research."
Clinton has also advocated for the downgrading of cannabis from a Schedule 1 drug (those classified by the Drug Enforcement Administration (DEA) as having no medical value with a high potential for abuse) to a Schedule 2 drug (those classified as having medical value but containing a high potential for abuse.)
Clinton is currently still engaged in a primary campaign to capture the Democratic nomination from Sen. Bernie Sanders (Vt.) Sanders, an avowed socialist, has gone even further in his support of the liberalization of cannabis laws. Late last year, Sanders filed a bill, dubbed the "Ending Federal Marijuana Prohibition Act of 2015," that sought to end the federal criminalization of cannabis. Sanders also favors the removal of cannabis from the schedule of controlled substances that is regulated by the DEA.
"Too many Americans have seen their lives destroyed because they have criminal records as a result of marijuana use," Sanders said last October. "That's wrong. That has got to change."
Polling indicates that Clinton is the favorite to win the Democratic nomination.
Comments