As cannabis laws become more lenient and all-out legalization is becoming a reality, more people are testing out their green-thumbs and cultivating their own marijuana plants. Advancements in marijuana seeds have taken a lot of the guess work out of growing, offering feminized and auto-flower varieties of top strains. Regardless of the quality of your seeds / clones, a comprehensive nutrient program is essential to a healthy grow.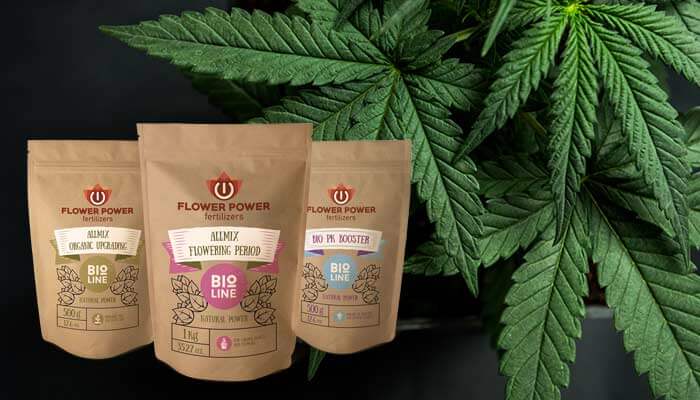 Flower Power Organic Fertilizers
ILGM has long been offering rock solid grow advice and offering some of the best products to enhance your cannabis crops. They even put together the must-read "Marijuana Grow Bible" by Robert Bergman, which we fully endorse for new and expert growers alike. Naturally, we wanted to highlight their organic Flower Power fertilizer line to help optimize your grow and make it as foolproof as possible.
The Organic Marijuana Nutrients Starter Package contains 1 kg of the Allmix Flowering Period fertilizer, 500 grams of the Allmix Organic Upgrading fertilizer and 500 grams of the Bio PK Booster. This complete package costs $49.00 and should provide enough nutrients for most modestly sized grows (aside from the Organic Upgrading package which is enough for about 1 plant).
Marijuana Nutrient Starter Package Breakdown
Allmix Flowering Period – Designed for the flowering / blooming period of potted plants, the Allmix Flowering Period contains potassium, magnesium, iron, manganese, phosphorus, sulfur and other trace elements. The addition of various seaweeds helps to keep the pH-value in balance by providing an anti-acidic effect.
Scatter 30-grams of the Allmix Flowering Period onto damp soil once every two weeks during the flowering period.
Allmix Organic Upgrading – Designed to enrich the soil and provide an optimal growing medium for your cannabis plants. It helps stimulate the root systems in seedlings as well as mature plants, making them more resistant to temperature fluctuations and other external stressors. Added soil bacteria helps to convert waste material into absorbable nutrients.
Remove the top layer (7 cm) of soil after a grow. Mix 400 grams of the Allmix Organic Upgrading compound into the remaining soil and ensure the soil is moist. Let it sit for a day and then you can place the new plants in their newly enhanced home.
Bio PK Booster – High levels of potassium and bone meal help provide a higher yield and improved aroma / potency. The Bio PK Booster helps to regulate the absorption of nutrients to your cannabis plants, improving the overall quality of your harvest.
During the last 4 weeks of the flowering cycle, add 10 grams of Bio PK Booster to each plant once per week.
Comments