Zeus is a Canadian vaporizer brand that offers a full line of vaporizers as well as accessories, and we've been lucky enough to check out a few of their products. The Zeus Smite is a great entry level vaporizer due to its ease of use and affordable price point. Despite being sub $100, the Smite surprised us with some unique features and great build quality.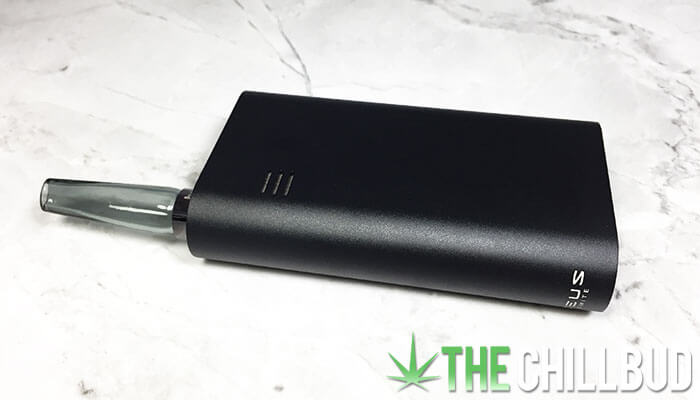 Zeus Smite Review
One thing you'll notice right away is that the Zeus Smite is a rather large vape. It has the classic box vape style with a compartment for the mouthpiece built right into the unit which explains some of the size. But the biggest reason it's so large is to accommodate the battery which offers users ~3-hours of continuous use before needing to be recharged. Sure some vaporizers offer robust battery life without being so large, but the Smite costs a mere $99.99 USD which makes it a leader in this price range.
Found in the box:
Zeus Smite vaporizer

USB Charger

2 x Screens

Cleaning brush

Loading tool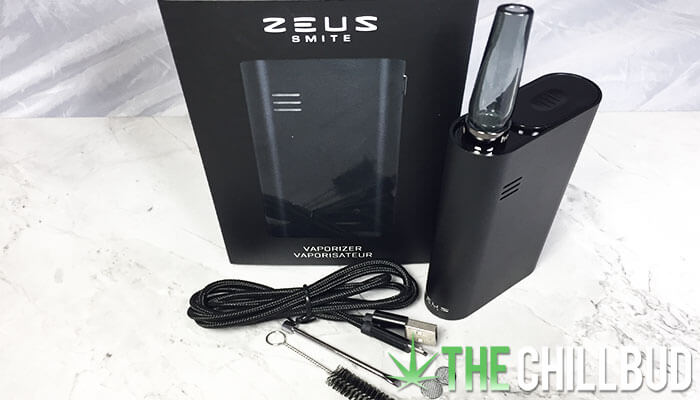 The Smite has 3 pre-set temperatures with a different color associated with each. When you're on the blue light the oven is at about 385° F, the purple is 400° F and the red is 415° F. Generally I'm a bit critical when a vaporizer doesn't offer complete temperature control and freedom, but at under $100 it's totally reasonable to have pre-sets.
When packing the Smite for the first time I was taken aback by a feature I've never seen in any other vaporizer. I'm not sure how useful the feature actually is, but I'm a sucker for novelties so as it stands, I'm very happy to see this. When you slide open the cover to reveal the oven there's a small LED light that illuminates the oven chamber so you can clearly see the herb and monitor the color / fullness. It's not something I ever thought I needed, and to be honest I don't need it at all. But I like it.
Performance is always king when it comes to deciding on a vaporizer. The Zeus Smite has decent performance but didn't blow me away. That being said it was perfectly acceptable for a conduction vaporizer that costs $99. The problems I had with performance can be remedied by allowing more time between draws to ensure the oven is at temperature, and stirring the herb halfway through the session to ensure even heat distribution. These are issues I've had with vaporizers that cost twice as much as the Smite so these are by no means deal breaking problems.
Overall the flavor was good, performance was adequate, it has good features and the build quality is great. Tvape offers a hassle free 1-year warranty to give you complete peace of mind, but Zeus makes some pretty sturdy vaporizers so I doubt you'll need to use the warranty.
Shop Zeus here: Tvape.com
Comments