Thought to be a gift from the heavens above, the Zeus Iceborn has sent chills through the vaporizing community. We got our hands on a Zeus Iceborn thanks to our friends at TorontoVaporizer.ca. Is it truly a game changer? Is the hype-train real?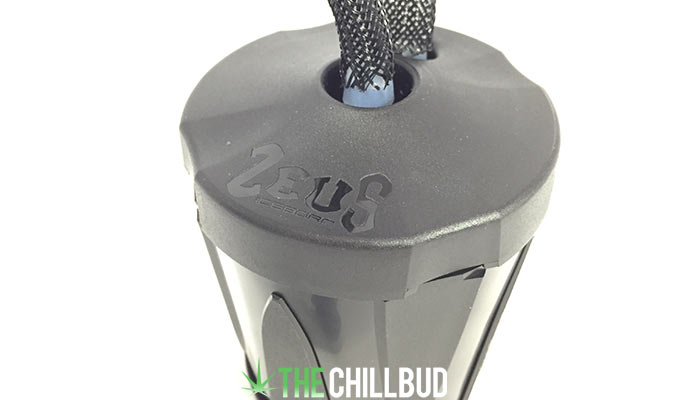 Zeus Iceborn Review
The Zeus Iceborn is a vaporizer accessory compatible with most vaporizers (with 6.5mm – 11mm mouthpieces) on the market. It is a vapor cooling device that filters the vapor through a series of aluminum tubes surrounded by ice. Cooling the vapor helps reduce throat and lung irritation, allows for larger pulls and a more refreshing experience. The Zeus Iceborn comes with a $69.99 CAD (about $52 USD) price tag.
Found in the box:
Zeus Iceborn bucket w/ lid

1 Small short silicon whip

1 Medium short silicon whip

1 Long silicon whip

Zeus mouthpiece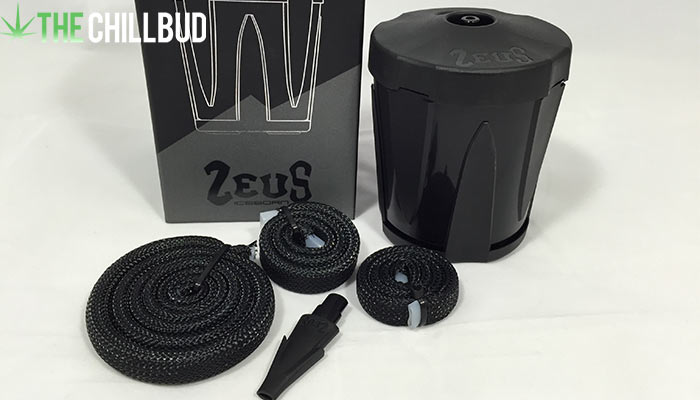 The Iceborn is designed and packaged beautifully, it truly feels like a premium vaporizing accessory. It is the latest addition to the Zeus arsenal, taking its place beside the Zeus Smite and Thunder vaporizers. Unfortunately we didn't have either of the Zeus vaporizers to test out with the Iceborn, but it is compatible with quite a few vaporizers so we didn't have trouble finding one that worked.
One reservation we had about the Iceborn was the potential for condensation causing a giant mess. Thankfully the fine folks at Zeus already thought of this, including a built-in water chamber that surrounds the main storage area. Needless to say, condensation wasn't an issue whatsoever.
All of the whips and tubes found in the Zeus Iceborn can be a bit daunting, but it's all pretty simple after reading the instruction booklet provided. There are 4 aluminum tubes, one small, one medium, one large and one extra-large. The 3 silicon whips help ensure you get a snug fit regardless of the vaporizer you choose to use with the Iceborn.
Zeus' marketing materials claim that it 'substantially improves vapor quality' and 'preserves high vapor efficiency.' Claims have been made that say vapor quality is improved by about 20% regardless of the vaporizer used.
Pros
Vapor was extremely cool, I didn't feel it at all in my throat or lungs. It was like taking a deep refreshing breath of cool air, unlike anything I have experienced from a vaporizer or vape accessory before.
The Iceborn's design is fantastic. It looks great, functions well and doesn't take a genius to figure out how to use it. No big mess is another major bonus!
Zeus didn't make the Iceborn a Zeus only accessory. Meaning you don't need to have one of their vaporizers in order to enjoy the ice cold vapor that the Iceborn provides.
Cons
The vapor pulls were great, but I had to do a double-pull in order to truly get a vapor cloud. This is probably due to lengthened draw path, meaning you need to pull all the air through before you can enjoy a quality vapor pull.
Using a portable vaporizer makes for a bit of a balancing act when vaporizing with friends. Ensuring the vape itself is steady, as well as the Iceborn, all while juggling the silicon tubes popping out of the bucket. Personal sessions don't have this problem, but it's still more to keep track of during your session.
Taken aback from the cool-vapor sensation filling your lungs, it's easy to overlook the fact that the taste gets drown out. Again, probably due to the lengthened vapor path.
Final Thoughts
The Zeus Iceborn is more than a novelty, but I'm still not sure how much more. It isn't cheap, but it isn't overpriced either. Personally I didn't feel that it improved vapor quality by 20%, if anything I found my vapor quality suffered. That being said, there was absolutely no throat irritation, even when vaporizing with higher than normal temperatures.
If you are someone who battles dry throat or lung irritation due to vaporizing your herb, the Iceborn is a huge step up from the classic water cooling systems. It is a great vaporizer accessory, but I can't see myself using it everyday.
Get yours here: torontovaporizer.ca
Comments