Pulsar Vaporizers have already solidified themselves as a really great affordable vaporizer in our books. After reviewing the APX herbal vaporizer we were blown away with how cheap it was for how well it performed. Needless to say we were more than willing to give their new APX Wax vaporizer a try and share our experience with our fantastic readers (you)!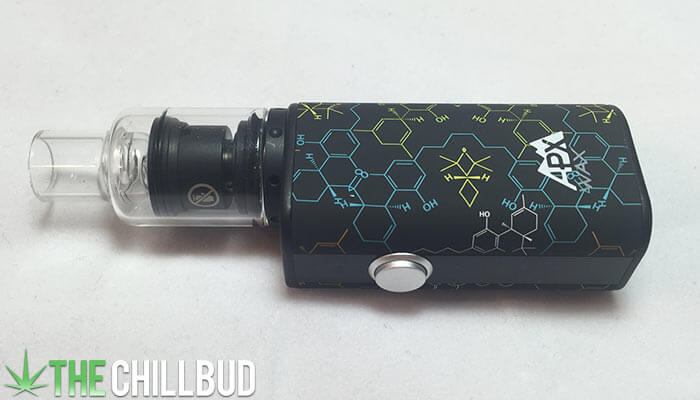 Pulsar APX Wax Review
The APX Wax vape comes in a few different colors, we received the very cool limited edition THC molecule version. Pulsar packed quite a bit of power into this 3.5" tall powerhouse, featuring triple quartz coils in a pure quartz chamber. It heats up almost instantly, has a great battery life for the size and it costs only $60! At first glance it seems that Pulsar has done it again, offering a quality vaporizer for a very reasonable price. But let's get into the nitty gritty before you make any final decisions.
Found in the box:
APX Wax Vaporizer

USB charging cable

Silicone extract container

Stainless steel dab tool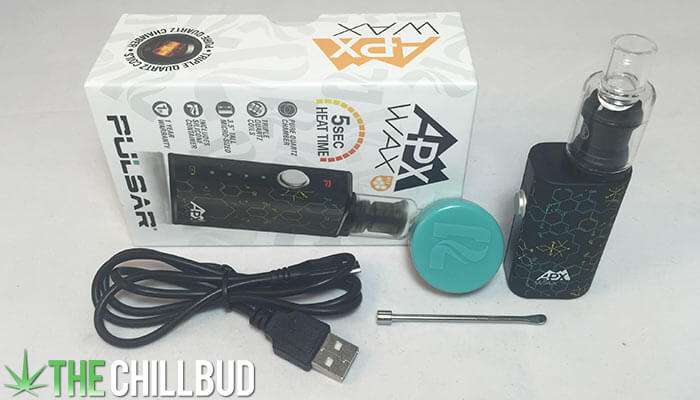 The design of the APX Wax vaporizer is very similar to the previous APX herbal vaporizer, just shrunk down. It has the same 1-button design that makes it dead simple to use, with indicator lights on the front that let you monitor battery life.
A clear borosilicate mouthpiece lets users see the vapor being collected. Personally I really like vaporizers that allow me to see the vapor as I draw, after getting comfortable with the vaporizer it allows you to gauge where you're at in the session.
I don't have a lot of experience with extract-only vaporizers so it's difficult for me to compare it to any specific models, but the draw is very similar to the APX herbal model. The vapor pulls are robust, smooth and tasty.
Pros
Pulsar hit it out of the park in terms of style once again! The THC molecule design looks fantastic, but it isn't as eye catching as the Ras Terms design, making it a viable option for low-key outdoor tokes.
With a price point of $60 the APX Wax is one of the most affordable handheld wax vaporizers without going for a cheap pen.
The feel of the vaporizer itself is really solid. The quartz chamber screws on tight and the mouthpiece fits like a glove. This is worth mentioning because so many vaporizers in this price point feel cheap, have rattling pieces and have a general unfinished feel.
Once the coils are warmed up (which takes about 5 seconds) you have instantaneous heat at the press of a button. Users can either hold the button as they draw or opt for short pulses of heat to ensure consistent vapor quality and temperature.
Cons
The line between vaporizing the extracts and combusting them is quite fine. Until you really get used to the unit you may find yourself burning the material instead of vaporizing it.
I ran into the same problem as the previous APX vaporizer I reviewed, I couldn't come up with many cons. For $60 this vaporizer is a bargain, quite frankly it performs well above its price point. You won't be blown away with how amazing it is, but you'll be pleasantly surprised at how reasonably it performs for the price.
Final Thoughts
You can't go wrong with the Pulsar APX Wax vaporizer. Whether it's your very first wax vaporizer or you're simply looking for something to add to your collection. It's small enough to easily throw in your pocket and enjoy on the go. It looks great, feels great, performs well and it's affordable. What more can I say?
Get yours here: pulsarvaporizers.com
Pulsar APX Wax
Vapor Quality -

7/10

Build Quality -

7.5/10

Usability -

8/10

Stealth -

7.5/10

Value -

8.5/10
Overall Score
Difficult to think of a better wax vaporizer for the price.
Comments