The fine folks over at Pulsar just sent us one of their limited edition APX vaporizers to try out and review. Their limited edition model has a super snazzy design thanks to a collaboration with artist Ras Terms. Beauty is only skin deep though, so let's dive a little deeper and get to the bones of this portable vape.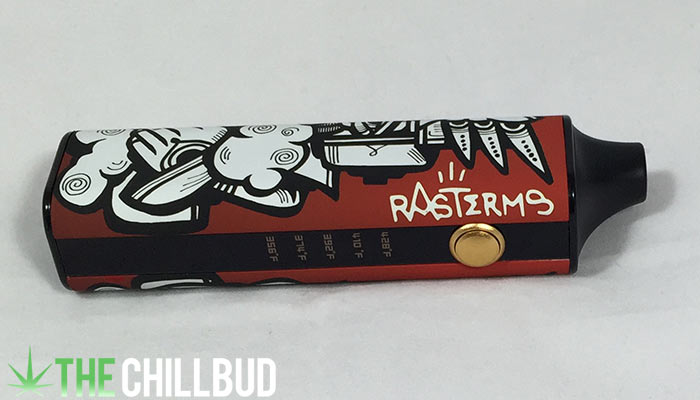 Pulsar APX Review
First things first, this APX limited edition Ras Terms model is eye catching, in a good way. It isn't the most inconspicuous portable vaporizer because of the flashy design, but if stealth isn't a concern it will certainly make your friends jealous. Coming in at the $60.00 mark, the Pulsar APX vaporizer is one of the most affordable herbal vapes on the market.
Found in the box:
Limited Edition APX RasTerms Vaporizer

USB charging cable

Cleaning brush

Tweezers

Wax tool / poker

Wax & oil chamber

5 extra screens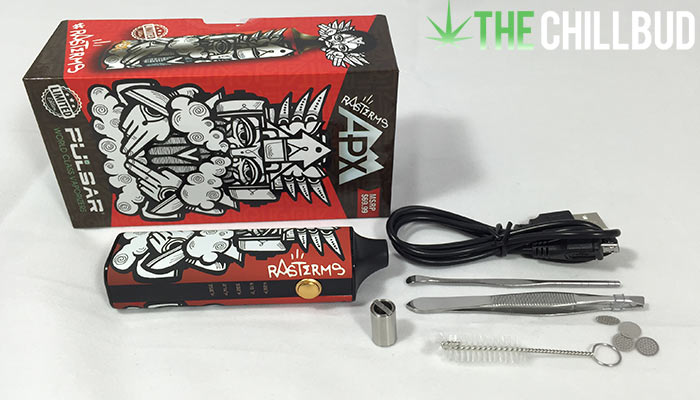 The Pulsar APX 5 pre-set temperature settings, from 356° F to 428° F, boasting a super short 40-second heat up time. A full ceramic heating chamber helps ensure a nice even vape without the need to mix things up halfway through.
Pulsar went with the convenient 1-button design. It covers all the bases, including turning the vape on or off, and cycling through temperature settings. 5-quick clicks turns the vaporizer on, and the same procedure turns it off. In case you forget to turn it off after you session, it also has a 5-minute auto-off safety feature.
The draw from the APX is pretty decent, you won't get a cheek hernia trying to pull clouds from the vape. Vapor quality itself is surprisingly fantastic. Generally when you get a vaporizer for under $100 you can't expect the best vapor quality, but this thing stacks up with vape's in the $2-300 range.
Pros
Appearance is a major bonus, especially with the RasTerms limited edition model. It looks like a high-class designer vaporizer, sure to turn heads.
Price is another huge pro with the APX. If you are in the market for your first vaporizer, or you're on a budget, this is a no-brainer for you. It won't replace your $300 beast, but you won't be disappointed.
Vapor quality and ease of use were spectacular. Again, if I didn't know better I would assume this vape was a $200 model.
Super quick heat-up time of 30-40 seconds. This is pretty quick considering some other portable vaporizers can take upwards of 5+ minutes.
Cons
The mouthpiece / oven lid is a bit… cheap feeling. It's a press-fit lid, and it fits snuggly and everything, but I would like to see a magnet in there. Because… magnets are the business!
The upper screen portion that connects the mouthpiece gets pretty clogged pretty quickly. If you aren't brushing it between uses it can become pretty difficult to pull through.
Honestly that's about it as far as cons go. Keep in mind, this thing costs $60.00! I feel bad picking apart the mouthpiece and screen area, but I had a hard time coming up with any cons for a vaporizer in this price point.
Final Thoughts
Pulsar APX is a perfect combination of functionality, style and affordability. A great option for a first vape, or as an addition to your vaporizer collection. Vapor connoisseurs might have a few issues with the vapor experience itself, but again, at this price point it would be hard to complain. I would definitely recommend the APX to anyone in the market for a vaporizer, especially if they were on a budget.
Get yours here: pulsarvaporizers.com
Pulsar APX
Vapor Quality -

7/10

Build Quality -

7/10

Usability -

7/10

Stealth -

7.5/10

Value -

9.5/10
Overall Score
Probably the best budget vaporizer out there.
Comments