Since seeing the gold plated, $1,500 Phoenician Grinder I knew we had to get our hands on one and check it out. It wasn't the gold plate that peaked our interest though, it was the stellar design and hugely positive fan reviews. Our buddies at Phoenician didn't hesitate to send us one of their 4-piece medium sized grinders to check out, and check it out we did!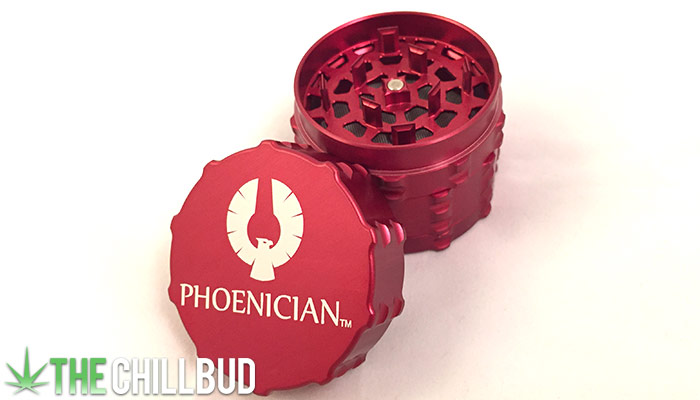 Phoenician Grinder Review
When it comes to herb grinders, the most important part is how well it grinds up herb; obvious right? The 20 super sharp teeth in the Phoenician slice through bud like butter, leaving you with a pile of perfectly fluffy herb.
Quite a few grinders do a good job grinding up bud though, so let's take a look at a few other factors that may play a role in your decision to buy your next grinder.
Ease of use is important, no one wants to be fiddling around with their grinder while their crew is eagerly anticipating a toke or two. The Phoenician Grinder saves you time by using a twist-lock design for their inner compartments. A quick quarter turn and your herb chamber is open, saving you valuable seconds between grinding and packing.
The design of the Phoenician is totally unique, making it instantly recognizable and widely sought after.
Pros:
First things first, the Phoenician grinds extremely well. A few effortless turns and your dense nug is transformed into a pile of fluffy greatness. It doesn't squish the bud at all, by cutting through it with its razor sharp teeth you ensure your bud is shredded and not pulverized.
Solid and secure. No one wants to pay $80 + dollars for a grinder and have it feel cheap and flimsy in their hand. Thankfully, the Phoenician is a superbly solid unit. The twist-lock compartments hold everything together quite snugly, and the lid is held on tight with a powerful rare-earth magnet.
The kief compartment in the Phoenician is massive! You would have to forget about the kief catcher for months before it was filled up. It's perfect for the patient toker who likes to have a rainy day fund set aside.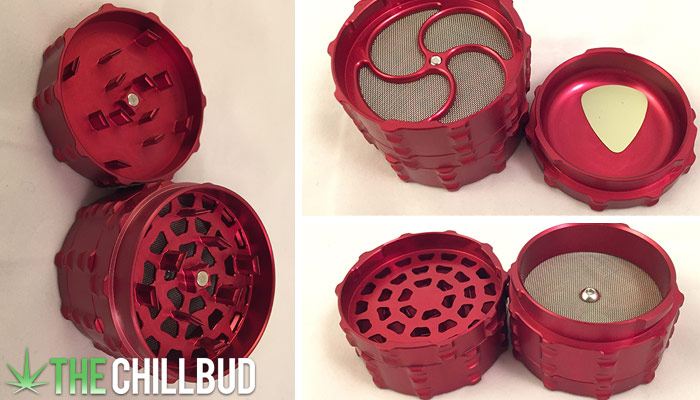 Cons:
Alright, I'll start out with a totally superficial, kind of stupid problem that I have with the Phoenician. The ridges on the outside of the grinder don't always line up when you twist the compartments together. I find myself fiddling with it until I find the correct thread that lines everything up perfectly. This is only a problem for OCD tokers, it has absolutely no effect on the grinders performance. I'm probably just weird.
I found after a few uses there was some kief build-up between the compartments. Hard to fault them for this though as I have never seen a grinder that didn't have this issue.
Final Thoughts
After thoroughly testing out the Phoenician and comparing it to other grinders we've used, it's pretty difficult to find any real faults. Yes $80 is a bit steep for some people to spend on a grinder, but you get your money's worth.
Phoenician Grinders are made entirely in the United States. They don't go with the cheaper Chinese manufacturing options that often use cheaper materials and have a less solid feel. Phoenician uses aerospace grade aluminum and N52 Neodymium magnets. These guys don't cut any corners.
I may have finally found a replacement for my decade old Sharpstone. Thanks Phoenician!
Get yours here: PhoenicianEngineering.com
Comments