It doesn't matter if you use a bong, pipe, joint or vaporizer, every cannabis connoisseur needs a good quality grinder to get the most out of their herb. Picking a good quality grinder may seem daunting at first, as there are hundreds of different options, from cheap plastic 2-piece grinders to heavy duty 5 piece grinders made from space-age material.
Personally, I have had the same herb grinder for 10 years now. This goes to show that I have been quite lucky, holding onto the same grinder for a decade without losing it is a feat worth mentioning in my humble opinion. But it also goes to show that this grinder of mine is pretty decent quality, 10 years of heavy use and it is still going strong.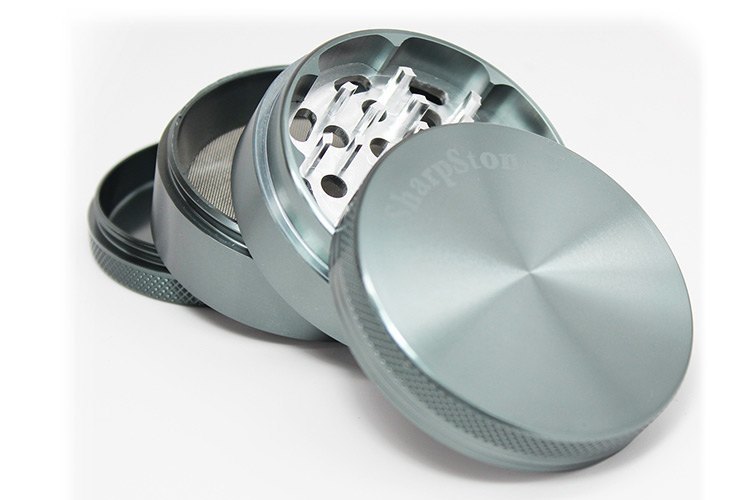 Sharpstone Grinder Review
If you go searching around for the very best herb grinders on the market, chances are you will come across Space Case Grinders. Having never used one of these highly touted grinders, I cannot say if they really are the best or not. I can discuss the far more modestly priced Sharpstone grinder though, having used one for the vast majority of my cannabis career.
Pros:
The Sharpstone grinder is quite affordable for a 4-piece design with pollen / kief catcher, coming in at about $35 USD.
Sharpstone teeth are… you guessed it; sharp. I have never had trouble busting up a grinder full of herb in this work-horse.
Cons:
It is difficult to keep the mesh screen for the kief catcher clean. If you are grinding up some loud buds on a regular basis, expect less and less kief in the catcher as the mesh screen clogs up. That being said, I am still catching kief 10 years later, just nothing like when it was new.
Resin build-up makes the grind a little rough. I am not really sure what holds the lid on tighter, the magnet or the resin on walls. This is an easy fix with some rubbing alcohol and a Q-tip, but the hassle just isn't worth it.
Final Thoughts
It might not seem like much goes into a grinder, you might think that they are all pretty much the same. Having used a few bad ones, this isn't true, a good quality grinder makes a difference and is certainly worth investing in.
The main things to look for are: Quality materials so you don't end up with metal shavings in your herb. Sharp teeth and cut up the buds and don't compress and squash them. A solid design that will stand up to being dropped and thrown around without detonating.
I plan on trying out some of the other popular grinder brands, as I do I will be sure to publish my review. For now, I can safely recommend picking up a Sharpstone if you need a quality grinder at an affordable price.
Keep on grinding my friends.
Comments