Subscription boxes geared towards cannabis users are on the rise! We've had the distinct pleasure to review the industry leaders as well as the up and comers, but never before have we come across a box so dapper. The Hippie Butler subscription box arrived in style, in quite a large box compared to other sub-boxes we've seen; complete with a bow tie!
Hippie Butler Coupon for 20% Off: CHILLBUD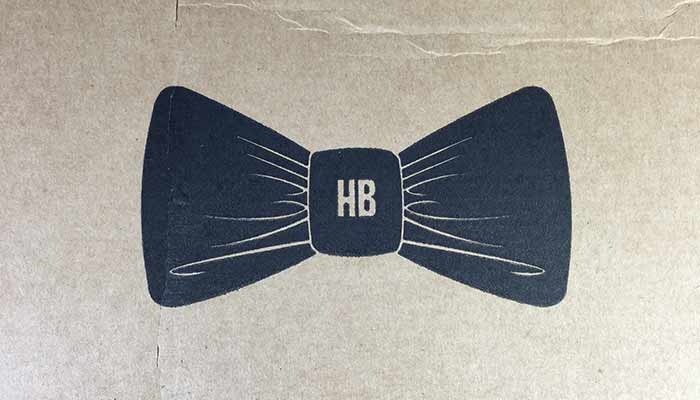 Hippie Butler Subscription Box Review
Like other stoner subscription boxes, Hippie Butler arrives full of awesome goodies that will help keep you lifted throughout the month. One thing that I immediately noticed on their website was the dropdown menu in the order form that's used to select "flavored, mix or non-flavored", referring to the paper selection they include in the box. This may sound like a non-event, and probably won't make much of a difference for most smokers. However, I found this to be a genius option! Personally I really dislike the vast majority of flavored papers / wraps (with a few exceptions), I'd sooner give away a pack of flavored papers than use them myself. Giving customers the option to opt out of flavored papers and receive natural options instead is a sign that Hippie Butler cares about the customer's wants / needs. Or if you don't care, choose the mix option and it'll be a surprise!
Now that I've expressed my appreciation for the flavored papers option, let's look at the important stuff like how much a box will cost and what you can expect to find in a Hippie Butler box.
Hippie Butler offers three different subscription options (or buy them as a one off), the Roller's Club for $11.99 per month, the Butler Box for $32.99 per month, and the Master's Club for $139.99 per month.
The Roller's Club box is the entry level option, offering a few packs of papers / blunt wraps, some fire and some assorted goodies. It's a great basic monthly kit for tokers that already have plenty of glass.
The Hippie Butler box is the one we are reviewing today, and it is pretty fantastic! The contents aren't revolutionary, but they do a great job jamming this box full of value and style. Coming in at $32.99 USD it's priced very similarly to most other subscription boxes on the market (maybe a few bucks more), but we also got you lucky folks a pretty sweet coupon to save some cash.
The Master's Club box comes in a couple different varieties, the box for concentrate enthusiasts and one for tokers who prefer herb (as well as a mix box). I have no idea what you could expect from a Master's Club box, but it seems to include a pretty solid piece of glass.
Let's take a closer look at the Hippie Butler box.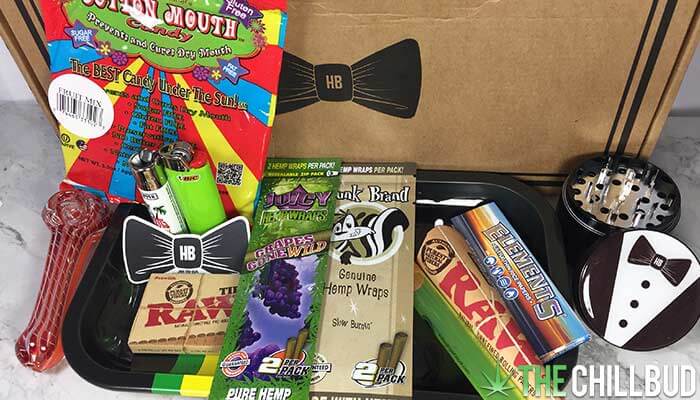 Stash List
Glass spoon pipe
RPD Rolling tray
Hippie Butler 4-piece herb grinder
3-pack RAW cones
Elements king sized papers
Bic lighter
Clipper lighter
RAW tips
Doob tube
Juicy hemp wraps (2 pack)
Skunk hemp wraps (2 pack)
Cotton Mouth candy
Bowtie HB sticker!
Our Feels on Hippie Butler
The glass is usually the portion of the box that I'm most excited about, it's generally where the majority of the value rests too. In this case, the Hippie Butler box had a pretty unremarkable glass spoon pipe. However, the inclusion of a 4-piece grinder and full size rolling tray prove that the value is spread throughout the box and not just dumped into a single piece of glass.
After checking out all the contents of the Hippie Butler box I certainly felt like the value was there. Even though it's a couple bucks more expensive than other stoner box contenders I wouldn't have an issue shelling out the $32.99 for it. The fact that they offered us a 20% off coupon code for our readers makes this a true bargain!
I'm not too sure how much variety you'll get if you subscribe to the Hippie Butler box for an extended period of time, or if there's any at all. I don't think this would be a box to subscribe to for months on end, after all how many tuxedo wearing grinders does a person need? Perhaps there's more variety than I have been able to find though. I'll be sure to update the review with any new boxes.
I have to mention the flavored papers option once again, it just really hit home for me as a natural paper lover. I've had so many boxes of goodies that are filled to the brim with every flavored paper under the sun, without a single pack of unflavored papers or wraps. I'm sure plenty of people would be thrilled with a box full of flavored papers, I'm just not one of them. So big ups to the Hippie Butler crew for making this an option with every one of their boxes.
Hippie Butler Coupon Code
Save a cool 20% on your Hippie Butler box with our coupon code: CHILLBUD
While I'd recommend trying out the Hippie Butler box at full price, saving 20% makes checking out the HB box a no-brainer.
Hippie Butler Coupon for 20% Off: CHILLBUD
Get your box here: HippieButler.com
Comments