Shine is well known for their 24k gold rolling papers, but they recently released a new line of more modestly priced blunt wraps that we are beyond excited about!
The fine folks at Shine were kind enough to send us a few packs of their new Shade Leaf Wraps to try out and review. So let's get rolling and start this review already!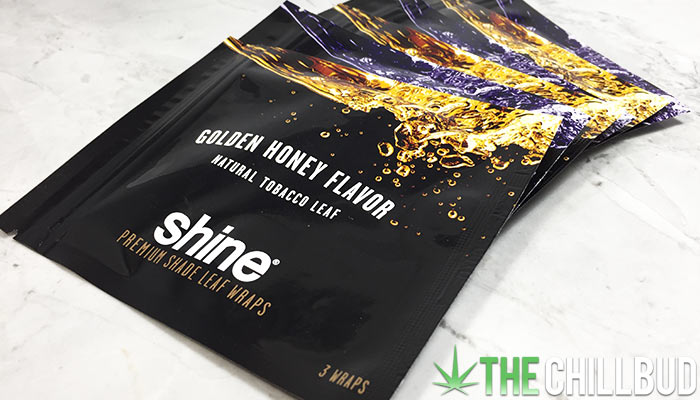 Shine Premium Shade Leaf Wrap Review
First of all I want to let everyone know that I'm a HUGE fan of blunts! That being said, I'm very particular about which wraps I use. I really dislike the 'cigar paper' wraps that have long dominated the blunt wrap market. Instead I usually purchase a pack of Backwoods cigars, gut them and roll up with the outer leaf.
Deconstructing a Backwoods cigar provides you with a solid tobacco leaf wrapper, but it can be hit and miss. Some wraps are frankensteined together and won't provide you with a solid wrap to roll anything with, others have rips or extremely rigid spines that can all contribute to a less than ideal final product. Generally in a pack of 5 Backwoods cigars I get 4 solid wraps on average, however I've had packs that only have a couple of usable wrappers.
I've often wondered why no one has bothered to package and sell pure tobacco leaf wrappers, or perhaps I just wasn't looking in the right places. The cigar paper wraps that are readily available in any pot-shop are harsh and usually covered in nasty flavoring, a pale echo of the blunts I know and love.
Shine has answered my prayers and released a top notch blunt wrap that uses a single, solid tobacco leaf. No gutting required.
Each and every shade leaf wrap is hand selected to ensure it meets the high quality standards that Shine has. I didn't find a single rip or tear, each wrap was a uniform size and the spines in the leaf itself were very malleable and manageable.
Rolling up with these Shine blunt wraps was an absolute pleasure, it made the whole rolling experience much easier. Creating the perfect blunt couldn't be simpler.
Shine released two flavors for their shade leaf wraps, as I mentioned earlier I'm not normally a fan of flavored papers or wraps. This was a different story though.
Part of what I love about blunts is the mild tobacco flavor it lends to the smoke, a flavor you simply won't find in tobacco paper wraps. Shine flavored their wraps sparingly, allowing the aroma and flavor of the tobacco itself to shine through. The flavoring seems to be concentrated in the glue strip and not spread throughout the entire wrap. While the flavor is relatively subtle compared to a Juicy J wrap, it is certainly noticeable and actually quite pleasant.
Shine offers tokers some of the most luxurious wraps on the market, famous for their 24k gold rolling papers. This luxury comes at a price, but unlike the lavishly priced 24k gold papers, the premium shade leaf wraps are actually quite affordable at $5.49 for a pack of 3 wraps.
Double Cup Flavor
I guess I'm not hip enough to understand the meaning behind the name 'Double Cup' flavor, but as far as I can tell it is essentially a grape flavored wrap.
The Double Cup wrap is the more potent of the two flavors. The aroma and flavor are just like candy, but they don't completely overpower the flavor of the tobacco or the herb inside.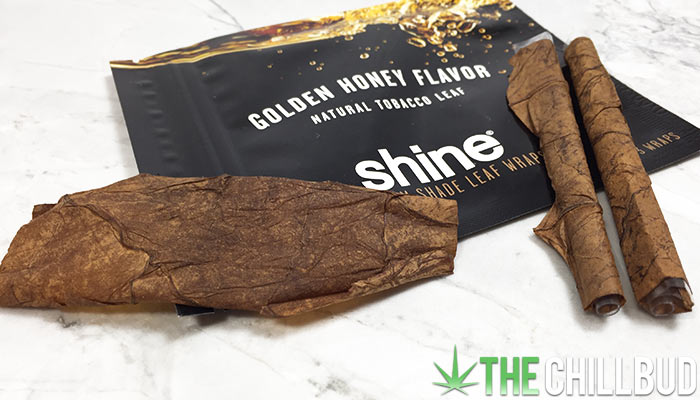 Golden Honey Flavor
The Golden Honey wrap is right up my alley! It imparts a more subtle flavor to the smoking experience, a touch of sweetness to compliment the richness of the tobacco leaf.
Final Thoughts
As someone who would never knowingly purchase a flavored paper or blunt wrap, these Shine wraps would be the one exception.
I was incredibly stoked to see a company finally offer a natural tobacco leaf wrap. I was even more stoked when I tried them out and found they did an absolutely wonderful job! No need to gut a cigar and roll the dice on whether the wrap will be usable or not. Roll with Shine, roll with confidence.
Get yours here: shinepapers.com
Comments