Looking for a full featured electric dab rig that is portable, powerful and affordable? The new Dr Dabber XS nano e-rig could be the device you've been waiting for! Reminiscent of Dr Dabber's previous e-rig releases, the XS takes all that innovation and packs it into the smallest package yet. Let's dig a bit deeper and explore all the features, benefits and downsides of the XS.
Dr Dabber XS Nano E-Rig Review
We had the pleasure of reviewing the Dr Dabber Switch when it was first released, and the Dr Dabber XS gave us a very similar feeling at first glance. The Switch blew us out of the water and thoroughly impressed us with the innovation and clean design, a giant leap forward in terms of electric rig design at the time. The XS iterates further by providing more portability and a much more attractive price point. You can pick up a Dr Dabber XS for $159.95 USD which is a very fair price considering what you're getting.
Found in the box:
Dr Dabber XS e-Rig

Quartz bucket atomizer

Glass bubbler attachment

Glass carb cap

Silicone carb cap tether

Funnel filling tool

Dab tool

USB-C Charging cable

Iso Q-tips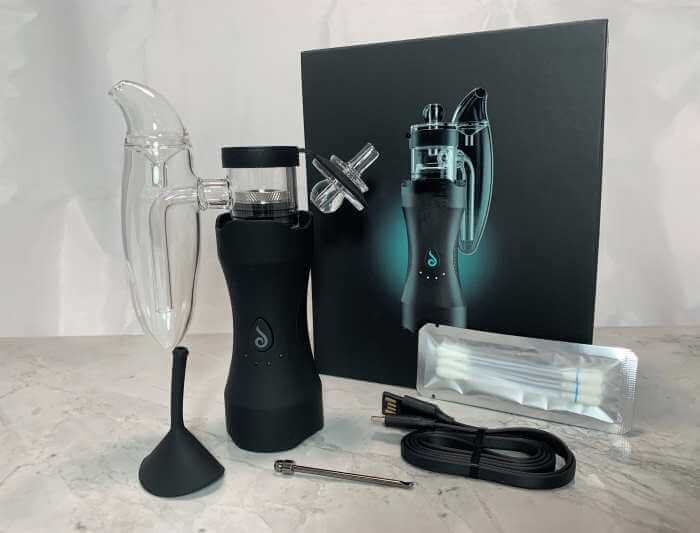 Calling the XS "portable" may be a bit of a stretch, but in terms of fully equipped e-rigs it is certainly more portable than most. I would suggest using a foam-cutout carrying case or something similar though. The XS may be portable but it's not pocket friendly by any stretch of the imagination.
Choose between 4 pre-set temperature settings ranging between 475­°-675­° F. These relatively lower temperature options give you the full spectrum of flavor from your concentrates. Heat up time for the Dr Dabber XS is lightning quick too! One full heating cycle takes ~20 seconds from start to finish.
One potential criticism would be the size and potency of each haul. I would argue it is a deliberate design function that actually enhances the user experience. The lower temperature settings paired with the bubbler attachment make for a really pleasurable experience overall. Hits are not harsh, they are full of flavor, and it doesn't take much know-how to get the absolute most out of the XS.
A 'keep it simple' philosophy seems to be evident throughout the design of the XS. From the temperature, to the tethered carb cap and even a funnel that makes filling the bubbler a painless chore. It really does feel like a grab and go e-rig that is perfect for both beginners and veterans.
Battery life is more than adequate. The XS also features pass-through charging which means you can use the device while it is plugged in. Dr Dabber advertises up to 35 heating cycles between charges. Our experience was closer to the 25 cycle range before performance started to suffer. Still a very respectable battery life that shouldn't pose any problems for most sessions.
Vapor quality was fantastic. Again, don't expect giant clouds that simultaneously put you on your ass while you soar through the sky. You won't be able to blast through a monster dab in one cycle, and the lower temp hits prevent throat searing hauls that can fog up an entire room. If you value your vaporizing experience and the flavor of your concentrates then the XS fits the bill.
Dr Dabber never disappoints when it comes to quality and feel. Each individual component feels thoughtfully designed and solidly built. For the price point, the XS is a really impressive e-rig that would be hard not to recommend to almost anyone looking for a new rig. After thorough testing, we HIGHLY recommend it!
Shop Dr Dabber XS Nano here: DrDabber.com
Comments