We've already been introduced to the DaVinci IQ vaporizer, and at first glance you may mistake the updated IQ2 for its predecessor. This updated model is chock-full of fancy features that cater to the vapor enthusiast as well as the vaporizer newbie. All wrapped up in a very attractive and compact package that makes the IQ2 a wonderful option for portable vaping.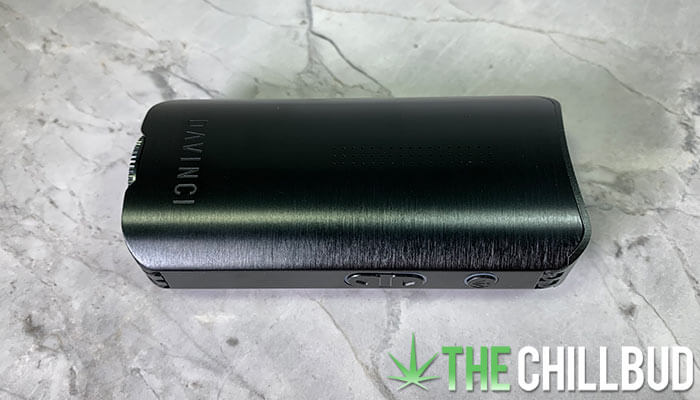 DaVinci IQ2 Review
The DaVinci IQ2 costs $295.00 which is quite expensive in terms of portable vaporizers. That being said, the overall quality and feature rich design sets the IQ2 apart from the competition.
Found in the box:
DaVinci IQ2 Vaporizer
10 mm Mouthpiece attachment
Dosage pod
9 x Organic cotton tabs
Ceramic extract tab
Silicone pod holder
USB Charging cable
Pick tool
Alcohol wipes
Stickers!!!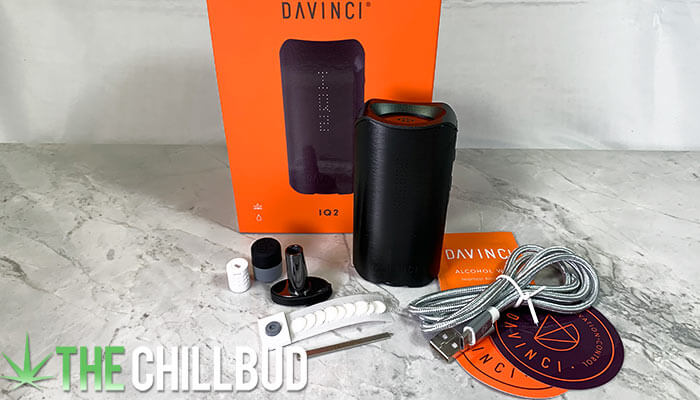 DaVinci uses a 'smart path' temperature mode as the default setting on the IQ2. Giving users 4 different modes to choose from that dynamically adjust the temperature of the oven as the session progresses. Over the course of the 8-minute session, the IQ2 will gradually increase the heat level by ~20 degrees F. I'm a huge fan of this setting and feel it gives me the very best of both worlds (low and high temperature vaping) without any fiddling or extra work.
Smart Path is a really cool feature that will be all the average user needs, but the IQ2 also allows users to set a precise temperature between 350° F – 430° F. There's also a 'Boost Mode' that temporarily ramps up the temperature to 430° F.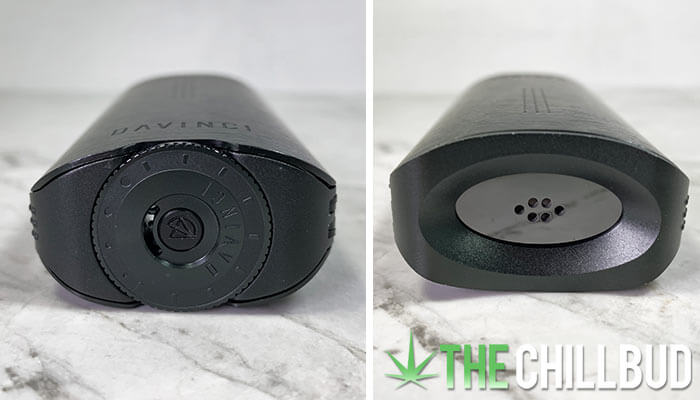 One minor innovation that has a major impact on the vaporizing experience is the addition of an air-flow dial located on the bottom of the IQ2. There are 5 settings to the dial that gradually increase / decrease the amount of fresh air being pulled in with each haul. Personally I like to use the setting with the most exposed air flow holes, but if you're looking for more concentrated vapor pulls you can close up the fresh air intake.
DaVinci goes above and beyond when it comes to quality materials. The entire vapor path, from oven to mouthpiece is either glass or zirconia ceramic. This means the flavor is pure and you don't need to worry about plastic / rubber bits heating up and potentially leaching harmful toxins into your vapor. A massively important design that I value above most other features on any vaporizer.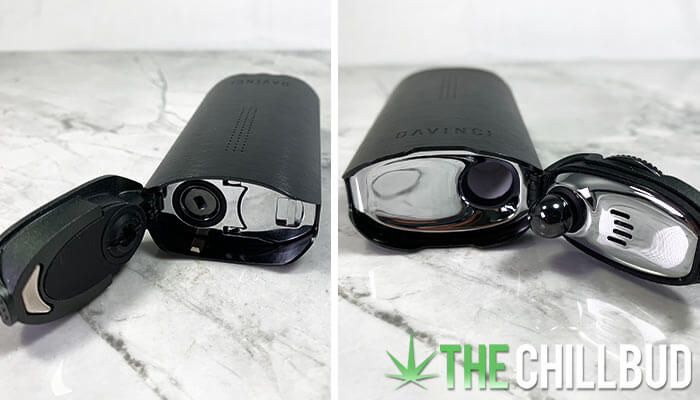 Now, in terms of vapor production and quality, the IQ2 is fantastic! You really don't expect to get such dense vapor from a portable vaporizer this compact. And because of the glass / ceramic air path the flavor is as good as it gets.
While I love almost everything about the DaVinci IQ2, there are a couple of issues. One is that I find the unit heats up quite a bit, even on the lower temperature settings. It's by no means too hot to handle, but it does get uncomfortably warm by the end of a session, also the vapor itself can get a bit warm.
My second issue is the battery life. I don't expect a super long-lasting battery-life from vaporizers so compact, and you can easily swap out the 18650 rechargeable battery to prevent any downtime. BUT! Everything I read about the IQ2 claims it lasts ~1 hour on a full charge (7-8 full heating sessions). In my experience it's about 4-5 solid sessions before it needs a recharge. Not bad at all, but not quite the 1 hour I was expecting. My sessions were on smart-path heat setting 2 and I did not use the boost mode.
My last issue is also related to the battery. While you get a little less than an hour of usage out of a full charge, the unit takes 6 hours to recharge to full. To get around any of the issues I have with the battery you can simply invest a spare 18650 for quite cheap and just swap them out. If you're budgeting for a $295 vaporizer I would say the extra battery (or two) is a no-brainer that will significantly improve your overall experience.
Other quality of life bonuses include a built-in stir-stick, additional mouthpiece that fits 10 mm glass attachments (to use the IQ2 with a bong / bubbler), zirconia pearl that adjusts to accommodate a half-full oven, smart-phone app to track usage, dosage and temperature. Another major innovation that sets the IQ2 apart from the original IQ is the fact that it accommodates both herb and extracts.
All in all the DaVinci IQ2 is a wonderful vaporizer that's easy to use, very portable and powerful. Assuming you get yourself an extra battery, the only cons I have are the price is a bit steep and the temperature of the vapor / unit itself can get a touch warm.
I'm very impressed with DaVinci and happy to see them continuing to innovate and improve on previous designs. Also, they include a 10-year warranty which gives you complete peace of mind and speaks to the quality of the product. If you have the cash to spare, the IQ2 is a great option that won't disappoint!
Get yours here: DaVinciVaporizer.com
Comments