Davinci is a well-known brand among vaporizer enthusiasts, the Ascent was one of the most highly touted portable vaporizers thanks to it's all glass vapor path. With the release of their latest model, the Davinci IQ, they are sure to maintain their position as one of the best portable vapes available.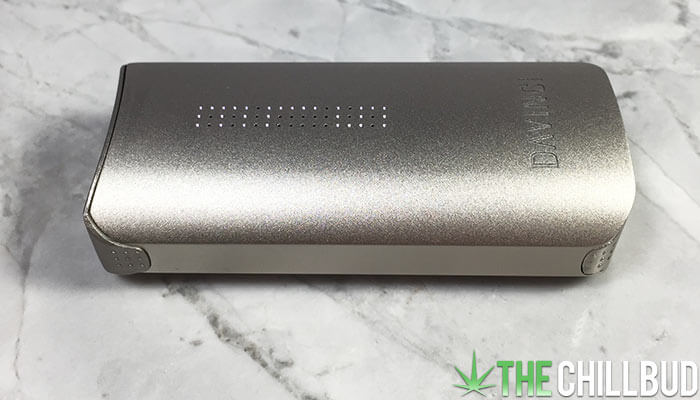 Davinci IQ Review
The Davinci IQ costs $274.99 USD, it comes in a few very tasteful color options, and features some fantastic new tech that help justify the top shelf price tag. A couple of features that set the IQ apart from some other portable vapes include: a replaceable 18650 battery, the introduction of Davinci's Smart Path Technology, as well as a full zirconia ceramic vapor path.
Found in the box:
Davinci IQ Vaporizer

Keychain tool

USB charging cable

Cleaning brush

9 Alcohol wipes

Herb carrying can

10mm Extended mouthpiece / water pipe adapter

Dope Davinci Sticker!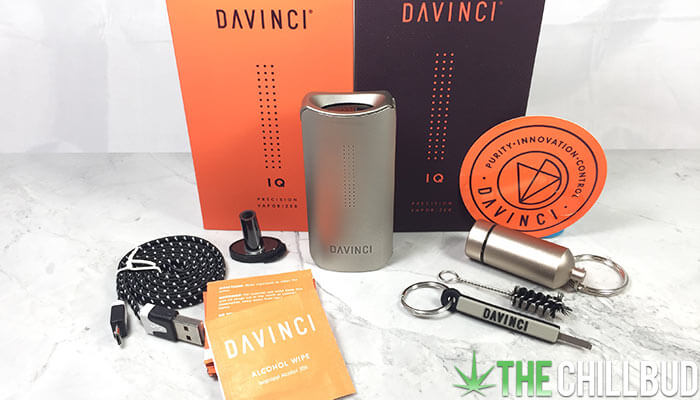 Yes, the Davinci IQ is loaded with awesome features. The thing that really took me for a loop was how small it was in comparison to the previous Ascent model. After looking at the pictures online, I assumed it would be about the same size, or perhaps a little smaller than it's predecessor. This thing is truly a portable vaporizer, I'm able to completely palm the unit making it perfect for low-key public tokes.
Build quality is top notch. Not only does it feel totally solid, the materials used are exactly what a vape connoisseur is looking for. Completely metal exterior, with a ceramic zirconia mouthpiece & 'flavor chamber' (vapor path) and a ceramic oven. These high quality materials are fantastic for delivering unadulterated vapor flavor, they're easy to clean and are quite durable. However they're also pretty heavy, 5 oz's according to the Davinci website.
Let's dig into the tech that Davinci features in their IQ model.
Smart Path is a term used to describe the preset temperature profiles that Davinci features. A 'Smart Path' setting will start out at a specific temperature, and gradually (over the course of 5.5 minutes) heat up. These settings can be customized using the new Davinci vaporizer app.
Davinci's Smart Path Technology is designed to give users the absolute best vaporizing experience without fiddling with the unit constantly. Starting at a lower temperature to ensure users are benefiting from the spectrum of cannabinoids as well as flavor profiles. The temperature rises gradually to make sure you're getting the most out of each session, with a perfectly toasted oven at the end of each session. If the preset Smart Path's aren't for you, you can either customize the temperatures / operating time using the app, or opt for the precision mode which lets you dial in your perfect temperature.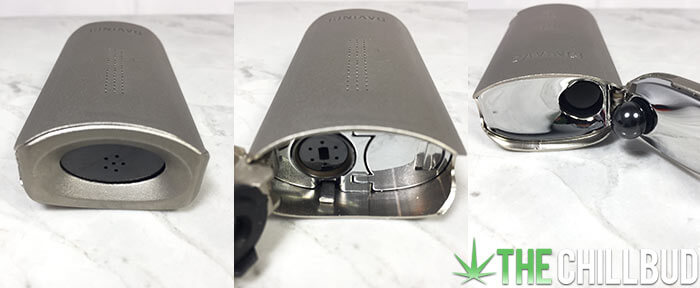 The flavor chamber is an added piece of tech that I've never seen before. It's essentially a ceramic chamber that can be removed and filled with nugs (for later use) or any herb of your choice that will enhance the flavor of your vapor. Herbs in the flavor chamber aren't brought to a high enough temperature to vaporize. They are heated up enough to start releasing some of their unique flavors and aromas. This isn't a piece of tech that I will be using, and here's why!
Placing nugs in the flavor chamber might offer a "fresher" tasting vapor for the first few sessions, but once you open the chamber back up you'll find some pretty sad looking nugs covered in specs of AVB. They leech all that vapor that's been passing through them, giving them a less than ideal aroma. Maybe throwing some fresh mint in the flavor chamber will give users a refreshing change of pace, but it seems like far more trouble than it's worth.
That being said, the flavor chamber is actually very useful! The vapor is forced to pass through a small hole at the base of the chamber, then it fills the spacious middle area where it can expand before finally passing through another small hole just below the mouthpiece. I'm no scientist, but I feel this helps cool down the vapor while providing dense clouds.
Davinci allows users to choose between two different ceramic zirconia mouthpieces, one is recessed and totally discreet, the other is a nozzle that fits snuggly in 10mm male water pipes. No need to purchase expensive adapters to use your vape with your favorite water pipe. A seemingly small detail, but it's these little innovations that make the IQ one of the best portable vaporizers we've ever seen.
One thing about the Davinci IQ that actually seemed to go back in time was the display. Previously, Davinci used a LCD display that was complete with little graphics to let you know when the unit was heating up or reached temperature. The IQ uses a bunch of tiny LED's to display things like temperature and battery life. Personally, I'm actually a huge fan of the new display. It's extremely slick looking, works perfectly and can be dimmed to further lower the profile of the vape when toking in public.
Vapor flavor, density and efficiency are all the most important aspects of any vaporizer. The Davinci IQ gets top points for flavor, it seems that since the all-glass pathway of the Ascent, they've perfected the ability to deliver tasty vapor from the oven to the mouthpiece. Vapor density was also great! I wouldn't give it top points for density, but it's pretty damn close. The efficiency of the IQ was also very good, but it's the one part that left me wanting. If the rest of the vaporizer wasn't so amazing I wouldn't have even mentioned the efficiency though. Overall it was really great, I got plenty of great rips every session and the herb was uniformly toasted at the end of each session.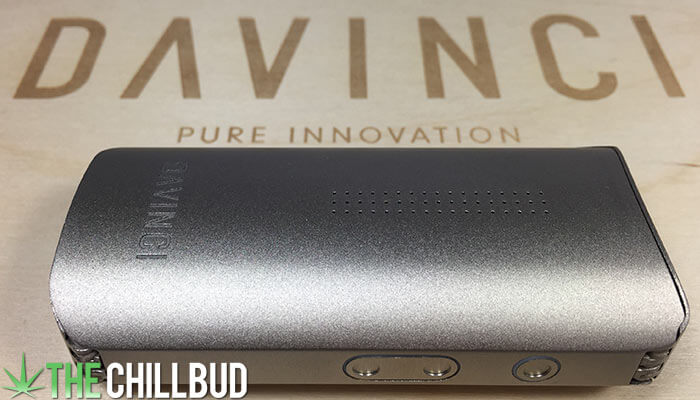 Pros
Where do I start? Build quality, feel and design are all amazing! The Davinci IQ is on par with the industry's best portable vaporizers in terms of quality, design and function.
The all ceramic vapor path is a huge bonus! Delivering amazing tasting vapor as well as being very durable and easy to clean.
Being able to pair your vaporizer with your iPhone (or other device) via bluetooth is hugely useful. Tailor your smart path settings until you find the perfect profile, set it once and the IQ will remember it forever!
Pair your Davinci IQ with your favorite water pipe using the included mouthpiece. After using this mouthpiece and trying it out, I'm bewildered that every vaporizer company isn't offering this or something similar.
Cons
When I find a vaporizer I really enjoy, I find it difficult to come with many cons. This is one of those vaporizers.
I'm reaching a bit, but the design of the buttons (function and temperature), while discreet, they're kind of difficult to use. Maybe my fingers are just too fat, but I found they weren't the easiest to use.
In order to get the most out of each oven load, you'll need to be sure it's totally full. When packing half-full ovens I found it difficult to get dense vapor pulls, overall kind of unsatisfying. This is a common issue with virtually all vaporizers though.
Final Thoughts
The price point is the only thing that might dissuade someone from picking up a Davinci IQ in my opinion. But, if you're in the market for one of the best portable vaporizers on the market, and don't mind paying the $274.99, this is the vaporizer for you.
I've only ever experienced such great function from vaporizers that are far less portable than the IQ, or desktop models. The Davinci IQ is setting a new standard for high quality portable vaporizers. Highly recommended!
Get yours here: davincivaporizer.com
DaVinci IQ
Vapor Quality -

7.5/10

Build Quality -

8/10

Usability -

8/10

Stealth -

7/10

Value -

7/10
Overall Score
High quality vaporizer for a price.
Comments