We are constantly searching for the latest and greatest cannabis-friendly products to review and share with you, the reader. A big thank you goes out to Crater for making this review possible.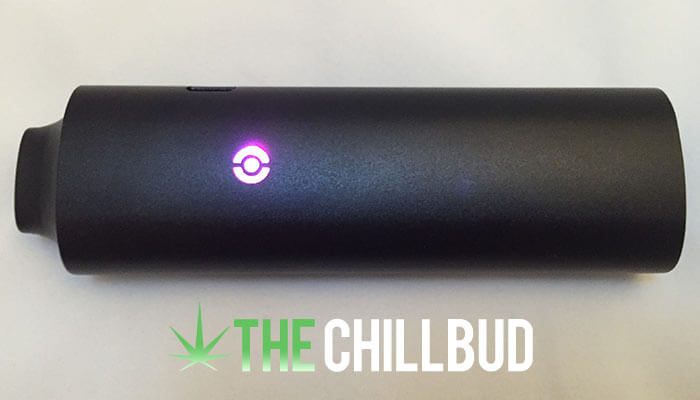 It's important to mention that Crater Vaporizers are only available in Europe, Canada and Australia though. For all our American readers, I would suggest checking out This Review.
Crater 3000 Vaporizer Review
The Crater 3000 USB is the latest installment in the Crater vaporizer product line, boasting a longer lasting 3000mAh lithium ion battery.
You may notice some similarities between the Crater vape and the original Pax, and you wouldn't be wrong. The Crater 3000 is virtually the exact same as the original Pax, the only real difference we found was the LED light design and the price.
Coming in at £139 (about $210 USD) it is a slightly cheaper alternative to the Pax.
Found in the box:
Crater 3000 Vaporizer

USB charging cord

Cleaning kit with alcohol wipes and pipe cleaners

Mouthpiece lubricant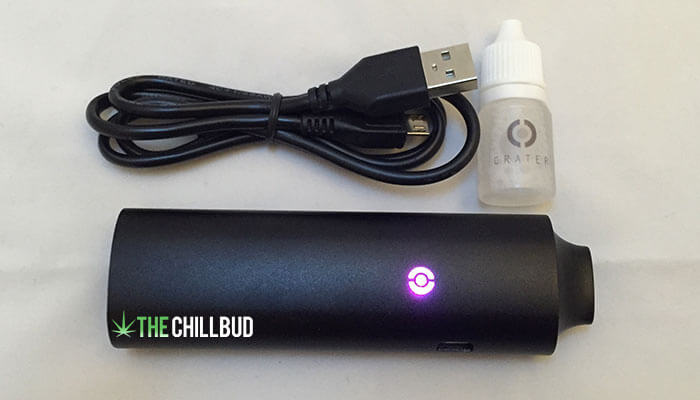 The Crater vape is very user friendly, almost anyone could unbox this thing and use it without any help from the user manual. It has 2 'buttons', the mouthpiece, which has a very mechanical feel compared to some other vapes. The second button is found underneath the mouthpiece, it is used to choose between the 3 temperature options.
Expect to get around 6 or 7 sessions (12-15 minutes each) from each charge. Checking your battery life is as simple as giving the Crater a quick shake while it's on. Green blinking lights on the front means you are charged and ready to rock, yellow lights means you are at half battery life, and red means you should be charging your vape right away.
Registering your Crater on their site provides you with a lifetime warranty, but it is rather limited as to what it covers. Basically, it covers any defects in the materials or manufacturing, any damage or battery degradation isn't covered.
Pros:
A great looking / working vaporizer for a good price.
The Crater vape is very easy to use and clean, but it comes with a very detailed user guide complete with pictures just in case. Cleaning is a breeze with the Crater, between the alcohol wipes and pipe cleaners you can get at every nook and cranny quite easily.
The oven area isn't too deep, allowing the herb to be heated evenly. No need to open it up halfway through your sesh to mix things up.
A longer battery life is a welcome addition to the Crater vape line. Get a full day of use from the Crater with a full charge, when it's dead, it only takes 2 hours to get back to a full.
Using the second temperature setting (200 degrees Celsius according to the manual) the vapor is quite cool by the time it hits your lips. Although this may have something to do with one of the cons listed below.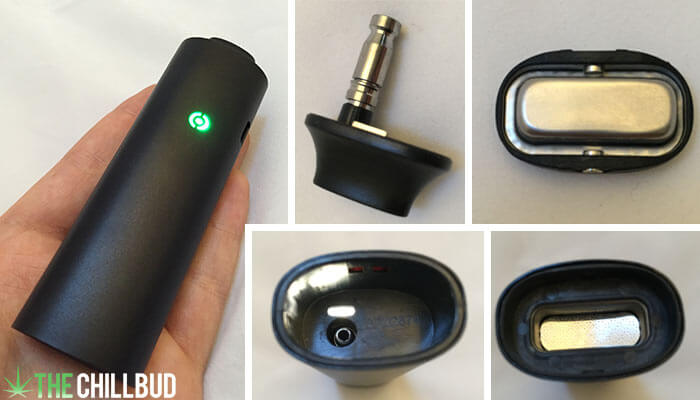 Cons:
The big con with Crater vapes is the fact that they don't ship to the United States. Hopefully this changes soon.
I received the USB model which has a mini-USB connection right on the side of the vape. Not a big deal really, but it does take away from the sleek design, and I would worry about getting liquid in it.
When drawing from the Crater you are met with little resistance, which is a good thing. But! I feel it is pulling in air from somewhere that isn't the oven. So the draw is rather robust, but I never really feel like I get a full vapor hit. This could be a pro for some, the draws are smoother and less intense because of this, making it perfect for sensitive tokers.
Now I am getting nit-picky, but the oven lid poses a bit of a problem when it comes to keeping it clean. There is a very narrow, deep ridge around the oven lid, it's just asking to be filled with sticky little bits of herb. A toothpick would easily clean it out, but it's something I would rather not have to do.
Lastly, and this is due to the mechanical nature of the mouthpiece, but I don't like the fact that you have to semi-regularly lubricate the mouthpiece. It's just one more thing to do in order to keep the vape working like new. Yes it's simple and takes about 8 seconds, but I have to find cons somewhere.
Final Thoughts
If you want to get a top quality portable vaporizer for an affordable price, the Crater 3000 is a fantastic option! Yes there are more 'refined' vapes out there, but you will be paying $50 – $100 more, and the end result will be the same.
Anyone in Europe, Canada or Australia interested in trying out a portable vape should start with the Crater. It's a nice entry level vaporizer that won't break the bank.
Get your Crater Vaporizer here!
Crater
Vapor Quality -

7/10

Build Quality -

7/10

Usability -

7.5/10

Stealth -

8.5/10

Value -

7/10
Overall Score
A decent, stealthy vaporizer to start your collection.
Comments