Lineage: Pause is a proprietary strain of cannabis produced by Tweed and branded / sold by Tokyo Smoke. Closely related to the Chocolope strain.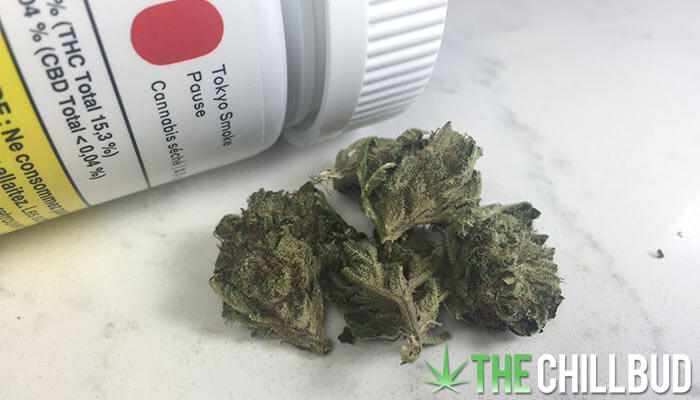 Pause from Tokyo Smoke Review
Tokyo Smoke sells five different proprietary cannabis strains, we checked out their indica dominant strain known as Pause. I was excited to check this strain out because Tokyo Smoke is one of our favorite dispensaries, so I had high hopes for their line of cannabis flower.
As much as I wanted to love this strain, upon opening the container I was immediately disappointed. The flower was poorly manicured and contained A LOT of stems. It almost looked like someone went through the container already.
The aroma was quite pleasant, it had an earthy musk with a hint of fresh mango. The buds were quite dry, but I've come to expect this from virtually every producer.
Pause is Tokyo Smoke's indica dominant variant and it certainly offers a classic indica high. I experienced a potent body high and feeling of relaxation without feeling totally zonked. As far as the cerebral effects, they were slightly more mild than I would have expected. The high itself wasn't too long lasting. I could see using Pause before bed if you have trouble sleeping or suffer from mild discomfort.
The particular batch of Pause we tried out came in at ~15% THC and <0.04% CBD.
Comments