Baltimore Ravens offensive lineman has become an unlikely advocate for medical cannabis, calling for the NFL to do away with its ban on the medical use of the substance by the league's players.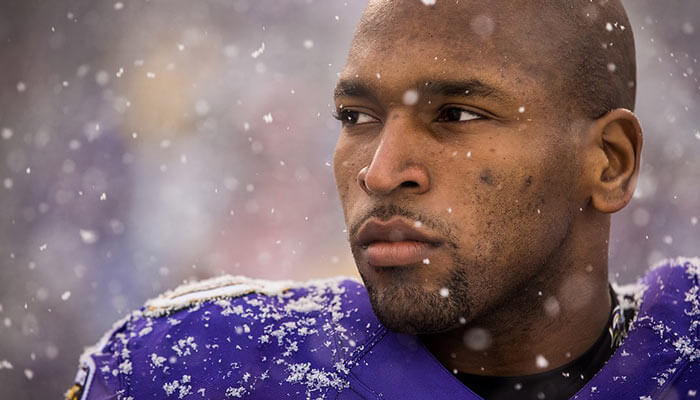 Eugene Monroe Is Fighting For Cannabis In the NFL
"To this point, I understand why no one but me as an active player has said anything about it," he says. "It's a banned substance in our league. Speaking about it can honestly ruin someone's career if the wrong team gets wind of it and has adverse opinions on it. But my health is more important than the opinion of someone who could be my employer now or my future employer."
While the NFL has not commented publicly on Monroe's cause –referring questions to a February statement made by commissioner Roger Goodell, in which he said the league's officials "always review our drug policy"– the league has nonetheless shown openness to the idea. League officials –including neurological surgeon Russell Lonser and league senior vice president for player health and safety Jeff Miller– held a conference call with researchers from University of Pennsylvania and Johns Hopkins University. The researchers from those institutions who attended the conference call had previously received an $80,000 donation from Monroe to study the outcome of medical cannabis use by NFL players.
"[NFL officials] are interested in learning more about the potential for cannabinoids to help current and former players, as is evidenced by them taking the call, and also expressed a desire to learn more," said Marcel Bonn-Miller, a researcher at the University of Pennsylvania's school of medicine. "They are definitely showing genuine curiosity, and they are definitely not throwing up roadblocks."
Attitudes in the U.S. have shifted dramatically in recent years on the question of cannabis legalization: A new survey released Monday by Quinnipiac University found 54 percent of voters supportive of legalization, with just 41 percent opposed.
For Monroe, the issue is one of grave importance. He sees his work as not only able to help players who are in pain, but also possibly instrumental in destroying the stigma associated with cannabis use.
"I want to break down the doors," he said earlier this year. "And if I can get a huge organization like the NFL to acknowledge this is something we can do to help people, if the NFL can say we're looking into marijuana research for our players, the stigma is going to leave."
Comments