Get ready for the ultimate list of iconic movie stoners, roll one up, fire up Netflix and puff down with some of your favorite movie potheads.
Most Iconic Movie Stoners
This list is in particular order, as it would be impossible to rank these cannabis kings.
We would love to know your favorite movie stoner on or off the list.
Cheech & Chong – Up In Smoke (1978)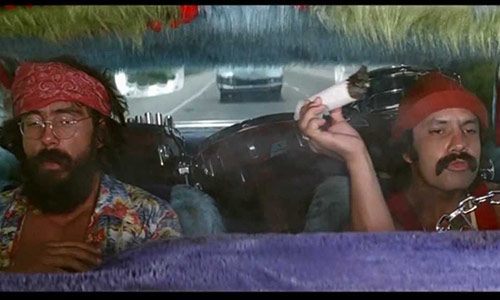 Any list of iconic movie stoners that doesn't include Cheech & Chong should be burned immediately. These guys brought bud to the big screen decades before everyone else, they are the original movie stoners. I heard they even partake in the wacky tabacky off-screen.
In 1978 Cheech Marin and Tommy Chong released an instant cult classic, Cheech and Chong's Up In Smoke. Follow the ultimate stoner duo while they embark on a crazy adventure, up in smoke.
Jay & Silent Bob – Jay and Silent Bob Strike Back (2001)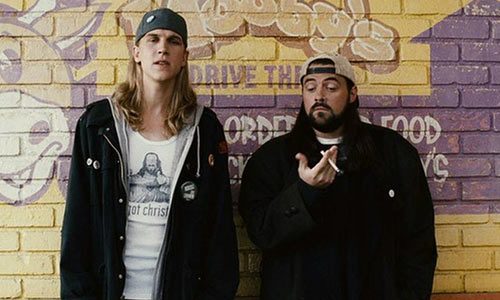 Kevin Smith and Jason Mewes (Jay and Silent Bob) first appeared in Clerks in 1994. Their half-baked antics were such a hit that Kevin Smith decided to make a movie dedicated to this modern stoner duo, Jay and Silent Bob Strike Back.
Harold & Kumar – Harold & Kumar Go to White Castle (2004)
Best buds Harold and Kumar set out on a munchie run of epic proportions. What begins as a simple burger run to white castle quickly turns into a heart pounding adventure through a thick haze of smoke.
The original film in 2004 was such a hit, they have since released 3 more films following the adventures of these everyday American stoners.
Trailer Park Boys: The Movie – Ricky (2006)
Set in a modern day trailer park in Nova Scotia, the trailer park boys have drank, swore and toked their way into every comedy fans heart. It started as a low budget television show and has since expanded to the big screen and beyond.
While there are a number of potheads in the trailer park, Ricky is easily the king pooba. He grows the bombest weed and smokes so much it would make Snoop Dogg cringe. Well…Maybe not Snoop.
Fear and Loathing in Las Vegas – Hunter S. Thompson (1998)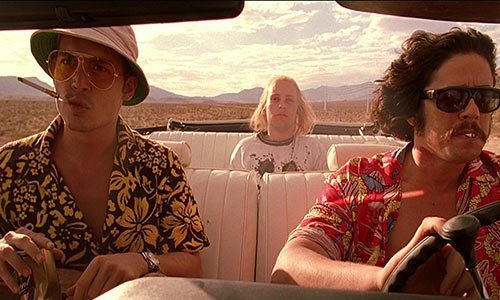 An infamous American journalist and author, Hunter S. Thompson was immortalized both by his groundbreaking work and Johnny Depp's portrayal of him in Fear and Loathing in Las Vegas.
Marijuana was one of many mind altering substances regularly enjoyed by Hunter, but his story became such a hit in the cannabis community we have adopted him as one of our own. The real life Hunter S. Thompson died in 2005, in Colorado.
The Big Lebowski – The Dude (1998)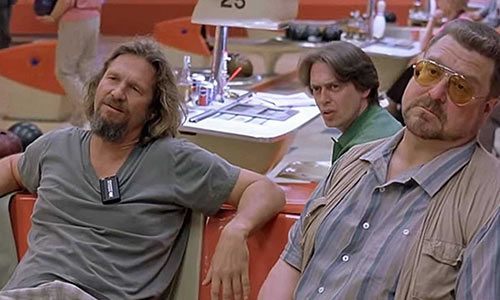 Here is a movie that every self respecting stoner has seen at least half a dozen times. Jeff Bridges plays "The Dude", a laid back stoner rocking a bathrobe, slippers and a white russian. When he is mistaken for another Lebowski and gets his rug ruined, it throws a wrench into his bowling schedule and things spiral out of control. After all, the rug really did tie the room together.
Dave "Woody" Wooderson & Ron Slater – Dazed and Confused (1993)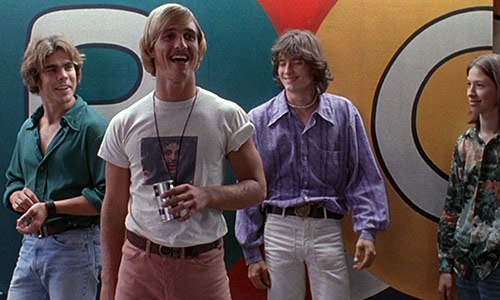 The year is 1976, it's the last day of school, some are graduating, some are entering high school for the first time. Follow these rowdy pot heads as they prepare for the first pages of a new chapter in their lives.
Dave Wooderson, played by Lincoln spokesman Matthew McConaughey, was an instant classic. Winning audiences over with his prophetic wisdom, summed up well in this quote "That's what I love about these high school girls, man. I get older, they stay the same age."
All right, all right, all right.
Jeff Spicoli – Fast Times at Ridgemont High (1982)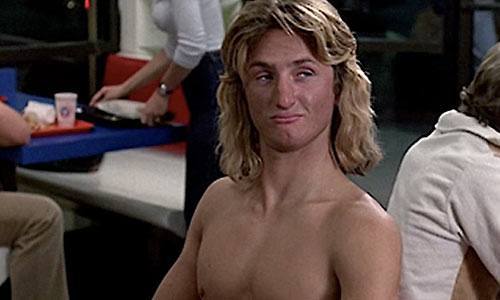 A 22 year old, two time Oscar award winner Sean Penn brings Jeff Spicoli to life. A laid back surfer-style uber-stoner that you can't help but love. Mr. Hand and Spicoli have some hilarious exchanges that put Fast Times at Ridgemont High high in my list of favorite stoner films.
Thurgood Jenkins, Scarface, Brian and Kenny Davis – Half Baked (1998)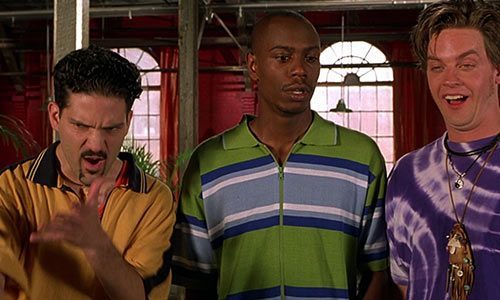 With appearances by 'Wesley Pipes' and 'Billy Bong Thorton' you know it's going to be good. In fact, it was great. Dave Chappelle brings his A game and along with Harland Williams, you will be laughing outloud for the entirety of the film.
Aside from an all-star stoner main cast, you will see legendary stoners Willie Nelson, Snoop Dogg and Tommy Chong making appearances as well. Bob Saget even drops one of the funniest lines of all time, "Marijuana is not a drug. I used to suck dick for coke. Now That's an addiction. You ever suck some dick for marijuana?"
Dante – Grandma's Boy (2006)
Peter Dante plays 'Dante', the eccentric dealer and dear friend of main character Alex. This guy would be the ultimate dealer, always has a nice variety of bomb ass dope and is always ready to puff down.
It is no secret that this movie was made for stoners, by stoners and they nailed it. Filled with all sorts of stoner wisdom, some of the best coming from Dante himself, "Anybody can get past a dog. But nobody fucks with a lion."
Doug Benson – Super High Me (2007)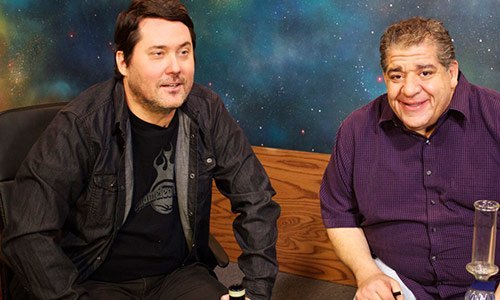 Playing off the success of 'Super Size Me', Doug Benson let's cameras follow him around as he goes through a 1-month tolerance break and then a 1-month smoking spree. Through a series of physical and cognitive tests the idea is to determine if marijuana has any negative or positive effects on Doug after 30 days.
Doug Benson is a hugely famous stoner, hilarious stand up comic and uber-successful podcaster. His 'Getting Doug with High' is in our list of podcasts for stoners, watch Doug smoke down with some Hollywood stars.
Saul Silver & Dale Denton – Pineapple Express (2008)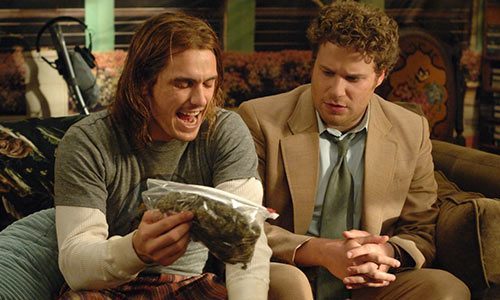 James Franco plays a great stoner, evidenced by his performance as Saul Silver, the dope dealer in Pineapple Express. Franco and Seth Rogen (Dale Denton) go on an outlandish adventure in this action packed comedy. Plenty of tokes and even more laughs in this cult classic.
Captain Mack – Soul Plane (2004)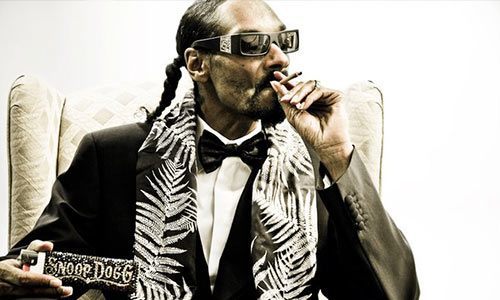 The list wouldn't be complete with Uncle Snoop. Playing the high flying Captain Mack aboard the legendary Soul Plane, expect plenty of cloud cover on this uplifting flight.
Snoop Dogg is one of the most iconic stoners of all time, up there with Bob Marley, Willie Nelson and Tommy Chong. You can rest assured that if he is in a movie, he is probably puffing down and it's definitely worth a watch. Don't let the low IMDB rating turn you off, this is a stoner classic.
Did we miss anyone?
Comments