We don't always want to sit and chill after toking up, sometimes stoners like to bake up before going on an adventure!
Whether it is getting active with some buddies on the soccer pitch or going for a hike through the woods, here are a few uplifting strains that will fuel your adventurous mood.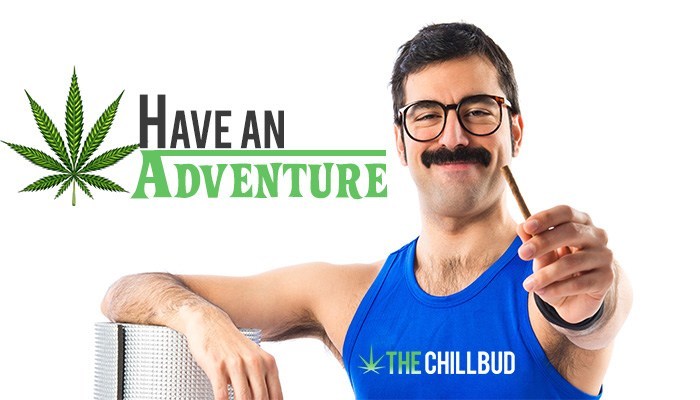 12 Strains That Energize and Uplift
These marijuana strains lend themselves perfectly to adventure, activity and exploration. Get up, get active and take advantage of the many benefits marijuana has to offer for active tokers.
1. Sour Diesel
A notably potent sativa with zero couch-lock.
Sour Diesel / Sour D leaves users feeling happy, like really happy! The uplifting high gives smokers a highly cerebral and energizing experience, perfect for a jaunt through nature.
2. Green Crack
Sweet, fruity and full of life!
This strain has gotten some flak for its extreme name, but Green Crack or Green C is one of the best sativa's in the game. The perfect daytime strain that leaves users feeling energetic and uplifted. An invigorating high that has the opposite effect of couch-lock inducing indica strains.
3. Lemon Haze
A powerful citrus aroma and flavor.
As the name would suggest, Lemon Haze has a fantastic lemony taste that will both shock and please your taste buds. Offering a slightly more mild high compared to similar sativas, it's long lasting effects more than make up for it. Expect to smile and giggle.
4. Pineapple
A more relaxed strain with tropical notes.
Transport yourselves to a tropical beach at sunset for a leisurely stroll and deep thoughts. Pineapple is a great stress relieving and relaxing strain, a hybrid that offers a bit of both worlds. Users experience a very happy and uplifting high coupled with the relaxation effects of an indica.
5. Strawberry Cough
Like biting into a fresh juicy strawberry.
Melt away any feelings of anxiety, stress or depression with this deeply satisfying sativa. Strawberry Cough will tickle your brain and leave you smiling all day long. The uplifting state of euphoria is perfect for outdoor adventures.
6. Tangie
A fruity tingle that unlocks true chill-ness.
Tangie has grown wildly in popularity, and for good reason, it is a fantastic well-rounded sativa. It can be a bit of a creeper, meaning the full effects won't be evident until a few minutes after your sesh. Expect to feel happy, uplifted and energetic. Let the Tangie high unfold as you embark on a journey of your own design.
7. Maui Waui
Born and raised on the  tropical Hawaiian islands.
An aroma and flavor similar to Pineapple, Maui Waui will gently transport you to a state of serenity and child-like wonder. Users report feeling motivated, creative and energetic, making Maui Waui a perfect strain to enjoy during outdoor adventures.
8. Chocolope
Makes anyone a morning person when coupled with coffee.
The earthy, coffee-like aroma and flavor of the Chocolope strain pair perfectly with your morning coffee. The effects of Chocolope are also great for morning activities, leaving users feeling uplifted, optimistic and clear headed. The high doesn't last too long, but the 'burn-out' is very mild.
9. Jack Herer
A tribute to Jack Herer created by Sensi Seeds.
This sativa dominant strain leaves users feeling blissful and uplifted. Jack Herer was created to offer a highly cerebral high coupled with the heavy resin content associated with indica strains. A spicy woody aroma gives Jack Herer a distinguishably rich character, great for both morning and late night tokes.
10. Agent Orange
Smooth and balanced.
A true hybrid strain that leaves users feeling the effects of both sativa and indica genetics. The sweet orange aroma is reminiscent of a glass of freshly squeezed orange juice. Expect to feel uplifted, motivated and happy, with profound pain relieving qualities.
11. Blueberry Haze
Blueberry yum yum!
Another hybrid strain that features the remarkable flavor and aroma of the indica Blueberry strain and the uplifting sativa effects of Haze. This is a heavy hitting strain, overdoing it can promote a lethargic, couch-lock stone. When smoked in small doses, you can induce a feeling of euphoria and bliss while relieving pain and stress.
12. Grapefruit
A clean, citrus taste that elevates the mind.
Grapefruit is one of our favorite sativa strains, with a fresh aroma and powerful cerebral high. Users report a long lasting high that will motivate you to get active. Great for a before hike puff or day on the slopes.
More Chill Reads
50 Most Popular Marijuana Strains
Comments