Seth Rogen and Evan Goldberg are titans in the field of comedy, but most recently they've set their sights on the cannabis industry. Rogen is well known for his very public marijuana use, both on and off the big screen. So it's not a huge surprise that the Canadian born actor and comedian recently announced his latest venture, a cannabis brand known as Houseplant.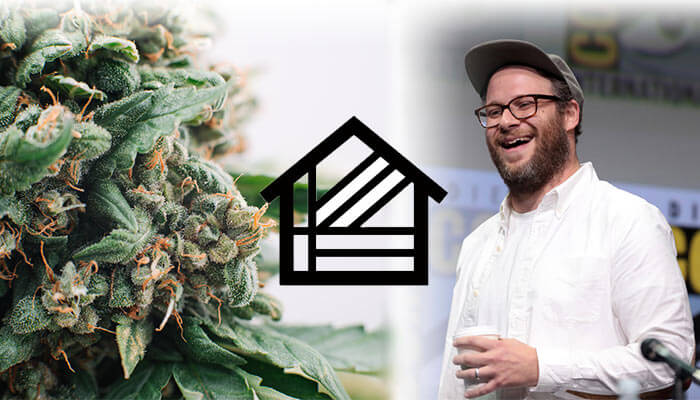 Seth Rogen's Cannabis Brand, Houseplant Hits Shelves Soon!
Houseplant has been in the works for years according to Rogen, "We have been working on this quietly for years and seeing everything come together is a dream come true," said Rogen.
"We could not be more passionate about this company and are dedicated to doing everything the right way. It is extremely important to us to treat cannabis with the reverence it deserves." added Rogen.
Many celebrities have entered the cannabis space in the last couple of years, but unlike some, Rogen isn't just a spokesperson for the company. He and partner Even Goldberg are the business leads behind Houseplant.
The company is set to deliver its first batch of cannabis in British Columbia as early as next month, but hopes to be available nationwide by the end of the year. It may be a new name in the cannabis space, but it already has quite the buzz surrounding it. The cannabis titan Canopy Growth has even acquired a 25% share in Houseplant, providing the facilities and infrastructure for Houseplant to grow.
So far they're keeping it very simple, showcasing one Sativa strain, one Indica strain and one Hybrid strain. All with very clean and minimalist packaging, designed to make it very easy to distinguish between the different strains they offer.
Rogen is famous for portraying cliche stoner characters in many of his films, so it's not too much of a stretch to see him entering the cannabis space. And he isn't the first to capitalize on this image to become an authority in the cannabis niche. Other celebrities have been jumping into the cannabis business over the past few years, including Snoop Dogg, Kevin Smith, Tommy Chong and even Martha Stewart.
Canada strictly regulates the promotion of cannabis through the Cannabis Act. Limiting or flat out prohibiting the promotion of cannabis, accessories or services related to cannabis. It cannot be presented in a way that "evokes a positive or negative emotion" about a "way of life such as one that includes glamour, recreation, excitement, vitality, risk or daring."
Testimonials and endorsements by a person, character or animal, whether real or fictional is also prohibited. As is any promotion that could be seen as appealing to young people. Severely limiting how cannabis companies can market and grow their brand.
The rules surrounding cannabis marketing are a particular concern for Seth because of his celebrity and potential influence. This is why he is very careful to separate his other endeavors from his budding cannabis business.
As a huge fan of both Seth Rogen and cannabis, I for one cannot wait to check out what Houseplant has to offer.
Once Houseplant's line of cannabis is available you'll be able to purchase it through BC's online cannabis shop: BCcannabisstores.com
You can check out what Houseplant has to offer, as well as enjoy some educational videos narrated by Seth on their website: Houseplant.com
Comments