Vapor Brothers are one of the original vaporizer companies still producing quality vapes since 1999. They have a full line of vaporizers to choose from, and we were lucky enough to get our hands on their new VB Eleven Vape Pen to review for your pleasure. Don't worry though, we had a pretty good time too!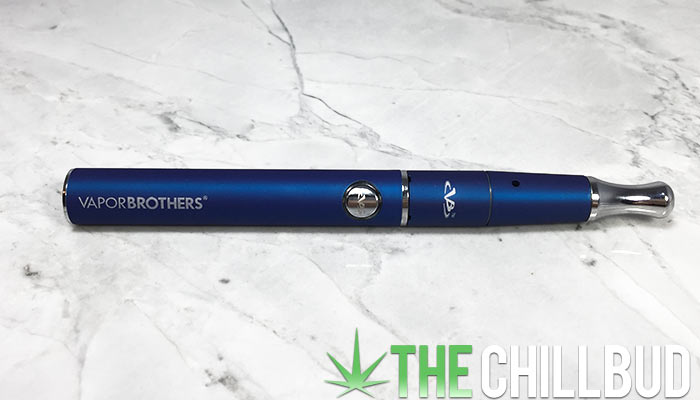 VB Eleven Pen Review
There are two different kits to choose from when buying a VB11 vape pen: the $69.99 option which comes with 1 ceramic coil atomizer or the $99.99 option which comes with 3 different atomizers. We are reviewing the basic VB11 kit.
Vaporizer pens are used exclusively for extracts like wax and oil. The VB11 isn't one of those small pens that would fit in a cigarette package, it's closer in size to the Dr. Dabber Aurora / Ghost.
Found in the box:
VB11 Vape pen

USB charger

Loading tool

Carrying case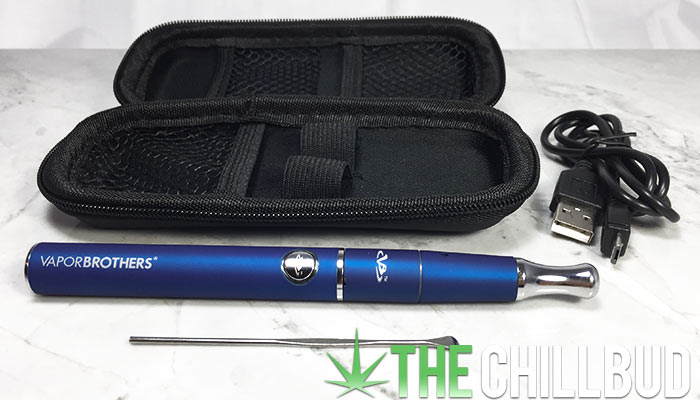 The first thing you'll notice when you pick up a VB11 pen is the badass carrying case it comes in. The second thing you'll notice, is when the pen is assembled, it doesn't fit in the case… While this is a bit confusing and inconvenient, it's still a huge plus to have a nice zipper case to transport / store your VB11 pen.
Vapor Brothers used the classic 510 threading system with the VB11, encouraging users to mix and match their atomizers and batteries regardless of the brand. This was a classy move, but it comes with all the pros and cons of conventional threading. Be sure to keep everything clean and avoid getting extracts in the threads or you'll have a bad time.
Vapor pens are usually pretty simple to use and don't have many bells and whistles to speak of. The VB11 is no different, but they certainly make the most out of the components used. Using the 1-button heat activation, it couldn't be any easier to use. What I really liked was the LED light they put under the button. Every time you press it down to heat the unit up, it will illuminate to let you know where the battery is at. White for 60%-100% / Blue for 30%-60% / Red for 20%-30%.
Airflow on the VB11 is great! The only problem with the vent / mouthpiece combination is there is potential for oil splatter when you load the oven too full. I actually found the atomizer a bit finicky, when it's too full you risk burning your mouth, when it's not full enough it just doesn't work at all.
As far as the atomizer itself, the kit we got only included the single ceramic coil atomizer which is pretty much the industry standard. What I would have loved to see is a dual rod atomizer as they offer a much more consistent experience, perhaps it would also help with lightly packed ovens.
Pros
The VB11 has a great look and feel. It's actually quite a bit lighter than I would have expected, which is a big bonus considering vape pens are often used on the go.
Performance is good when the oven is packed in that 'sweet spot', however I'd be interested to see how the other atomizers perform.
The carrying case that comes with the VB11 is an awesome addition. Yes there is an issue with the size not accommodating the fully assembles pen, but this thing is extremely handy!
Overall I found the VB11 to be easy to use. Again, I thoroughly enjoy the battery level indicator letting you know where you're at every time you heat the unit up.
Air flow on the VB11 is really good. There is a large vent hole that lets users haul without feeling restricted. It also helps to cool the vapor and deliver less irritating rips.
Cons
Not sure if it's the oven itself or the mouthpiece to blame, but when the oven is filled to the top the oil tends to splatter around and get into / onto your mouth. Not ideal, so be extra cautious when loading the oven.
I would like to see a couple of different atomizer options in the regular kit, but at the price point it would be asking a bit much probably. Maybe just providing a dual ceramic rod atomizer instead of the single rod would suffice.
Final Thoughts
Vapor Brothers VB11 vaporizer pen is really great overall. They give customers the freedom to mix and match their favorite components regardless of brand (without voiding the warranty). It would be a fantastic option for anyone looking for their first vape pen as it only costs $69.99 (on sale for $59.99 at the moment).
I do feel that the atomizer has a bit more fine tuning to be done before it's perfect, but again, for the price it performs really well.
Get yours here: vaporbrothers.com
Vapor Brothers VB11
Vapor Quality -

7/10

Build Quality -

7/10

Usability -

7.5/10

Stealth -

7.5/10

Value -

6/10
Overall Score
Performs well, but it doesn't offer enough for the price in our opinion.
Comments