Vapium is a Canadian company that designed their vape to withstand the elements as you explore the great outdoors. We were lucky enough to get our hands on a Vapium Summit vaporizer, and this little thing really lives up to all the hype.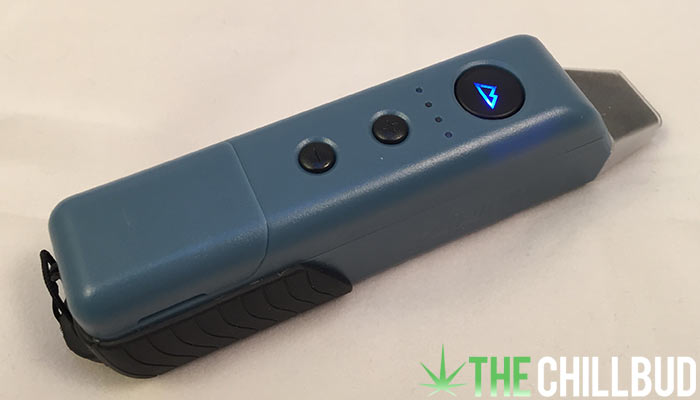 Vapium Summit Review
The Summit is a relatively small handheld vape, but that doesn't mean it isn't powerful. Coming in at $149.99, the Summit is one of the more affordable portable vaporizers on the market. Let's dive into the details and explore what makes the Summit an outdoorsman's best buddy.
Found in the box:
Vapium Summit Vaporizer

USB charging cable

Wall charger

Dry bag

1 spare mouthpiece cover

3 extra screens

Pick tool

Cleaning kit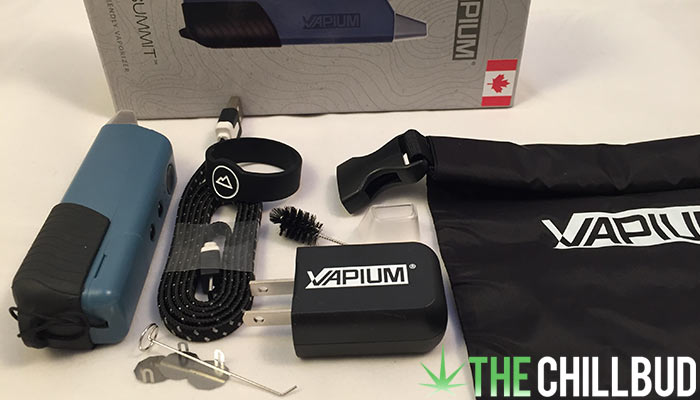 As soon as I got the Vapium Summit in my hands I immediately got the impression that this was a no-nonsense vape. It felt solid, nothing jiggles around or feels cheap despite it being made of plastic.
The Summit is super easy to use, there are a grand total of 3-buttons and 2 of them are for temperature control. Four LED lights on the front let you control the temperature and monitor battery life. A quick 3-second hold of the power button will turn the vape on or off, alerting you with a light as well as small vibration. There's also a vibration alerting you when the vape reaches your desired temperature.
Heat up time is between 35 seconds and a minute, so it's really quite quick. There is a 90-second window of use before the Summit goes into standby mode, which is also quite quick. It gives the user a chance to open the bowl and stir things up, I found a typical pack needed about 2 full cycles.
Giving the Summit a proper cleaning isn't the easiest because of the pipe-like design. You have to feed a pipe cleaner through the stem and up into the bowl, flossing it back and forth to really scrub it clean. That being said, there aren't many nooks and crannies to deal with, it's pretty straightforward and simple.
Pros
The Vapium Summit heats up really quickly! Beyond that, it has 8 preset temperature settings ranging from 320° F to 446° F, so you will be able to get the ideal temperature for whatever herb you are using.
The magnetic oven lid is tethered to the device with a small cord. This is a great little touch that most people probably wouldn't even think about, but it makes for a much easier time packing the bowl; especially on the go.
Vapor quality was good, but I found it was easier to get billowy clouds without the mouthpiece attached. The Summit did a great job getting the most out of the herb, it was nicely toasted throughout and I felt the full effects. Keep in mind I was mixing things up 90 seconds in.
Did I mention durability? This little unit feels so solid! Typically vaporizers that use plastic feel a bit cheap or loose, but that's not the case with the Summit. I didn't throw it around the room or drop it off of a building, but you won't be worried tossing it to a buddy or vigorously setting it down on a table.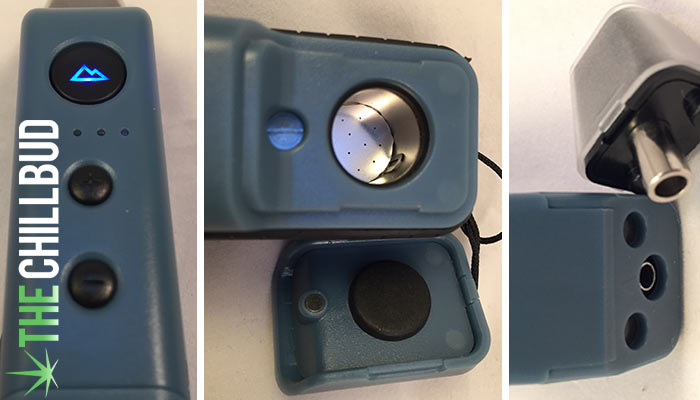 Cons
There was 1 major problem I found with the Vapium Summit, a problem that I needed to remedy before I could truly enjoy this vape. The screens provided have such tiny holes in them that it's extremely difficult to draw from. Tossed a regular screen in and voila, problem solved.
The mouthpiece was another thing that seemed to restrict airflow a bit too much. After replacing the screen it was very usable, but the draw without the mouthpiece was quite a bit more robust.
I'm not a huge fan of vape's that have an auto-shut off function, especially if it's a very short period of time. The 90-second window is actually not bad because that's about when you want to mix up the herb chamber.
Final Thoughts
The Vapium Summit is a great vaporizer for the price, especially if you are an active toker. It's a solid, durable, pocket-sized vape that doesn't ignore function.You would be hardpressed to find a vaporizer that stacks up to the Summit at the same pricepoint.
Want to bring your vaporizer hiking, camping, mountain biking or exploring? Reach for the Summit.
Get yours here: vapium.com
Vapium Summit
Vapor Quality -

6.5/10

Build Quality -

7.5/10

Usability -

8/10

Stealth -

7.5/10

Value -

7.5/10
Overall Score
Good quality and very durable. Great for outdoorsy vaporizer enthusiasts.
Comments