Today is a good day. Today we get to introduce the Utillian 722 vaporizer! If you're at all familiar with the Utillian line of vaporizers then you know you can expect a solid build quality, straight forward design and most importantly fantastic performance. The 722 looks quite similar to the rest of the 720 line of Utillian vapes, with a slightly more stylized body and features that are eerily similar to the 721.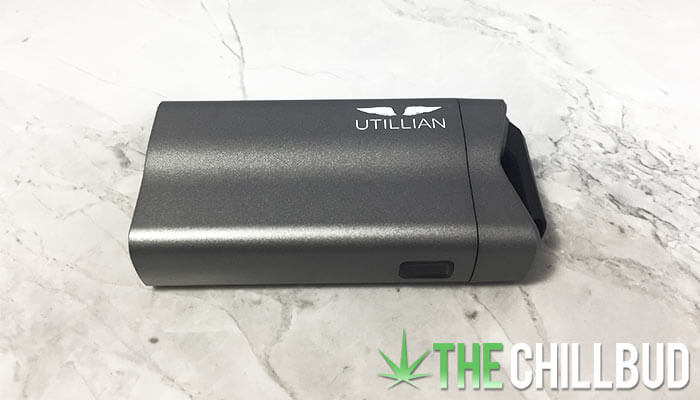 Utillian 722 Review
The Utillian 722 is the latest in the line of Utillian vaporizers, and it stays true to the philosophy of the company and design 'genetics' of its predecessors. It comes with 4-pre set temperature settings (as well as a Boost mode), a large built in battery and claims to have convection heating. Even the price-point was predictable at $149.99 USD. We've always seen the Utillian vaporizer line as a user-friendly, well-performing, fairly priced product that's ideal for first-time vaporizer buyers. Let's dig a little deeper and see if the Utillian 722 is a good choice for you.
Found in the box:
Utillian 722 vaporizer

Wax canister

Tweezers

Cleaning brush

Loading tool

Spare screens
Spare O-rings

USB charging cable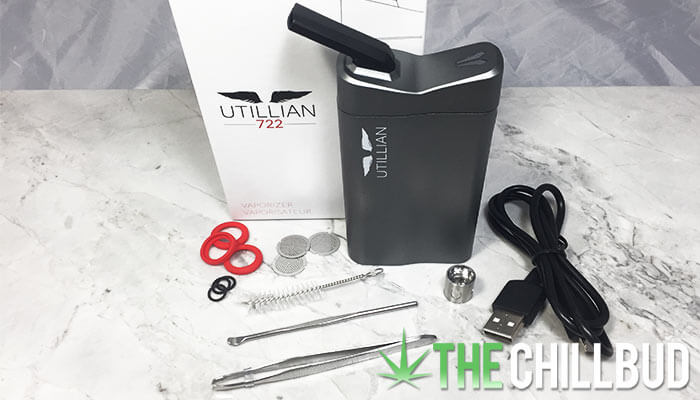 Despite being the newer model, the Utillian 722 actually has less temperature options than the 721. Users can choose between, 180° C, 190° C, 200° C, 210° C and the boost mode which temporarily increases the temperature to 225° C. While the 721 offered similar temperature options but with increments of 5° C from 170° C to 215° C. While I generally prefer full temperature control and freedom, it seems like Utillian opted for a simplified version and it works quite well.
The overall feel of the 722 is really pleasing. It has a nice weight to it and feels very solid. The top portion of the vaporizer is secured with a magnet making it easy to access the oven without having to worry about it jostling around in your pocket or bag and coming loose. There's a depression around the oven chamber making loading herb easy and mess-free, a simple touch that makes life much nicer for users.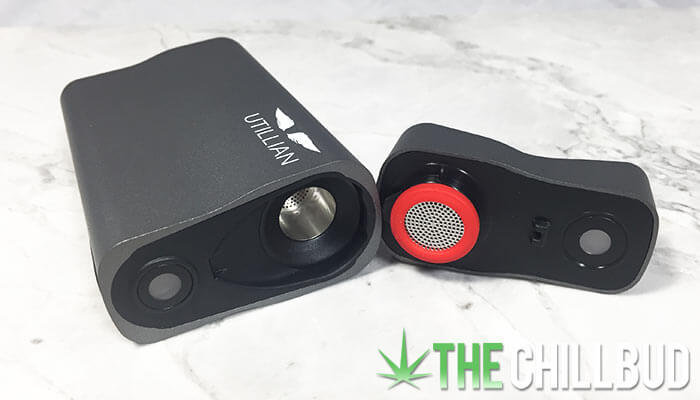 One component of the 722 that isn't quite as solid feeling is the plastic swivel mouthpiece. It still performs well and it's not brittle or fragile feeling by any means, but for the price of the vaporizer I'd like to see a higher quality material used. I do really enjoy the function of the mouthpiece and the overall feel. There is just enough draw resistance to ensure rich, full vapor pulls while giving enough room for the vapor to cool down to a comfortable temperature.
Heat distribution and efficiency were really remarkable! It really does feel like a proper convection vaporizer as the herb gets thoroughly toasted throughout the oven without the need to mix things up halfway through the session. The oven is a decent size and when packed full it offers a good session for multiple people. This is nice to see because no one wants to pack the oven multiple times in one session in order for everyone involved to feel adequately stoned.
The 722 takes roughly 60 seconds to reach temperature which is fairly standard. A 1-hour battery life is more than adequate, and as it should be considering the size of the vaporizer.
My overall feeling on the Utillian 722 is very positive. It doesn't blow me out of the water in any specific category, but it performs well, to above average in virtually every respect. Couple this with a fair price and exceptional warranty from Tvape.com and you really can't go wrong. For those with impeccably high standards and lofty budgets, there's better options of course, but be ready to pay a premium for only moderate performance improvements.
Shop Utillian here: Tvape.com
Comments