Utillian has a fully range of vaporizers to choose from, with cheaper options, full feature vapes as well as vape pens for extracts. For this review we're going to take a look at the Utillian 421, an herbal vaporizer on the cheaper end of their line.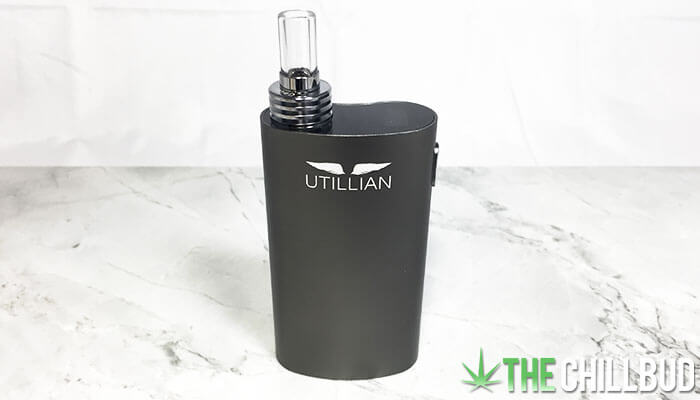 Utillian 421 Review
The Utillian 421 vaporizer is a very familiar feeling vape, it doesn't reinvent the wheel, which is a good thing. Costing only $74.99 the 421 is among the cheaper vaporizers on the market, because of this we set our expectations accordingly.
Found in the box:
Utillian 421 vaporizer
Rubber heat shield
Packing tool
Extra screens
USB charging cable
I was very pleased to see that there were 6 different temperature pre-sets to choose from. You can choose your desired temperature from 180° C – 230° C (in increments of 10° C). There's an attractive digital display on the top of the unit that lets you monitor temperature as well as battery life, which is pretty decent at 60-minutes.
Seeing as the 421 is a sub $100 vaporizer, the design is very standard for a budget vaporizer. The oven is directly under the mouthpiece which means there's a very short vapor path which can lead to hot hits and an uncomfortably warm mouthpiece nearing the end of the session. Efficiency wasn't great either, I'd get one or two decent hits from a full oven and after that each inhale was pretty unfulfilling.
Ease of use is a major selling point for vaporizers like the 421. If you're at all familiar with vaporizers then you'll be able to pick this thing up and use it immediately. One gripe I have with the design is the mouthpiece itself. In order to access the oven you have to unscrew the mouthpiece, exposing the threading which can get gunked up very easily. A press-fit or magnetic attachment would eliminate this issue. Another issue I had with the mouthpiece was the fact that it gets so warm. Even on the mid-range temperatures, by the end of the session you need to be careful not to burn yourself on the mouthpiece. They do provide a heat shield for the metal portion of the mouthpiece which I would recommend using.
As an entry level vaporizer the Utillian 421 is a decent option. It will get you familiar with vaporizing herb and offers an okay experience overall. I'd soon upgrade to a more efficient model once money was less of an issue though.
To sum it up, the Utillian 421 is a good budget vaporizer but doesn't impress in terms of function or efficiency. It's worthwhile if you're new to vaporizing and want to try it out without putting forward a large investment. Higher quality vaporizers that offer a fuller experience will run ~2x the price of the 421.
Buy the Utillian 421 here: Tvape.com
Comments