The Utillian 2 is a budget friendly wax vaporizer with a sleek and simple design. True to its Utillian lineage, the Utillian 2 brings a very solidly built unit to the market at an affordable price point. You don't get all the bells and whistles that some other wax vaporizers offer, but you get a unit that performs well and feels great.
Utillian 2 Review
When we say the Utillian 2 is a budget friendly option we mean it! Coming in at only $39.99 USD, the Utillian 2 is one of the most affordable options out there. It doesn't compromise when it comes to quality, offering a glass mouthpiece, metal body and magnetic components. With 4 pre-set temperature options and a simple to use design, it's a breeze to use straight out of the box.
Found in the box:
Utillian 2 vaporizer (with dual quartz coil)

Hardcover carrying case

Wax tool

USB charger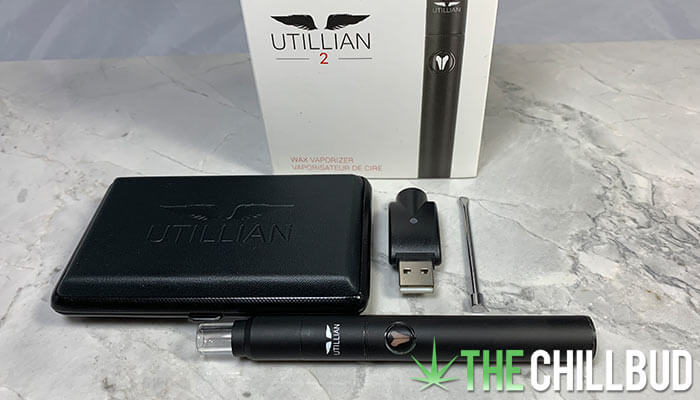 Operating the Utillian 2 is fairly intuitive, especially if you've been exposed to other wax pens. Turn the unit on by quickly pressing the button 5-times. Cycle through the 4 pre-set temperatures by quickly pressing the button 2-times after the unit has been turned on. A magnetic oven lid reveals the provided dual quartz coil atomizer where you'll load your wax. All in all, quite simple!
The only thing that really suffers with this budget friendly vaporizer is the lack of atomizers provided. That being said, you can't expect multiple atomizers in a wax vaporizer kit costing only $40. The battery itself is covered by a 1-year warranty through TVape.com, but I'd expect you'll need to replace the atomizer before then. After rigorous testing our Utillian 2 dual quartz coil is holding up well, but my experience with other atomizers suggests it won't last forever.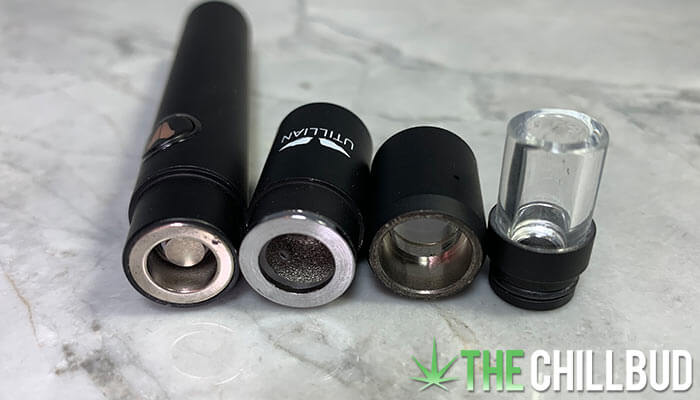 Performance of the Utillian 2 is quite good. You can get some pretty serious clouds on the higher temperature settings, and fantastic flavor on the lower settings. Loading a rice grain amount of wax will offer you multiple robust pulls.
I'd certainly recommend the Utillian 2 to anyone looking for a portable wax vaporizer. For the price it's hard to go wrong. You get a unit with solid construction and performance. Piece together another atomizer or two to extend the life of the Utillian 2 and further customize your experience.
Shop Utillian here: Tvape.com
Comments