Have you ever wished you could chug a beer and smoke a bowl at the same time? Well a few young Canadians decided to tackle this issue, and the answer is The Knockout. It turns your beer bottle into a gravity bong, drawing smoke from the built-in bowl as you chug your beer.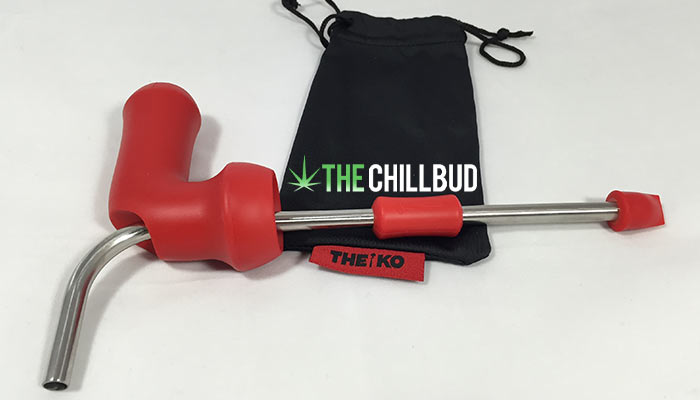 The Knockout Review
The Knockout consists of a silicon mouthpiece that  you chug through / inhale the smoke through, a curved pipe with a built in screen that acts as the bowl, as well as another length of pipe with a one-way valve. The valve at the end of the pipe allows smoke to freely pass through into the bottle, but doesn't allow liquid to pass through the pipe and soak your herb.
The genius of The KO is its simplicity and functionality. If you don't want to chug a beer every time you want a toke, you can simply use it as a water-bong adapter or as a classic gravity bong. The whole this is dishwasher safe and separates easily to make it more portable. Because The Knockout is made from silicon and stainless steel, it is virtually indestructible, making it perfect for parties and outdoor get togethers.
Personally, I'm not a big fan of drinking copious amounts of alcohol while I toke, but I can certainly see the attraction. This is a must-have accessory for any college party animal, it's sure to be the life of the party wherever you take it.
Snoop Dogg Reacts to The Knockout
The Knockout gained some serious notoriety after Snoop Dogg reacted to their video via Reddit. They were given the title of best piece of stoner engineering. Snoop's reaction can be summed up with one quote, "that was f**king awesome!"
Final Thoughts
Fans of drinking and toking will want… no, NEED to pick up a KO. Even if it's purely a novelty, you are sure to get your money's worth after 1-night of hazey fun. Again, I am not a big drinker, but this little piece of stoner-ingenuity will be a staple in my camping pack.
It's an absolute treat introducing people to The Knockout. Eyes light up, smiles creep from ear to ear and credit cards get pulled out. Be the first of your buds to pick one up and let the good times roll.
Get yours here: Knockyourselfout.ca
Comments