For our next installment of monthly cannabis subscription boxes we are pleased to review The Dude Boxx.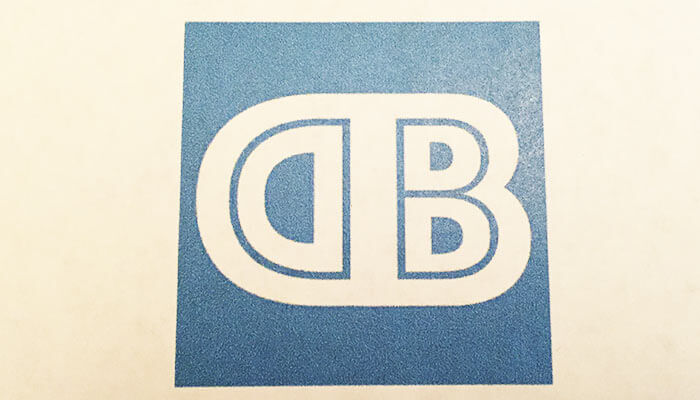 Reviewing The Dude Boxx
Three buds decided to launch their very own startup, offering customers a discrete way to get their favorite marijuana accessories delivered directly to their door month after month. The Dude Boxx offers two different subscription levels, either $420.00 for an annual subscription ($35 per month), or $40 on a month to month basis. There is also a 'Gift Boxx' option available for $25. We will explore both the monthly subscription Boxx and the Gift Boxx.
Before we jump into the contents of each box, I wanted to highlight one of the unique benefits The Dude Boxx has to offer loyal customers. Every 4 months, loyal Dude Boxx customers get an extra special premium gift as a thank you. This gift varies month to month, but it is usually a piece of premium glass or a vaporizer of some sort. A really great way to show their appreciation, well done Dude Boxx!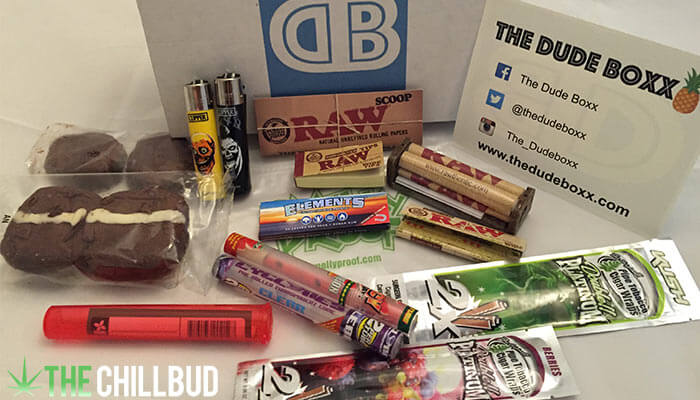 Monthly Dude Boxx Stash List
2 Packs of Platinum Blunt Wraps (packs of 2)
Smelly Proof bag
2 Clipper lighters
RAW tips (pack of 50) + RAW scoop
RAW rolling machine
Doob Tube
RAW single wide rolling papers (pack of 50)
Elements rice papers (pack of 50)
Juicy Jay's Watermelon cones (pack of 2)
Cyclones pre-rolled transparent grape cones (pack of 2)
2 Packs of chocolaty snacks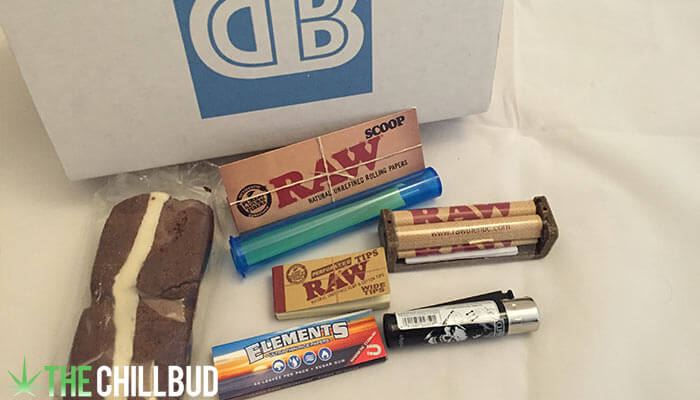 Gift Boxx Stash List
RAW tips (pack of 50) + RAW scoop
RAW rolling machine
Elements rice papers (pack of 50)
Clipper lighter
Doob Tube
Pack of chocolaty snacks
Our Feels on The Dude Boxx
I loved the diversity of the box, it wasn't overloaded with any 1 thing. It offers users a little sample platter, couple different kinds of rolling papers, blunt wraps, and other nifty stoner accessories. Couldn't see getting bored with this Boxx month after month, and with the added bonus gift to look forward to every 4 months, it would be difficult to cancel my subscription.
For $40 a month or $420 a year, you are getting your money's worth. In my opinion the $25 gift boxx is a little less of a deal, but that's to be expected. The Gift Boxx gives you the chance to surprise the special stoner in your life with some goodies without breaking the bank.
The $420 billed annually might be a hard pill to swallow to save $5 a month. Rest assured that the $40 per month is well rewarded, so give it a shot before committing to the yearly plan.
Sorry, it seems that The Dude Boxx is no longer a thing.
Check out one of our other Pot Box Subscription Reviews.
Comments