There's a new e-Rig on the block. Greenlightvapes has just released their best vaporizer yet, the TC Port e-Rig. With plenty of experience producing electric nails and rigs, Greenlightvapes took everything they've learned and packaged into an amazing package for concentrate enthusiasts. The TC-Port comes complete with an eye-catching glass bubbler that's sure to impress.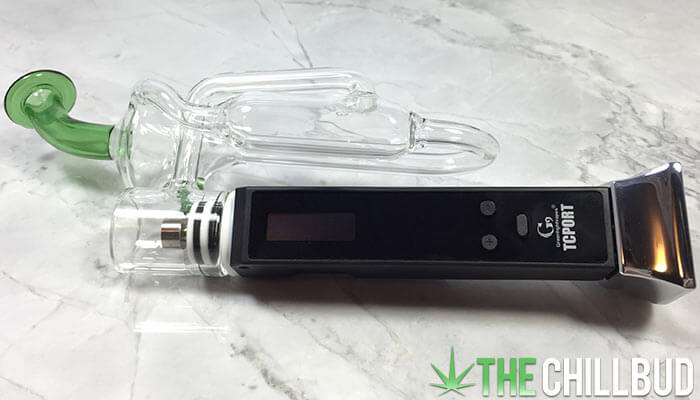 TC Port Review
The TC Port from G9 costs $199.00 USD, making it slightly more expensive than some of the e-rigs we've tried before. However, the TC Port also has far nicer glass than the e-rigs we've tried before, plus it includes 4 different nail options and a full digital display.
I wasn't totally sure what to expect from the TC Port because I've never had the chance to try anything from Greenlightvapes before. After checking it out and putting it through its paces for a few days, the TC Port quickly became one of our favorite portable e-rigs.
Found in the box:
TC-Port e-Rig

Li-Ion 18650 / 3000mAh battery

Magnetic stainless steel carb cap / tool

Titanium nail

Ceramic nail

Quartz nail

SiC nail

Glass bubbler attachment

3 Isopropyl Q-tips

2 Alcohol wipes

USB charger

Concentrate container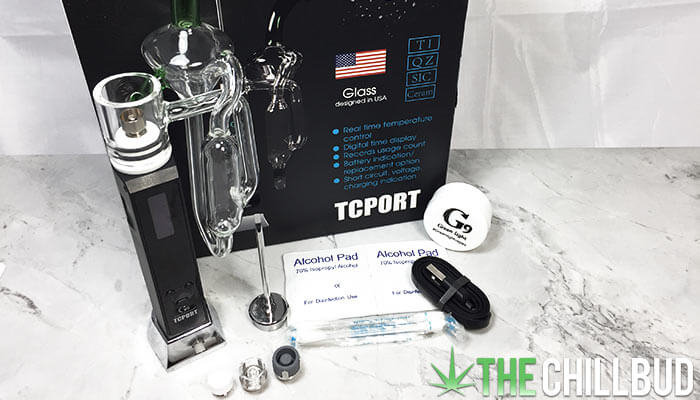 The TC Port really blew us away with how customizable it was. Not only can you choose between 4 different nail options, but you can dial in your desired temperature (within 10° F) between 300° F – 800° F. Being able to dial in the temperature allows users to enjoy some low-temperature dabs to get the best tasting rips possible, or ramp things up for some major clouds.
Equipped with an organic LED display the TC Port lets you monitor things like, the set temperature, current temperature, heat-up time and number of puffs you've had. Control the temperature of the unit with simple up / down buttons located on the front of the e-Rig.
An e-Rig that allows the user to dial in the perfect temperature is enough to make the TC Port a top contender on the market. The cherry on top is the fantastic piece of glass they include with every TC Port. Designed in the USA (assuming it was manufactured in China though), the recycler-style glass bubbler attachment does a great job cooling down the vapor and keeping any reclaim from hitting your lips. Even when you pull hard on it, you won't get any water splashing you in the lips, a big bonus as this was one of our major issues with other e-Rig bubbler attachments.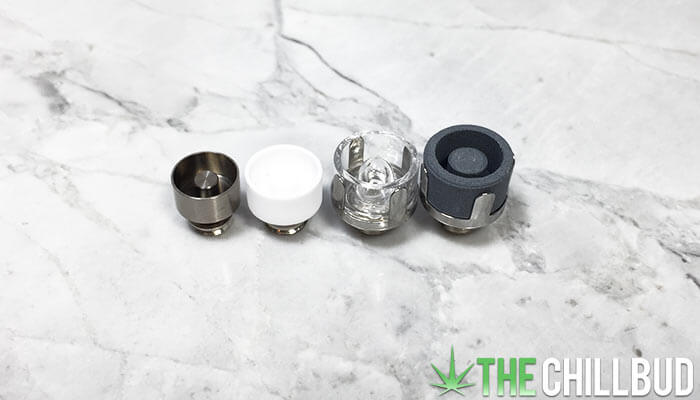 Not only does greenlightvapes include a variety of different nail options for the TC Port, they allow you to fine-tune the rig itself to optimize the heating for each different material. Dive into the options and select which nail you're using, the TC Port will automatically make the necessary adjustments to deliver a perfect toke for the nail you chose.
The TC Port uses a single 18650 3000 mAh battery, but the battery life was far better than I expected. On a full charge I got around 15 sessions, pretty impressive for a rig that has to heat up to ~700° F each use.
As far as the function itself is concerned, the TC Port doesn't disappoint. No e-Rig will give you the same experience as a proper banger setup, but no conventional dab rig will give you the freedom and ease of use that an e-Rig will. The TC Port is a powerful portable rig that can deliver some pretty impressive clouds. I found that I need to use 2-full heat cycles in order to get every last bit out of my dab. Personally I like to set the temperature a little lower for the first cycle, allowing for maximum flavor from the terpene rich concentrates. The second heat cycle I crank things up a notch to get those satisfying clouds that plant you in the couch.
Pros
The TC Port is highly customizable and easy to use thanks to the OLED display. When it comes to concentrates in particular it's very nice to have the freedom to dial in the right temperature and change on the fly.
The supplied glass bubbler is fantastic! You won't need to go out and buy an aftermarket bubbler attachment, saving you time and money.
Battery life is more than adequate, and you can easily swap out the battery with a fully charged one (if you buy an extra).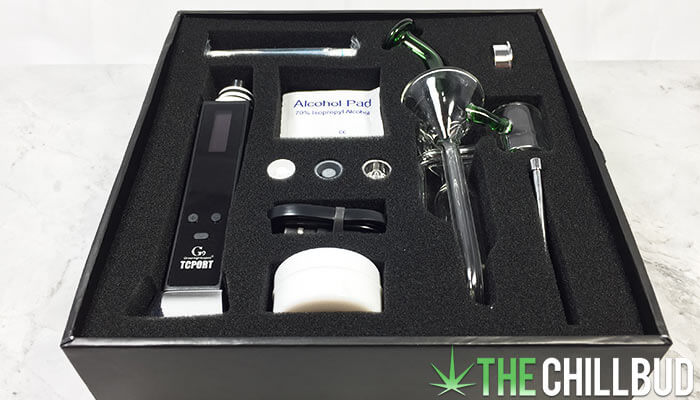 Cons
The cost is a bit of a downfall. Not because it isn't worth while, but $200 for an e-Rig is on the pricier side. Once you factor in all the perks, nail options and included glass, the TC Port is well worth the cost.
I'd love to see Greenlightvapes include a second battery in the box. The battery life isn't an issue, but if there was anything you might want to consider purchasing for the TC Port it would be another battery to avoid any downtime.
Final Thoughts
I wasn't sure what to expect when I got the TC Port from Greenlightvapes, but I was very pleased with the whole package. They delivered a near-perfect portable e-Rig for a good price.
If you're in the market for a portable e-Rig and you have a budget of $200, I'd recommend the TC Port without hesitation.
Get yours here: Greenlightvapes.com
Comments