Source Vapes recently sent us their prized Source Orb 4 to review, and if you took the time to check out our review you already know that it blew our socks off! Needless to say, we were beyond stoked to hear that we had a Source Slim 4 heading our way to review. The Source Slim 4 is the slightly cheaper little brother of the Orb 4, and I think I prefer the Slim to the Orb in all honesty.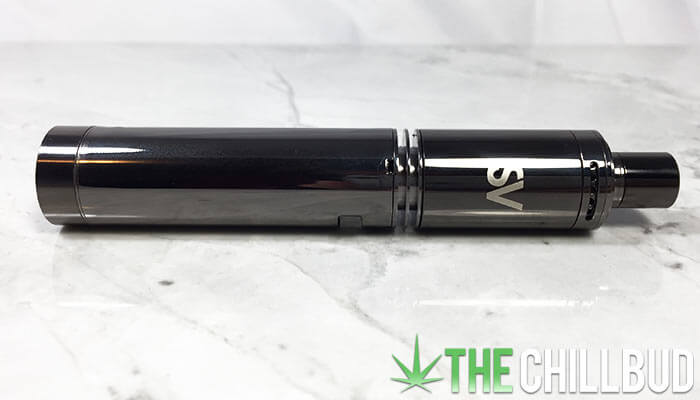 Source Slim 4 Review
The Source Slim 4 costs $89.95 ($10 cheaper than the Orb 4), but unlike the Orb 4 which comes with a mind boggling 6 atomizers, the Slim 4 comes with a more modest 2 atomizers. Thankfully they included the coil-less quartz bucket atomizer, which was our hands down favorite from the last review. The Source Slim 4 also comes with a dual quartz rod coil atomizer and will work with any of the 4-series atomizers from SV.
Found in the box:
Source Slim 4 Vaporizer

Quartz bucket coil-less atomizer

Dual rod atomizer

Dab tool

USB charging cable

Cleaning cloth

Travel case
One feature I'd like to point out right away is the inclusion of a little silicone storage area for your concentrates found in the bottom of the unit. It's a little quality of life feature that's easy to overlook, but I feel this attention to detail permeates throughout the entire vaporizer and proves that SV cares about your overall vaporizing experience. It also helps make the Source Slim 4 one of the best vaporizer pens we've had the pleasure of trying.
The entire Source Slim 4 vaporizer is encased in a beautiful dark stainless steel, giving it a very sturdy and high quality feel. The stainless steel construction does make the unit a bit heavy, coming in at ~4 oz while the bigger Source Orb 4 weighs ~3.5 oz. I'm actually a fan of the weight though, it isn't 'too heavy' by any stretch, and the whole unit is so compact that it's easily stashed in a pocket or purse without feeling cumbersome.
Source Vape's variable airflow system (VAS) that we loved so much in the Orb 4 is present in the Slim 4 as well. This allows you to cover / uncover tiny airflow holes that allow fresh air to enter the unit as you draw. Our unit was actually locked in place, so we had all the airflow holes exposed and the draws were quite smooth and surprisingly robust.
SourceVapes prides themselves on their high quality atomizers, with a stainless steel construction and grade 1 titanium coils it's no secret why they're so damn proud! I generally opt for the coil-less atomizer because of the pure flavor profile it offers as well as the smaller, wispier hauls. For those times you want a huge vapor pull just screw on the dual rod atomizer and you can pull clouds as large as you desire.
At first glance I wondered why anyone would get the Slim 4 over the Orb 4 considering the very small difference in price. Plus, the Orb 4 comes with 4 more atomizers than the Slim 4 does. After trying both though, I think the Slim 4 would be my first choice. Partially because of the full stainless steel construction, but mostly because of the size. Yes, the Orb 4 will fit in your pocket, but the Slim 4 is far more manageable and much less conspicuous when using it in public. As far as performance, they are virtually identical.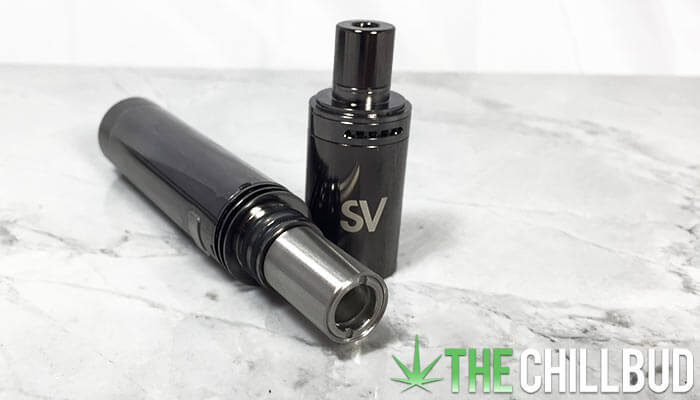 Pros
3-heat settings and a variable airflow system allow the user to customize their vaporizer experience to fit their needs.
Stainless steel construction and well machined components give the Source Slim 4 a very sturdy feel that gives you the confidence to bring it just about anywhere.
The whole design of the Source Slim 4 is straightforward and easy to use. Right from the get-go I was pulling huge clouds from this pen.
A built in silicone container that screws onto the bottom of the unit allows you to bring plenty of concentrates with you without having to bring a fanny pack full of supplies.
Cons
I'm not a big fan of the button on the Source Slim 4. It's very sleek, but it almost feels like it was an afterthought. Based on how high quality the rest of the Slim 4 is, the narrow plastic button just seems out of place and is a bit awkward to hold down for fat-fingered me.
I love the variable airflow system that SV has developed. I was just unlucky enough to get a unit that had a jam. Thankfully it still works like a charm and I have no desire to fiddle with the airflow any further.
Now that I've run out of actual issues I have with the Slim 4, I'll mention that it's a fingerprint magnet.
Final Thoughts
I knew I'd like the Source Slim 4 because I loved the Orb 4 from Source Vapes. What I didn't know was just how much I'd like the Slim 4, it actually trumped the Orb 4 in my mind. If you're upset that you don't get the same atomizer options, you can always order them separately. All the series 4 atomizers from SV fit both the Orb and the Slim 4.
$89.95 isn't cheap, but it's more than fair considering the quality and function of the Source Slim 4. You could go out and spend $30 less on a vape pen, but it would probably be a mistake.
Get yours here: SourceVapes.com
Source Slim 4
Vapor Quality -

8.5/10

Build Quality -

8.5/10

Usability -

7.5/10

Stealth -

8/10

Value -

8/10
Overall Score
One of our absolute favorite on-the-go vape pens.
Comments