Source Vapes has gone and done it again! Their Source Orb 4 Signature Kit is a massively upgraded version of the Source Orb 4 that we had reviewed earlier. You'll get the 9 assorted atomizers (up from 6) that fit snugly into the Orb 4 oven / mouthpiece. You'll still get the VAS that allows you to customize the airflow with 5 different settings. The difference is that everything secures onto a box mod with full temperature control and an easily replaceable 18650 battery. That being said, the Orb 4 Signature Kit is twice the price of the original Orb 4 bundle. Personally, I think it's worthwhile if you're an avid vaporizer user.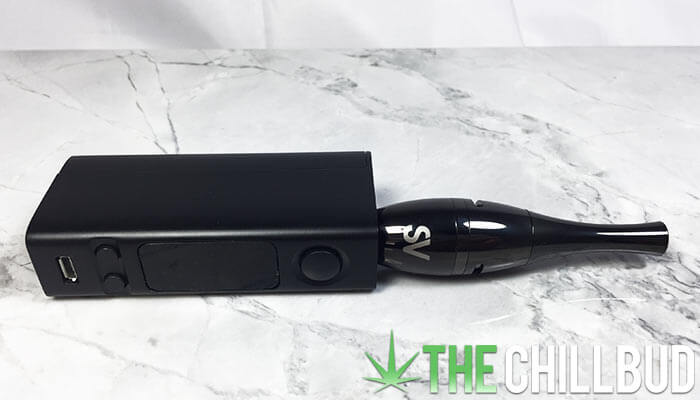 Source Orb 4 Signature Kit Review
First thing's first, the Source Orb 4 Signature Kit will set you back a cool $199.95 which is a fair bit compared to other concentrate vaporizers. If you're familiar with our other reviews of the Source Vapes products you know we are more than impressed with the quality (and quantity) of their atomizers, which is extremely important when choosing a vaporizer. This is no exception, you'll get 9 industry leading atomizers using the best quality materials available. The difference in price comes down to the inclusion of the Source Volt Max full temperature control box mod that comes with the Signature Kit. We'll explain this box mod in more detail right away, but first here's what you'll get if you purchase a Signature Kit.
Found in the box:
Source Orb 4 attachment

Source Volt Max box mod

Sony 2100mah 18650 battery

9 Series 4 atomizers

Dab tool

USB charger

Silicone concentrate container

Microfiber cleaning cloth

Metal carrying / protective case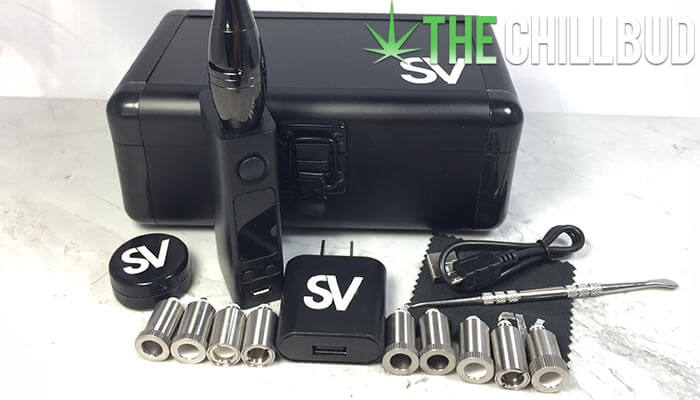 Let's break down the different atomizers you'll get in the Source Orb 4 Signature Kit:
Quartz single coil, Quartz double coil, Black ceramic double coil, White ceramic double coil, Quartz bucket, Ceramic bucket, Titanium bucket, the Source Terra 2 and Quartz Plus.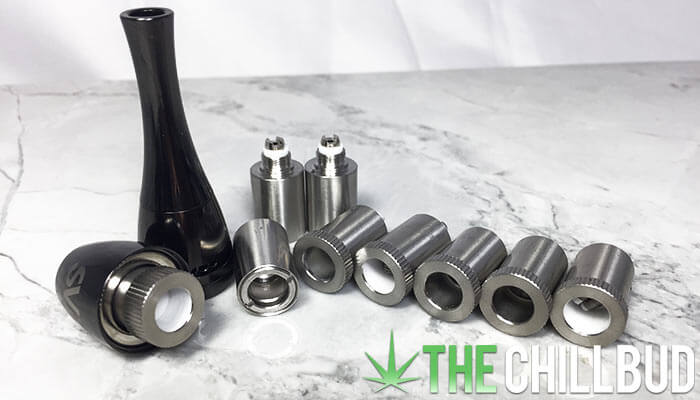 Everything comes in a very solid metal case with a secure latch. It's far more than just pretty packaging that you'll never see again, it's a case that you'll use throughout the life of your vaporizer. Not only does it help to protect your vaporizer when you're not using it, it's a perfect place to keep all of your newfound atomizers. Overall I'm very happy to see that Source Vapes included this case, an unnecessary but very welcome touch that goes to show they truly think of everything.
The box mod is very sleek and simple, flat black with a power button and two temperature control buttons with an easy to read digital screen on the front. The battery compartment is easily accessible thanks to a magnetic cap, and the whole thing feels very solid with no rattle or cheap feeling components.
If you're not familiar with the Source Orb 4 attachment, it's a futuristic looking atomizer chamber with a built in airflow system that can be customized (VAS). A magnetic lid allows users to easily access the atomizer to load material or swap out atomizers. Full metal construction makes it rock solid feeling, I wouldn't worry about breaking any component of the Orb 4 Signature Kit even with rough use.
The Signature Kit remedies one of my only issues with the original Source Orb 4 kit which was the battery component itself. Now it has full metal construction and is far easier to customize both the temperature and overall draw thanks to an increased 15-second auto shut off feature (up from 10). The temperature range can be dialed in from 200° F to 700° F, perfect for low temperature / high flavor pulls to the high temperature e-rig pulls that deliver monster clouds.
Pros
Full metal construction and securely fitting components makes the Source Orb 4 Signature Kit vaporizer feel like a super high end piece. Thankfully it also functions like one!
Between the variable airflow and the real temperature control, you can dial in your ideal vaporizing experience in a matter of moments.
I was impressed with the 15-second auto shut off timer as the 10-second one seemed a bit short.
9 Industry leading atomizers allow users the ultimate freedom to choose the one that works best with their desired materials. Did we mention that you get 9 atomizers?!
Cons
While I believe the Signature Kit is well worth the price for most vaporizer enthusiasts, if it's your first concentrate-only vaporizer you might want to opt for the cheaper model instead.
One thing about the Source Vapes vaporizers that we've noticed is that none of them come with an instruction booklet. The Signature Kit box mod adds some very useful pre-set temperature settings, but figuring out how to use the box mod takes some time and plenty of fiddling.
Final Thoughts
Source Vapes has knocked our socks off with this Signature Kit for their Source Orb 4. It's easily our favorite concentrate-only vaporizer. The price is a bit eye-watering, but if you value quality and function over all else, it's the only choice that makes sense.
Get yours here: SourceVapes.com
Comments