This is The Chill Bud's very first product review (first of many), and I couldn't think of a better product to start with than RAW Rolling Papers. More specifically, their Organic Hemp 1 ¼ rolling papers.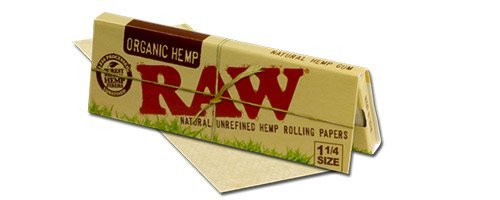 But Why Listen To Me?
Alright, full disclosure, these have been the only papers I have used in… well years. This doesn't mean I haven't tried other rolling paper brands, I have tried dozens, from the flavored garbage back in my youth to the 100% transparent papers that were all the rage for a couple of years.
Rolling a joint is my preferred method of smoking, I find it enhances the experience from start to finish. There is an "art" to rolling, as you roll you are not only shaping the herb into a cylinder / cone, you are shaping your upcoming sesh; for better or worse.
A few factors will influence the quality of your finished product: herb consistency, quality of paper and experience. Let's assume you ground your herb up nice and fine, taking the time to take out any stems or seeds. Let's also assume you are no spring chicken when it comes to rolling one up. Now it comes down to the paper quality, an extremely important factor and one you want to get right.
RAW Rolling Paper Review:
Time to defend my top choice for rolling paper brands.
First off, the packaging proudly claims these papers are Organic Hemp, natural and unrefined using hemp gum as glue. Tree hugger or not, you will appreciate the fact that RAW uses organic hemp free from chemical additives.
Examining the paper itself, it is boasting a classy AF honeycombed watermark and it is Extremely Thin (see pic below). Also, the 1 ¼ size is streets ahead from the classic zig-zag.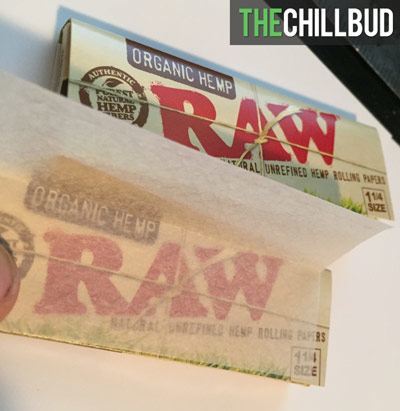 One complaint I have heard about RAW papers is the glue they use. Personally, I have rolled RAW hundreds of times without a problem, but I didn't want this review to be entirely one sided.
Burn Speed is a concern when buying rolling papers, generally you want a slow burning paper to get the most out of your roll. While RAW papers are extremely thin, they are some of the slowest burning papers I have ever used. Perhaps the honeycomb watermark is to blame, I don't really know and I don't really care as long as they work.
So far, they are thin and they burn slowly, nothing that numerous other brands can't claim. The thing that prompted me to purchase these papers by the case and renounce all other rolling papers is the Taste. There is none.
RAW rolling papers don't muck about with the taste of your herb like so many other papers do. Trying to switch back to a zig-zag is impossible. The smoke is harsh, heavy and tastes awful compared the very same smoke out of a RAW paper. It might be something you need to test for yourself to fully appreciate, and maybe I am just a snob.
Comments