Randy's has been around forever it seems, or 1975 if you want to get specific. They have been providing the cannabis community with high quality cleaning solutions, papers and even vaporizers. Well, Randy's just came out with a brand new herbal vaporizer and were nice enough to send us one to review.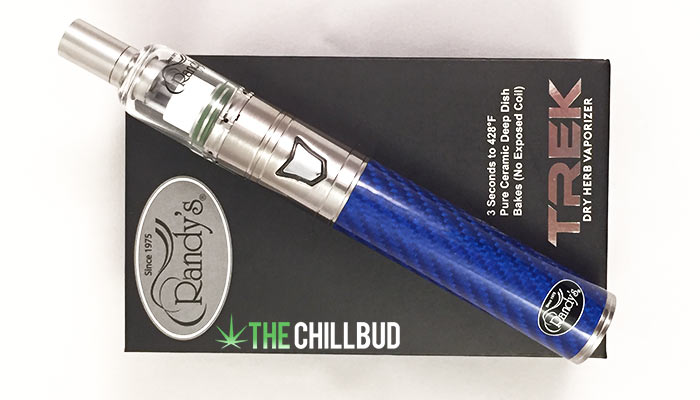 Randy's TREK Vaporizer Review
The TREK vaporizer is a brand new herbal vape from Randy's, and it is damn beautiful! As soon as we opened the box we fell in love with the aesthetic of the TREK, the clear glass oven chamber lid sets the TREK apart from other vaporizers on the market.
Found in the box:
TREK vaporizer

USB Charging cable

Packing / Cleaning tool

2 Cleaning wipes

2 extra rubber grommets

2 extra screens

Optional rubber mouthpiece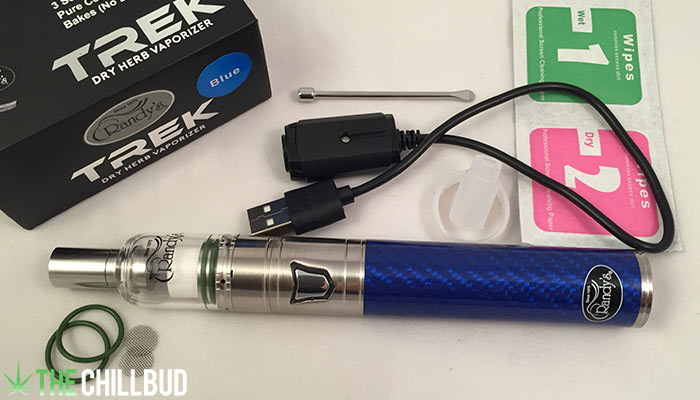 As far as build quality and appearance the TREK is fantastic! It feels very solid in your hand, every piece is securely fastened and nothing rattles around. Following suit with some of the most successful personal vaporizers, the TREK only has 1 button for ease of use.
Clicking the power button 5 times quickly will turn the battery either on or off. Then you hold the power button down while you vape and release it when you have taken your hit.
Randy's promotes the fact that the TREK vape heats up to 428 degrees F in only 3 seconds. Pretty impressive, but not exactly the best for those of us vaporizing the Devil's lettuce. In fact I found that when the button was held for about 10 seconds straight, the herb would actually start to combust. There would be red embers and smoke pouring from the ceramic dish, when I emptied it I found that the bottom of the herb was all turned to ash. So it's less of a vaporizer and more of an electric pipe in our mind.
A rep from Randy's walked us through his process and it worked quite nicely. Hold the on-button for 4 seconds, release for 2 seconds, and hold for another 4 seconds. This process offered a very nice vape experience.
Randy's TREK is a bargain buy at a mere $99.99, compared to most others at about twice the price. The vaporizing experience is still a bit wanting, but if you're on a budget the TREK is a great option.
Pros:
Supremely solid build quality. Using materials like pyrex glass and a ceramic dish are also nice to see, instead of the usual metal and on metal on metal covered in plastic.
Randy's TREK is very easy to operate and clean. It's a great looking vape, sleek and classy.
We would be fools if we didn't mention the price in the Pros area. Finding any herbal vaporizer for $99 is rare, finding one with such a quality feel is almost impossible!
Every component fits together easily and snugly, you don't need an advanced degree to disassemble or reassemble the TREK.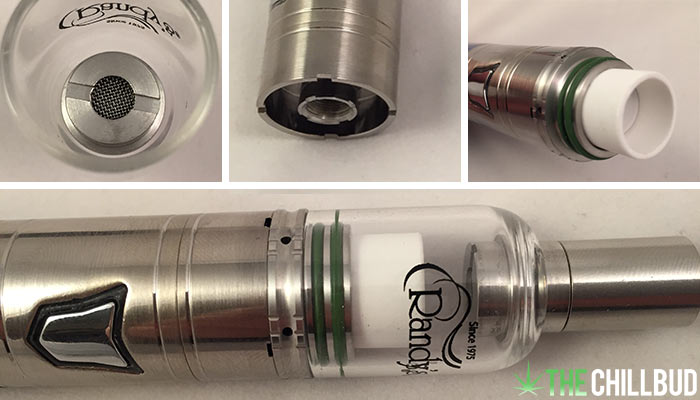 Cons:
Number one problem is the heat. It gets too hot too fast and turns your vape sesh into a smoke sesh. We were told to dial in the number of seconds we held down the power button to avoid burning the herb and get a full vapor hit. Easier said than done though. Once we got the hang of it, it did vaporize the herb decently, but it's too bad it's such a complicated process.
The deep ceramic dish is awesome in a lot of ways, but it doesn't evenly heat up the herb. As mentioned before, when there was ash at the bottom of the tray, the top was still light green. So you will need to open things up and stir them around once in awhile to get the most out of each pack.
Final Thoughts
I was super excited about the look, feel and quality of the TREK vaporizer overall. It is unfortunate that it gets so hot so quickly, it makes for a very difficult vaporizing experience.
It's a good unit for the price, but you have to be very alert if you don't want your herb bursting into flames. If you're ok with the idea of an electric pipe, then this is the vaporizer for you!
I would love to see an updated version with pre-set temperature controls to ensure overheating doesn't occur. It would also allow users to toke freely without holding the button down each time.
Get yours here: Randys.com
Randy's Trek
Vapor Quality -

4/10

Build Quality -

6/10

Usability -

6.5/10

Stealth -

6/10

Value -

5.5/10
Overall Score
Affordable but the performance was disappointing.
Comments