Elevated smoking accessories are becoming a huge hit these days, transforming the cannabis landscape and catering to a high class consumer. The Canadian company Parkdale Brass has embraced this trend and they've created a pipe that is a functional work of art. The Brockton MK2 is a gorgeous chrome plated brass pipe with a bit of a twist.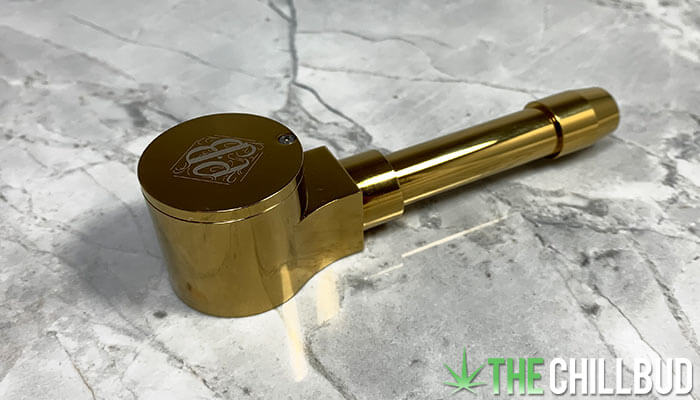 Brockton MK2 Review
At first glance it looks like an ultra classy pipe, but nothing out of the ordinary. Upon further inspection you'll notice there's no bottom to the bowl, rest assured this is an intended feature.
Unlike other pipes you've seen and used before, you light the Brockton MK2's bowl from the bottom! This keeps you from burning your fingers while lighting the bowl and makes smoking safe and simple.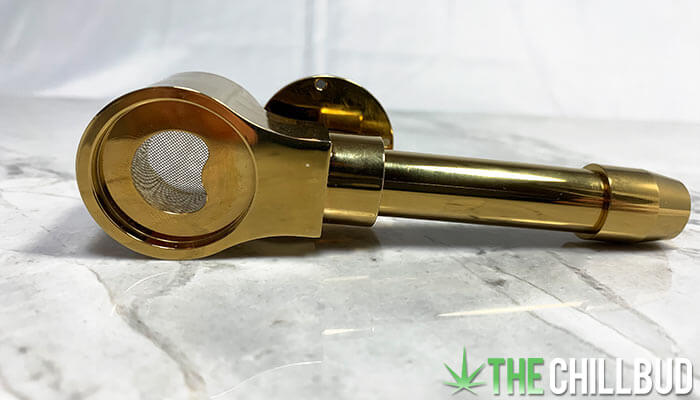 Another noticeable feature of this pipe is the magnetic swivel lid over the top of the bowl. Just load the bowl with your favorite herb, shut the lid and light from the bottom. This helps minimize free burning the bowl, and ensures your herb all stays in one place.
First and foremost the Brockton MK2 by Parkdale Brass is a beautiful piece to add to your collection. It does a really great job marrying classic and modern design. Sure to garner some attention and plenty of compliments from fellow tokers, without being too flashy.
The entire piece consists of 4 parts which easily come apart for no hassle cleaning. There is a mouthpiece, the stem / neck, the bowl and the lid. All components have high quality thick threading for a smooth feel when unscrewing / tightening. The lid is secured with a small screw, but you'll never need to remove it for cleaning purposes.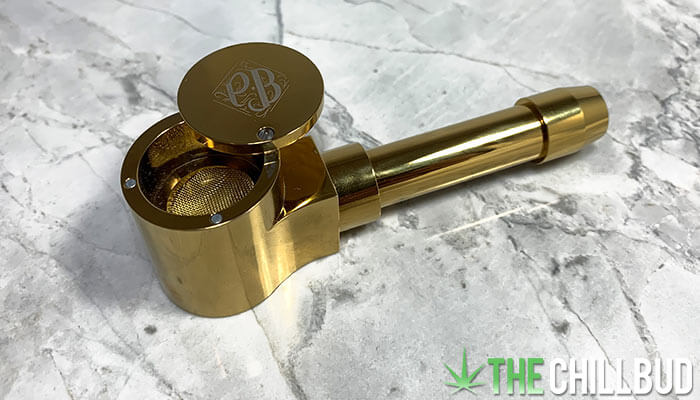 Now, let's discuss a couple of the problems you might run into with the Brockton MK2. Firstly, it's quite heavy. No surprise considering it's a solid brass pipe with some girth to it. This isn't really a flaw, but it makes it a poor choice for an everyday carry around pocket pipe. The Brockton MK2 would be best suited for at-home sessions. Personally I quite like the weight and feel of the pipe, it looks and feels like a high quality piece that will last a lifetime.
The next problem I found is more meaningful. When lighting the bowl, it is difficult to be precise and target the unburned herb. Because of the design of the pipe and the fact that it lights from the bottom, the bowl is torched from the center, leaving an outer ring of green herb. When packed tightly this is less of an issue because the cherry will carry the heat throughout the oven. For smaller bowls you'll need to re-light a few times to ensure you get every last bit of fresh herb.
Overall the Brockton MK2 is a really great pipe, with a great feel and function. It doesn't come cheap, but it isn't a cheap piece so this makes sense. If you're looking for a high class piece that's sure to impress then Parkdale Brass has you covered!
The Brockton MK2 by Parkdale Brass costs $120 and comes with free shipping.
Shop Parkdale Brass here – ParkdaleBrass.com
Comments