Hermes Medical Engineering S.L. sent us one of their miniVAP portable vaporizer units to test out, and boy howdy did we test it! The miniVAP is probably the most clinical feeling vaporizer we have had the opportunity to test out, it is truly a medical device.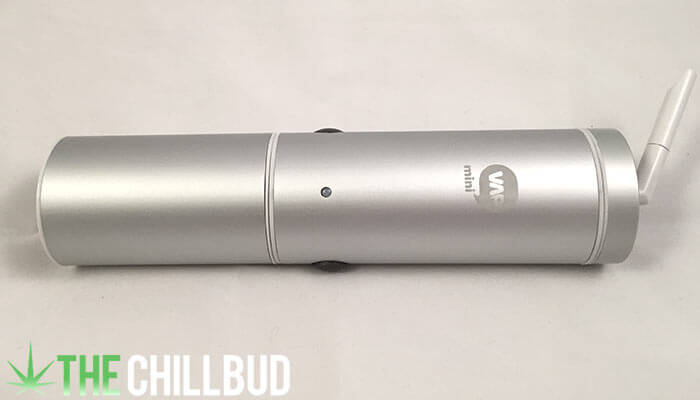 MiniVap Vaporizer Review
As with most medical devices, the miniVAP comes with a pretty hefty price tag. The portable miniVAP regularly sells for $609 USD, currently on sale for $519. If you opt for the model without a battery, meaning you will have to be plugged in to vape, it will cost you $490, but this model is also on sale for $409.
Found in the box:
miniVAP vaporizer

'Premium' camcorder bag

Ion-li battery

Charging base + cable

Accessory Kit (mini-grinder, mouthpiece, silicone whip, screens and baskets)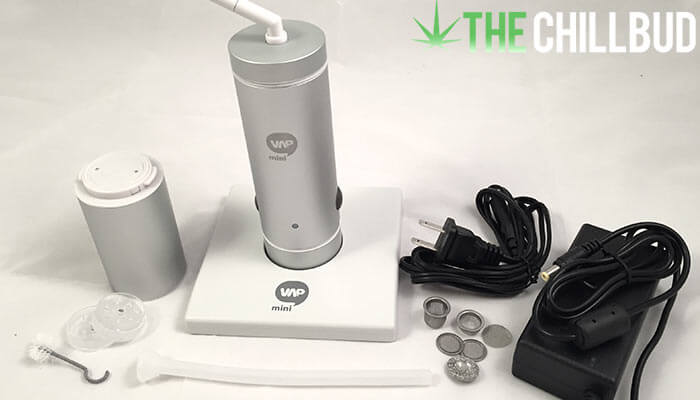 First thing you might notice about the miniVAP is that it isn't so mini. At least when you compare it to other portable vaporizer models, in terms of a plug-in vaporizer it is smaller than most.
When the miniVAP arrived it was all neatly packed into a generic camera bag, convenient for carrying the miniVAP around but it would be nice to see a miniVAP branded case of some kind. After opening up the bag and digging everything out, I immediately got the sense that this vaporizer is a quality piece of medical equipment. Every little piece was individually wrapped in a sealed plastic bag, as if everything was sterilized before packaging.
There is some assembly required with the miniVAP. First you will have to assemble the top cap and decide which mouthpiece to go with. Then you either secure the battery or the charging base to the core. Lastly you will need to grab one of the screen baskets and load your herb, place it in the top and turn the sucker on.
The miniVAP is a very solid feeling vaporizer, it's also pretty heavy. While the miniVAP is considered a portable vape, I wouldn't suggest tossing it in your pocket and hitting the town.
There are 4 temperature settings on the miniVAP, blue (375° F), pink (395° F), green (415° F) and red (440° F). This gives you more than enough control to vaporize your herb at the ideal temperature.
Pros:
Vapor quality is fantastic with the miniVAP, the flavor is full and the herb is toasted perfectly after a session. You really get the sense that the temperature is dialed in perfectly with the miniVAP, which is should be for the price.
Very solid feel and everything fits together very securely. It is a bit heavy, but for an at-home vaporizer it is perfect.
The miniVAP is a very versatile unit, with a bunch of different accessories you can mix and match to make your miniVAP your own.
At the end of the day, it's really all about how the vaporizer delivers your medicine. The miniVAP doesn't disappoint, the high was well-rounded and robust. Very few portable vaporizers deliver such a well-rounded high. When I say 'well-rounded', I mean you really feel every bit of your herb. From the mind melting THC to the body calming CBD, every aspect of the herb is present in your high. A testament to the quality of the unit, it doesn't overheat the herb or vaporize it when you aren't pulling on it.
Cons:
Price is an obvious con with the miniVAP, it is one of the more expensive units on the market for sure. But again, it is a high quality vaporizer, I don't think anyone would feel gypped buying a miniVAP.
Heat up time is the biggest drawback for the miniVAP in my opinion. From zero to 440° F it takes almost 8 minutes. Granted, you probably aren't using the highest heat setting, so it takes about 6 minutes to heat it up to a perfect herb temperature.
The miniVAP uses convection to heat the herb, when you take a pull from the vape it draws the hot air through the herb and vaporizes it. This is a good thing because it means you aren't wasting your herb when you're not drawing from the vape. The problem is that you need to inhale pretty vigorously to get a solid vape hit. Expect to inhale for a good 5-10 seconds before the vapor starts pouring into your lungs. I found after a couple of sessions back to back, my throat started to hurt because it was being bathed in hot air for so long.
I wasn't crazy about the hard plastic mouthpiece they give you with the miniVAP. It works just fine, just doesn't feel the best. Thankfully they also provide a silicone whip so you can swap it out easy enough.
Final Thoughts
The miniVAP seems like a perfect vaporizer for medical patients looking for a quality vaporizer that delivers the full benefit of their bud. Recreational users might find it hard to justify the price.
Once I decide it's time for a vape, it's difficult waiting a full 8 minutes before I can indulge. I found myself staring at the blinking light, willing it to stop blinking so I could finally take a rip.
It's difficult to call the miniVAP a portable vaporizer, it certainly won't fit in a pocket. But it's one of the best vaporizers I have had the pleasure of trying. For at-home vapor enthusiasts it is a great unit!
Get yours here: minivap.com
MiniVap
Vapor Quality -

9/10

Build Quality -

8/10

Usability -

7/10

Stealth -

4/10

Value -

5/10
Overall Score
Great quality vapor, but the heat-up time and price are major drawbacks.
Comments