We get pretty excited anytime we get to review a new product at The Chill Bud. The latest thing we got to check out is the Hyer Big-E from Vapium, a portable e-rig that converts almost any glass bong into a state-of-the-art dab rig. From the moment we heard about the Hyer from Vapium we were beyond stoked to try it out, after putting it through its paces we were absolutely floored with how awesome this e-rig is!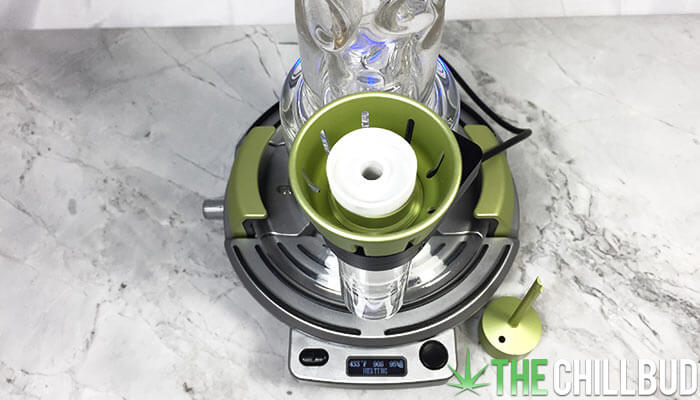 Vapium Hyer Big-E Rig Review
*We reviewed a pre-production Hyer Big-E because Vapium wanted feedback before finalizing the design. They're committed to releasing the very best version right off the bat. While the pre-production model had a few bugs, we were very impressed with how Vapium addressed these issues. Once the Hyer Big-E goes into final production we will be re-visiting our review to make sure everything is up to date. In the meantime, enjoy an early look at the Hyer.
The Vapium Hyer will hit the market in May of 2017 and will set you back $349.00 USD. We were lucky enough to receive one of the 33 pre-production units of the Hyer Big-E e-Rig. I don't mean to jump the gun here, but this is the future of dabbing.
Found in the box:
Electronic vaporization element (EV3) 30W

Hyer clamp on base

4 x 3300mAh batteries

'Smartswitch' magnetic coupling cable

USB C charging cable

18W Wall charging adapter

Carb cap / concentrate tool

14mm female to female glass adapter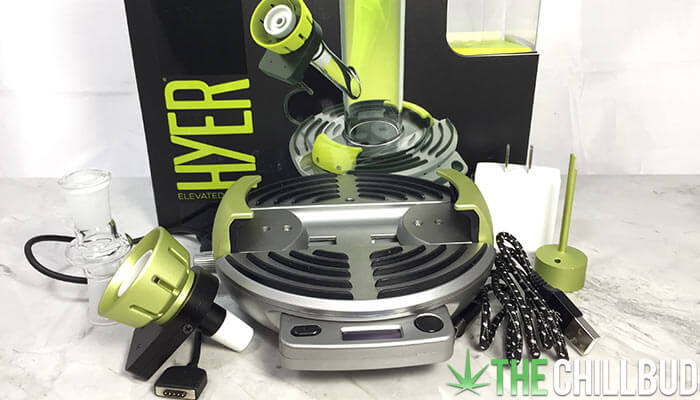 Dabbing has taken the cannabis world by storm over the past few years, and it's showing no signs of slowing down anytime soon. The problem with conventional dab rigs is they're a nuisance, you need a special (often expensive) setup and a blowtorch just to take a quick hit. Vape pens and portable rigs help make dabbing more convenient, but they pale in comparison to a proper rig. Enter, the Hyer Big-E.
The Hyer from Vapium allows you to convert almost any glass bong into a portable e-Rig with no hassle. Simply place your piece on the Hyer clamp-down base, replace your conventional glass bowl with the Hyer ceramic nail and you're ready to start dabbing!
Heating up to a toasty 550° F in ~60 seconds (700° ~90 seconds) means you can dab whenever you want, wherever you want.
If you're a fan of sending monster globs through your rig on the regular, you'll love the consistent temperature and ample surface area of the ceramic nail. Hyer made this thing a breeze to clean too, just hold down the power + down button for a few seconds and it enters its "Cleaning Cycle". The nail will heat up to 800° F to burn off any residue, then you simply grab a Q-tip dipped in Isopropyl alcohol and swab it clean.
The unit itself is primarily plastic, with the exception of the 30W EV3 nail. The buttons feel a bit cheap, and the LCD display leaves something to be desired. But once you give this thing a try you won't even notice these small imperfections.
Most e-Rigs on the market offer a more convenient way to dab, but they simply can't compete with the hauls you get from a true dab rig. The Hyer Big-E offers all the convenience of a portable rig without sacrificing function. It's truly a game changer.
Catering to those who enjoy low-temp dabs to get the absolute most flavorful hauls, as well as those who enjoy taking higher temperature hauls. Having complete control over the temperature puts the Hyer Big-E miles ahead of a conventional rig. Guessing how hot the nail is based on how long ago it was glowing red is about as low-tech as it gets. Dialing in the exact temperature you want while maintaining that temperature brings your dab game to the next level.
I couldn't get over how great it felt to be un-tethered during my dab sessions. You don't need a whole setup in order to take a dab, you don't need to be plugged in, you just need to grab the Hyer Big-E and some concentrate and you're good to go.
Even with the enormous amount of power the Hyer puts out to heat up the nail so quickly, the battery life is really impressive. Boasting ~2 hours of use per charge, the Hyer Big-E blows other electric rigs out of the water in terms of battery life.
Pros
The biggest Pro of all is the fact that you can carry this thing around and take monster dabs on demand. It's unlike anything else out there and it's changed the way we dab.
Having total control over the temperature allows for precise low-temp dabs for maximum flavor.
No guess work. If you already have a flat-base bong you simply plug & play.
The immense power not only allows the Hyer to heat up extremely quickly, it lets you put massive globs through it without cooling down. Unlike other e-Rigs, you can go to town on the Hyer Big-E without sacrificing performance or efficiency.
Did we mention how easy this thing makes dabbing?!
Cons
The clamping base uses a thumb-screw to adjust, I wasn't crazy about this as it was a bit tougher than it should have been. Once the glass is secured to the base it's a non-issue though.
I thought the display panel at the front could have been more solid. It works fine, but the buttons have a cheap plastic feel and the display casing itself has the same feel. It's a superficial issue that doesn't actually affect anything, but for $350 I'd like to see something more solid.
Final Thoughts
In case it wasn't painfully obvious in my review, I really, REALLY love the Hyer Big-E! My only issues with it are superficial and don't impact the performance whatsoever.
This is the next generation of electric dab rigs, it's totally portable, extremely powerful and dead-simple to use.
Vapium has already started teasing about the possibility of a titanium nail and quartz nail that will seamlessly attach to the Hyer Big-E via their Smartswitch magnetic cable. They even mention the possibility of a bowl geared towards flower.
Get yours here: Vapium.com
Comments