In our quest to review all of the best monthly pot subscription boxes we came across the Hemper box. They were kind enough to send us one of their Glassentials Combo Boxes to review, and we did, and it was great!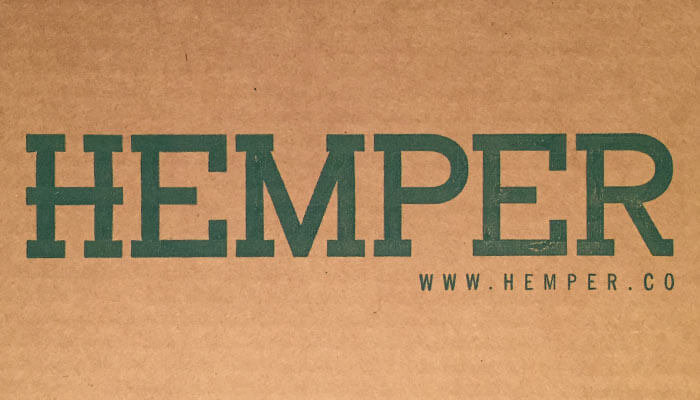 Hemper Box Review
When discussing the industries top monthly pot box subscription services a few names come to mind immediately; one being Hemper. Subscribe to have hand curated boxes delivered to your door on a monthly basis, or choose between a number of past favorite boxes.
Here are a few of the different subscription packages that Hemper.co offers. If you're looking to purchase a past month's box then expect to pay a bit more ($49.99 USD).
Bare Essentials $3.98

Hemper Pack $14.99

The Hemper Box $29.99
The Bare Essentials option is a great way to get the smoking essentials you need at a bargain, plus it's delivered right to your door; convenient right? It contains a pack of king-sized papers, a clipper lighter, some filter tips and a mystery item!
The Hemper Box is their bread and butter box, it has all the goodies for the month. Including a lovely piece of glass and every other smoking necessity you could think of!
We'll be discussing and exploring the Hemper box, specifically the Lil Debbie x Hemper collaboration box that was just released. If you're interested in some of the other boxes that Hemper has to offer then scroll down the page to see some previous month's boxes, or check out their site to see what's still available.
Hemper Stash List (December 2017)
Hemper Glass Rig

Aromas White Widow Candle

Dab Tool

Bic Lighter

Cakes Rolling Papers

Doob Tube

Glass Filter Tip

Alcohol Wipes

Sticker Set
Our Feels on the Hemper Box
One thing I've noticed about Hemper recently is that their glass is really top notch! The past few boxes have really impressed me, they have included rigs that I would actually want to use on a regular basis. When the glass is the single most important / expensive product in the box, it's important that it stands out.
Instead of novelty style glass that you might use once or twice, Hemper offers what I would call scaled down high class rigs. Mini versions of top shelf glass that excel far beyond the cheap novelty glass rigs that are most common in the stoner subscription box world.
The Lil Debbie box also included a "White Widow" candle hand crafted by Hemper. It isn't just a little tea light either, with a burn time of 25-30 hours and a wonderful aroma featuring birch, pine and pomegranate it's something that really adds value to the box.
The Hemper box provides all the essential smoking materials plus some extra goodies. I really appreciate that this box had everything any stoner would need to light up, whether they prefer glass or rolling. A few key ingredients that should be found in every stoner sub box (in my opinion) are: Dope glass, papers, filters and a lighter. Everything else is important too, don't get me wrong. But if the box is missing any of the above key ingredients it's incomplete in my mind. So Hemper knocked it out of the park with this box! Offering all the key ingredients plus some really useful additions like alcohol wipes (for cleaning), a dab tool for concentrate enthusiasts and a doob tube to safely transport your pre-rolled doobs.
I'd rank the Hemper box right up there with the best stoner subscription boxes offered today. You certainly get a lot for your money when you subscribe, however the cost of past boxes is a little bit more than I'd be willing to pay. Below you can check out some of the other boxes we've looked at from Hemper so you have a better idea of what to expect when you become a subscriber.
October 2017 Hemper Stash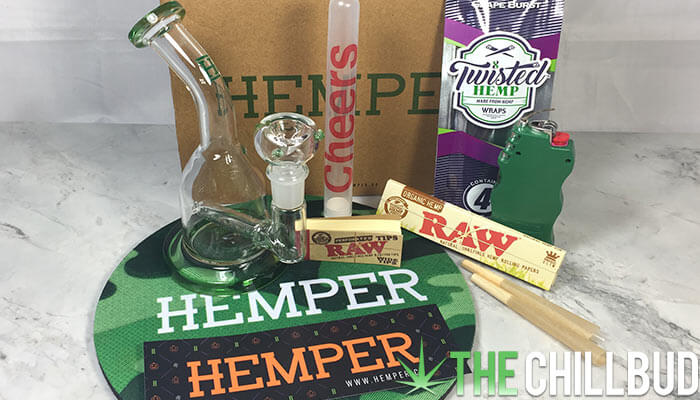 Here's a look at the most recent Hemper box that was sent over to us. It included a sturdy piece of glass, a Hemper glass mat and assorted other goodies. This helps to showcase some of the variety that you'll get when you order from Hemper, and in our humble opinion Hemper has surely upped their game since the last box we checked out almost a year ago.
November 2017 Hemper Stash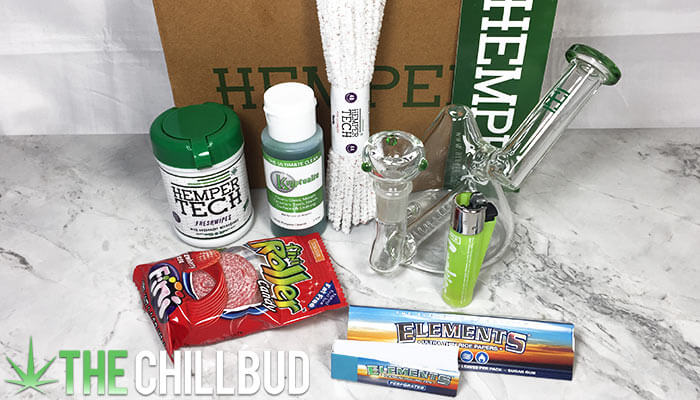 Hemper Box Coupon Code
Need more incentive than our recommendation? Take 15% off your Hemper order with our coupon code: thechillbud
Coupon for 15% Off the Hemper Box: thechillbud
Get your Hemper Box here: Hemper.co
Comments