Goboof recognized a need for a portable vaporizer that was both durable and functional, able to withstand a seriously active lifestyle. In comes the Alfa, a painfully easy to operate vaporizer that gives users a high quality vapor experience wherever they are.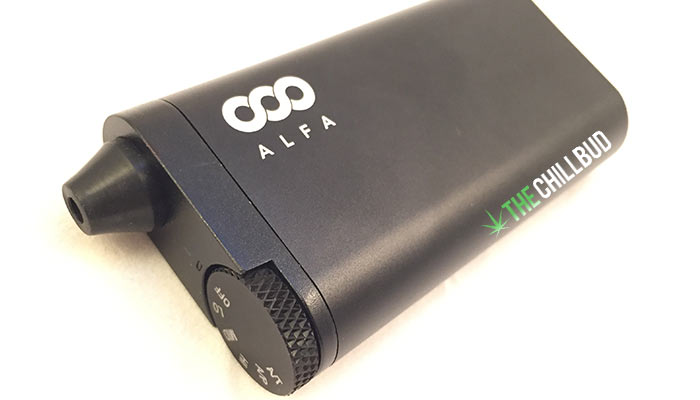 Goboof Alfa Review
The Goboof Alfa is one of the most straightforward vaporizers I've seen. There isn't any special button combination to turn it on or change the temperature. Instead, there is a clearly labeled dial. If for some reason you have any trouble operating your Alfa, it comes with a very detailed user manual complete with graphics. The Alfa costs $199 US, putting it right in the mid range as far as vape cost goes.
Found in the box:
Alfa vaporizer

USB charger

Wall charger

3 pipe cleaners

3 extra screens

Extra mouthpiece

A few 'cleaning picks' (toothpicks)

2 Iso cleaning wipes
The Goboof Alfa has 3 pre-set temperature settings ranging from 374° F to 428° F. But it also has 2 special settings, A/P which gradually increases the temperature 3° from 374° F every time you take a puff. A/T similarly slowly increases the temperature in 3 minute increments until the max temp is reached.
Sporting a 'heating-pin' the Alfa was designed to evenly heat the herb throughout the herb chamber without having to stir things up.
Goboof did a really good job putting this vaporizer together, it feels really solid and doesn't have any rattle to it. It's compact, feels nice in the hand and can be operated with one hand.
The oven lid flips open when you need to pack or empty the chamber, and it locks into place when you are ready to go. When everything is ready, the Alfa heats up in as little as 30-seconds.
Pros
I found the vapor quality on the medium heat setting was spectacular! The low heat setting didn't give much of a vapor cloud, and the high setting was a bit too hot.
Heat distribution is what really sets this vape apart from the rest. I haven't seen a vaporizer that toasts the whole chamber so evenly before.
Ease of use is a major advantage of the Alfa, the clearly labeled dial makes it fool-proof. Couple that with the super quick heat-up time, and you can go from zero to vapor pretty damn quick!
It's the vape for the outdoors. Durable, easy to use and a long-lasting battery (2.5 hours-ish). Perfect for a camping trip or a day of hiking.
Cons
My main issue with the Alfa is the oven lid. It takes a bit of force to close properly, and it doesn't detach or flip all the way over, so packing the oven can get frustrating when it keeps flipping down on me.
It would be awesome to see a more precise temperature control. Ideally I'd like to vape somewhere between low and medium, but I don't always want to use their gradually increasing temperature settings.
You will have to keep up with cleaning your Alfa if you don't want things to get gummed up. Particularly the oven lid area…
There was a bit of a foreign flavor during the first couple of sessions. It has since subsided, but there was a definite chemically flavor to the vapor for the first little while. Probably due to the rubber mouthpiece though.
Final Thoughts
I made a point not to mention the price in either the Pro or Con section. $199 is a very fair price for the Alfa, it's not overpriced by any means, but it's not a steal either.
The Goboof Alfa is a perfect vaporizer for the novice user and for the active toker. An easy to use design coupled with great vapor density makes this a no-brainer for anyone looking for a new vape. Goboof sums it up pretty well with their Alfa mantra "Live Life & Vaporize".
GoBoof Alfa
Vapor Quality -

7/10

Build Quality -

7/10

Usability -

8/10

Stealth -

7/10

Value -

7.5/10
Overall Score
Awesome option for first time vaporizer users.
Comments