FocusV (formerly Focusvape) has recently updated their PRO herbal vaporizer to allow full temperature control! We got our hands on one to review for you guys thanks to our friends at Tvape.com.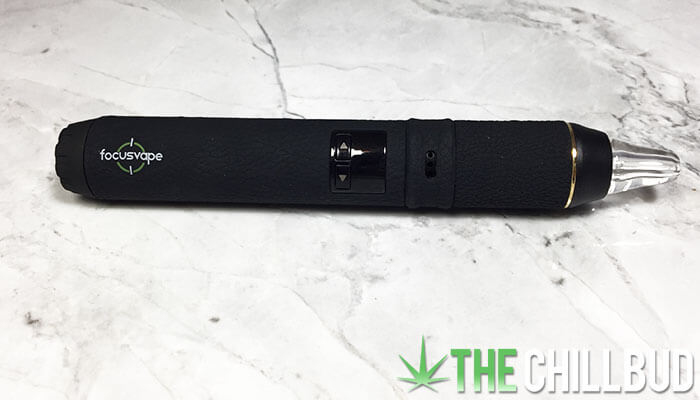 FocusV PRO Review
The FocusV PRO is about the size of a large cigar, with a rubberized exterior made to look like leather. It has a small display on the front that allows users to monitor temperature and battery life. A small ring below the oven lets you choose between 4 different air path settings and the glass mouthpiece feels high quality and comfortable. The PRO does offer a decent amount for the price; $119 USD.
Found in the box:
FocusV PRO vaporizer

Spare glass mouthpiece

Rubber mouthpiece cover

Cleaning brush

Packing tool

Stainless steel screens

USB charger

Isopropyl alcohol wipes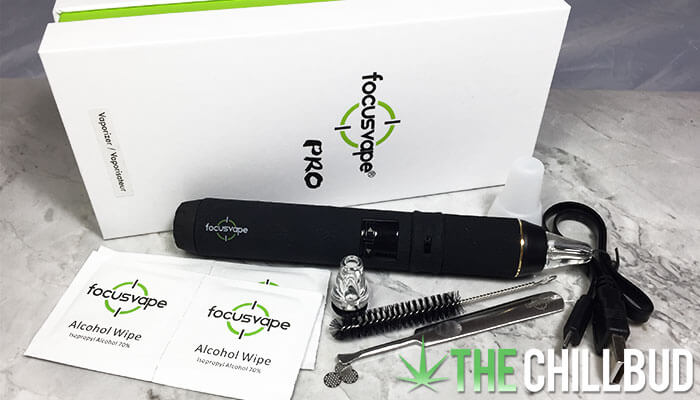 Precise temperature control is a major bonus when it comes to handheld vaporizers, FocusV PRO makes it easy to dial in the perfect temperature between 176° F and 464° F. The downside is it seems to have trouble maintaining temperature between pulls. You really need to give the vaporizer some time after using it to allow the chamber to heat back up in order to get a proper vapor-filled haul.
The FocusV PRO did a good job evenly distributing the heat throughout the herb, there was no need to open it up and stir things around halfway through. Overall efficiency was a bit lacking though, for the amount of herb I packed in the oven it didn't offer as robust a session as I would have expected.
The overall feel of the PRO was quite nice. It's got some weight to it and it feels sturdy and secure. Packing the oven is simple and clean thanks to the beveled top portion that funnels your herb right into the oven.
There's a Samsung 18650 battery loaded in the unit that gives users plenty of use between charges, but charging the unit to full takes a couple of hours. It's easy to swap batteries if you have a spare 18650 on hand which is another feature we love to see!
Overall I was impressed with the FocusV PRO for the price. My only gripe is the vapor quality / performance itself, but it did perform alright, just not great.
Shop FocusV here: Tvape.com
Comments