Flowermate has been a fixture in the handheld vaporizing scene for as long as we can remember. They've been making good quality, affordable vapes for years, some of the best entry level handhelds in our opinion. Recently they added the Slick to their line of handheld vaporizers and despite its unassuming appearance and low price point it impressed us quite a bit!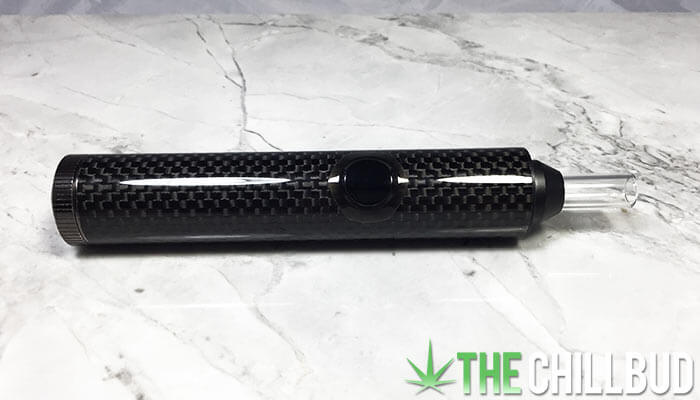 Flowermate Slick Review
The Slick is a baton style vaporizer with a quick-swap 18650 rechargeable battery and a single-button design. There are three preset temperatures to choose from and it can vaporizer both herbs as well as oils with ease. Coming in at only $79.99 USD, the Slick is extremely good value, especially considering all the features and performance that Flowermate packed into it.
Found in the box:
Flowermate Slick vaporizer

Magnetic mouthpiece cover

USB Charging cable

Packing tool

Cleaning brush

Wax pod

Herb pod

Spare screens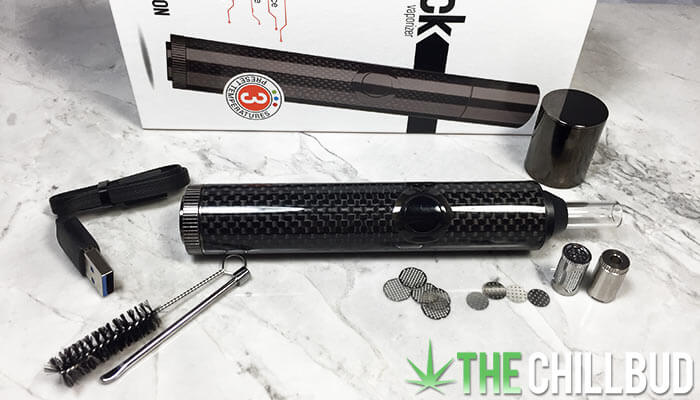 Three temperature settings on a vaporizer that offers both herbal and concentrate capabilities doesn't seem like much, but it most certainly cuts the mustard. Choose between 385° F, 405° F and 420° F. I found the best results at 405° F for herb and 420° F for concentrates. Right from the first pull I was getting consistent, robust hauls and found the herb was evenly heated throughout without the need to mix it up halfway through the session. Really quite impressive considering the price of this vaporizer.
A black ceramic oven chamber heats up in ~45 seconds and maintains the heat pretty well even during heavy use. Like virtually all vaporizers with a design like this (mouthpiece located directly on top of the oven), the vapor can get quite hot on your lips / mouth. Ensuring you're not pulling too aggressively can help give you cooler rips and a more pleasurable experience overall.
The Slick is just that, slick. The slim design (not much thicker than the battery itself) 1-button operation make it a good vape for on-the-go use. However if you have to repack the herb pod it can be a bit troublesome and finicky. I'm personally not a fan of the faux carbon fiber look to the vaporizer, but this is strictly my own personal taste.
You'll get between 6 and 10 sessions per battery charge with the Slick. Because they use the universal 18650 rechargeable batteries you can easily pick up an extra to be sure you never run out of juice.
The glass mouthpiece is a very nice touch as I find plastic mouthpieces don't offer as pleasurable an experience. Normally glass isn't as conducive to portable vaporizers because it can be fragile, but the Slick's magnetic cover lets you throw it in your pocket / bag without worrying about damaging the mouthpiece.
Overall vapor quality was acceptable. I didn't find it lacking in any particular category, but it also didn't excel at anything other than efficiency (which is pretty important). It's important to keep in mind the price when I say that the vapor quality was acceptable. At the $79.99 price point, acceptable is actually quite remarkable and far exceeded our initial expectations.
Flowermate knocked it out of the park once again when it comes to affordable, entry level vaporizers. The Slick gives users the freedom to vaporize herbs and concentrates, a few temperature settings to choose from, and complete portability and ease of use. What more could you possibly want from a sub $100 vaporizer?
Get yours here: Tvape.com
Comments