Silicone bongs have a number of benefits over plastic or glass options, first and foremost being the fact that they're virtually indestructible. That being said, a bong made out of silicone isn't a new concept. However! The Eyce silicone bong is shaking things up, offering consumers an indestructible bong packed with plenty of amazing and useful features.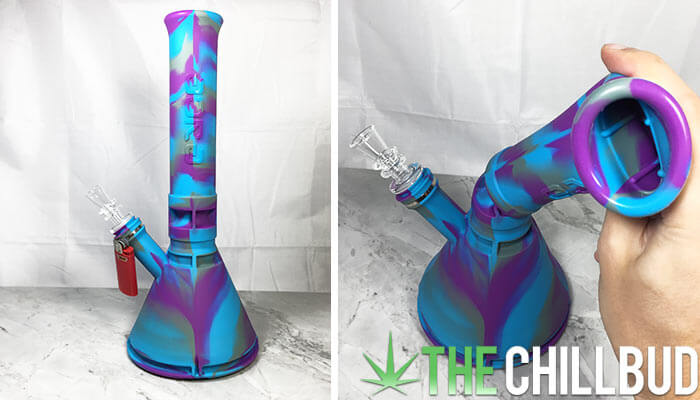 Eyce Bong Review
Before I jump in with my opinions on the Eyce Beaker I'll break down everything you'll get for the $69.99 that it costs.
Eyce Breakdown:
Full platinum cured silicone body

Magnetic ring lighter holder

14mm Borosilicate glass bowl

Diffused borosilicate down stem

Stainless steel poker

Hidden stash container / dab pad / rolling tray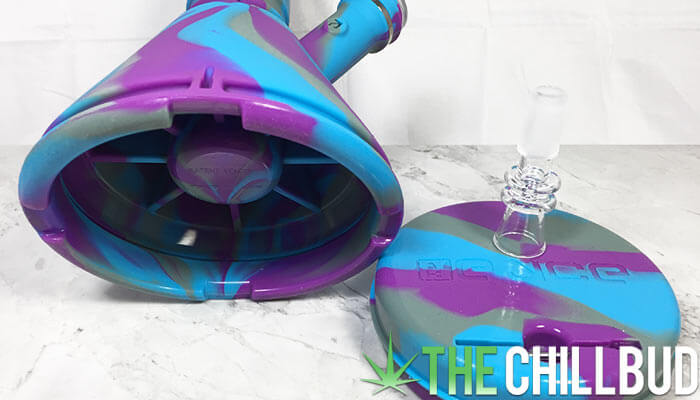 If you've been smoking for a while, and enjoy using bongs, chances are that you've heard that spine tingling sound of glass shattering. That is the number one advantage of silicone bongs over glass ones, they'll never break! You can squish them into a backpack, throw it to a buddy (hopefully it's empty), or kick it over unknowingly without a hassle. The bowl and downstem are still made of glass, so these could possibly break if you're too rough with the Eyce Beaker.
Silicone gives users a much cleaner taste over typical plastics bongs, making it the best option for portable / rugged water pipes in my personal opinion. I was actually very happy to see a full glass bowl / downstem in the Eyce. Yes, it's fragile and kind of goes against the whole indestructible bong thing, but it's the only way to offer a pure smoking experience in terms of flavor.
The magnetic ring on the stem portion of the Eyce Beaker is a small but amazing feature that Eyce built right in for maximum convenience. I have a history of getting overly excited over small and seemingly insignificant features, but these small additions really give you some insight into how seriously some companies take product design. You can tell that the people who designed the Eyce Beaker are smokers themselves.
One problem that I've encountered when using silicone bongs is when you use too much force when inhaling, the whole bong will collapse. Eyce obviously thought about this potential issue because they reinforced the inside of the body, so it's not an issue whatsoever. It also features a pinched portion which acts as an ice catcher if that's something you're into.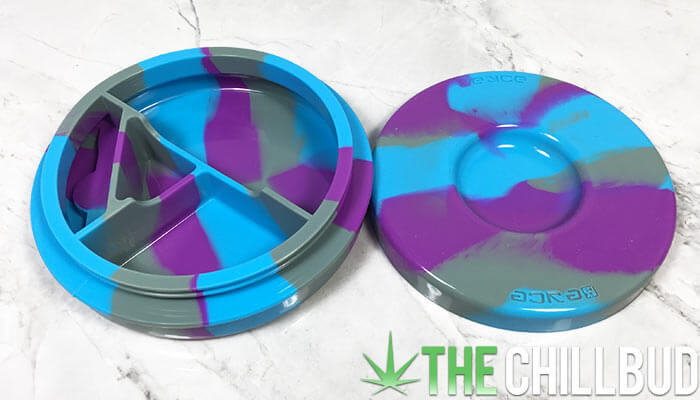 The bottom portion of the Eyce Beaker is actually a hidden stash compartment that acts like a rolling tray, stash jar and dab mat all in one. This is another amazing feature because it means you can have everything you need to smoke all consolidated in one convenient place. If you're going to be toting around a bong, you don't really want to carry around a separate container for your stash and tools.
I really had no single issue with the Eyce silicone bong, it performed exactly as I would have expected. It has plenty of useful features that aren't cumbersome, the taste is as pure as glass and it even looks fantastic! $69.99 seems a bit steep for a silicone bong, but this isn't your average silicone bong. It's well worth the money in my opinion.
Final Thoughts
It's a perfect camping piece, daily driver or bug out bong. The Eyce Beaker really took the silicone bong to the next level and made one that I would actually consider using on a regular basis. Something I couldn't say about any other silicone bong I've ever used before.
Get yours here: EyceMolds.com
Comments