It's our absolute pleasure to introduce a new monthly subscription box geared towards stoners. Elevated Stash is a veteran owned company that donates $1 from every sale to help veterans. Not only can you get a box full of goodies for a great price, you'll be contributing to a great cause as well.


Elevated Stash Review
The Elevated Stash box we are highlighting in the review is known as the "Pikes Peak" box, which costs $29.99 + $7 S&H. There is a scaled back version of the box for $5.99 + $3 S&H known as the "Dead Sea" box as well as a premium version for $89.99 + $15 S&H called the "Mount Everest" box.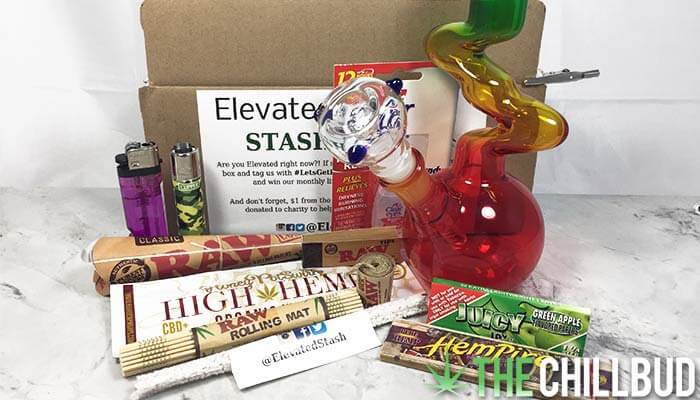 Elevated Stash's Stash List
Glass Zong

Clear Eyes redness relief eye drops

3-Pack RAW Cones

Pipe cleaners

Clipper lighter

Lighter / bottle opener

RAW hemp wick

RAW tips

RAW rolling mat

Juicy Jay papers

Hempire rolling papers

High Hemp organic wraps
I really love the fact that Elevated Stash is not only owned by veterans, but it actively gives back a portion of their proceeds to help those in need. While the box itself is certainly a good value, it didn't blow me away for the $30 price point. You get a little bit of everything you need to smoke for the month, plus a nice piece of glass to add to your collection. It stacks up against most other subscription boxes we've come across, but with the added value of knowing you're contributing to a great cause.
Our Feels on the Elevated Stash Box
On the surface, the Elevated Stash box is a good deal for $29.99. After you consider the $7 shipping costs (more if you're international) it becomes pretty average. That being said, I did really like everything I found in the box this month. I'm a big fan of RAW products, and they included a number of them (would have liked to see some RAW papers though).
The glass is always the single most important piece in any stoner subscription box. I was very pleased with the glass found in the Elevated Stash box. It was a high quality feeling glass zong that came with a removable glass stem and bowl.
Again, the thing that really sets Elevated apart from the rest of the stash boxes out there is the fact that they support charities geared towards veterans with every box sold. Their goal is to ultimately donate to help veterans gain access to medical marijuana, but current federal laws make this impossible. So instead they help in other ways until the laws are changed.
Get your box here: ElevatedStash.com
Comments