We just reviewed the Boost e-Rig from Dr. Dabber and it really impressed us! Next on deck is the Dr Dabber Aurora wax vaporizer pen, the very best vape pen that Dr. Dabber has to offer. Concentrate vaporizer pens are all pretty similar these days, the components are all pretty much the same. Quality, style and support are all hugely important when it comes to vape pens. So many people are choosing Dr Dabber because it's a well-known, well-respected brand that has fantastic customer service. Ensuring customers are happy keeps them loyal, and it's hard to be upset when you have a quality vape pen in hand.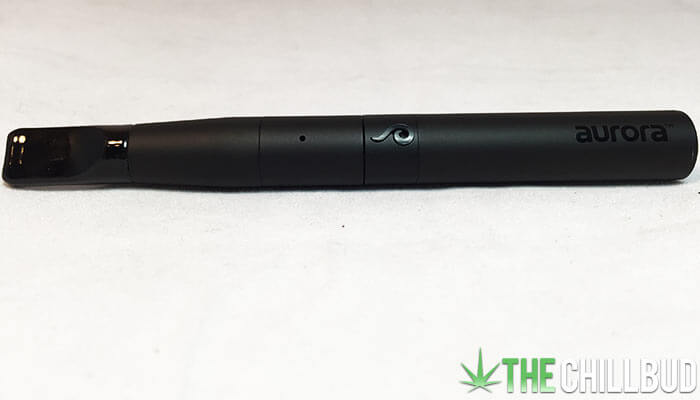 Dr. Dabber Aurora Review
The Dr. Dabber Aurora costs $99.95 USD, putting it on the higher end of vape pens as far as price is concerned. Remember when we said most vape pens are pretty similar to one another? Well the Aurora has one unique feature that sets it apart from the rest; magnets! Instead of dealing with conventional threading, having to screw each component together and worrying about gumming up the threads, the Aurora simply snaps together. A boon to some, a potential issue for those who prefer the universal customizability of 510 threading.
There's plenty of things other than magnets that make the Aurora a top-end vaporizer pen, so let's explore everything you get when you purchase an Aurora from Dr. Dabber.
Found in the box:
Aurora Vaporizer Pen

Ceramic halo atomizer

Dual ceramic rod atomizer

Dual quartz rod atomizer

Magnetic charger

Extra ceramic mouthpiece

Loading tool

Silicone concentrate container

Keychain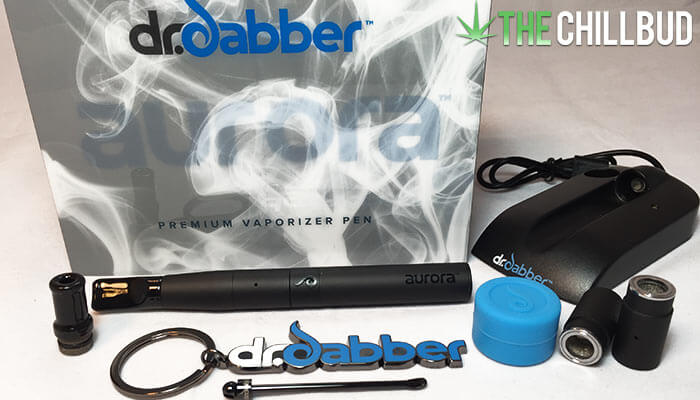 Right off the bat you notice the sleek design of the Aurora, similar to the other Dr. Dabber products. The matte black color and the minimalist high end styling won't turn heads when vaping in public. This is a huge benefit in my mind, not only does it help keep your toking inconspicuous but it also helps reduce the stoner-stigma.
The Aurora wax pen wouldn't be out of place in the hand of a suit-wearing professional, unlike some of the technicolor pens that can be spotted from down the block.
Staying in line with the style of the pen, the feel and quality are as good as it gets. While some vape pens perform similarly for less money, the quality just isn't there. Not only do you want a pen that performs well, you want it to feel solid, classy and reliable.
Dr. Dabber gives you 3 separate atomizers to choose from for your Aurora. A classic ceramic donut, dual quartz rod and dual ceramic rod which use titanium coils and quartz dishes. Regardless of your personal atomizer preferences, Dr. D has you covered.
Even the mouthpieces feel high quality. They could have easily gotten away with the industry standard plastic mouthpiece and no one would have batted an eye. Instead, they went with a ceramic mouthpiece, and they even threw in an extra one! No one really talks about the ceramic mouthpiece, but we figured it was worth mentioning because it's one of those small details that gives you some insight into the quality and production of the Aurora.
As far as using the Dr Dabber Aurora, it performs really well. It's not on a different level from other high-end wax pens, as they all perform pretty similarly at this level. It uses the 5-click safety lock feature, meaning you need to click the button 5-times quickly to unlock the unit, and then press and hold to heat up the coils. I was getting huge vapor clouds on the very first haul. My only suggestion would be to heat the unit for around 2-3 seconds after you first load it. This will help heat everything up and ensure a robust first toke.
Depending on the type of concentrate you're using, you can tailor the atomizer to the concentrate and dial between 3-different heat settings. I found the Aurora was extremely easy to use right away, but once I had some experience with it and got the heat setting / atomizer fine tuned its greatness really started to shine.
Pros
Function reigns supreme. The Dr Dabber Aurora performs exceptionally well, it's at the top of its game. Again, they aren't reinventing the wheel by any means, but it performs like it should for the price point.
Quality is another major pro for Dr Dabber. Everything from the packaging, the feel of the vaporizer itself, to the way everything fits together, the Aurora is as solid as a vape pen can get. Couple that with great customer service and you're guaranteed to be satisfied.
Vapor quality and taste is similar to other vape pens using premium materials like titanium coils and quartz trays. You get pure, unadulterated vapor that's as tasty as it gets.
I'd be crazy if I didn't put the magnets here. Yes, I'm a huge fan of magnets and I believe they should be incorporated into every product ever. If the magnets are weak it completely eliminates the benefit and turns it into a nuisance. Thankfully the Aurora uses strong magnets that won't detach when jostling in your pocket or purse.
Plenty of extra parts. You get 3 different styles of atomizers, a couple of ceramic mouthpieces and a few extra goodies that everyone will find useful. Despite the proprietary snap-tech design, they give you plenty of options to choose from.
Cons
For those of you who already have plenty of vape pen parts that use the universal 510 threading, the Aurora is not compatible. The new snap-tech used in the Aurora is awesome, but it means you're locked into using Dr Dabber snap-tech parts exclusively. This won't be a problem if it's your first vape pen or you don't bother mix and matching batteries and atomizers.
Dr Dabber offers a no-questions asked 1-year warranty for their battery and charger. This is only a con considering some other companies offer more comprehensive warranties, and others offer lifetime warranty on many of their components.
I found that in order to truly get the most out of the Aurora you need to load it with a good deal of concentrate (a good deal compared to what I would normally load). Honestly, this won't be a problem for the vast majority of people who pack regular sized ovens.
Final Thoughts
Modern vape pens don't differ too much from one another as long as they're using high end materials. A lot comes down to the style of the pen, the feel of it, and of course the price.
The Dr Dabber Aurora vape pen is high end, it feels fantastic and the price is more than fair.
The only thing that could divide people is the use of the snaptech system, alienating the 510 thread crew. For me, this wasn't an issue and I loved the magnetic design.
It's my new daily driver as far as concentrates go. If I'm at home I'll probably use a rig or the Boost e-Rig, but if I'm on the go or just want to leisurely take a few hoots I'll reach for the Aurora every time.
Get yours here: DrDabber.com
Dr.Dabber Aurora
Vapor Quality -

8/10

Build Quality -

7.5/10

Usability -

8/10

Stealth -

9/10

Value -

7.5/10
Overall Score
Solid feeling / performing vape pen for a fair price.
Comments