The Daily High Club (formerly the Dollar High Club) just released an amazing box for April curated by YouTube sensation CustomGrow420. It's no secret that DHC has been one of our absolute favorite stoner subscription boxes since we got our hands on it. We already have a pretty comprehensive review of the Dollar High Club, but we figured that it was worth putting together another piece for the newly dubbed Daily High Club.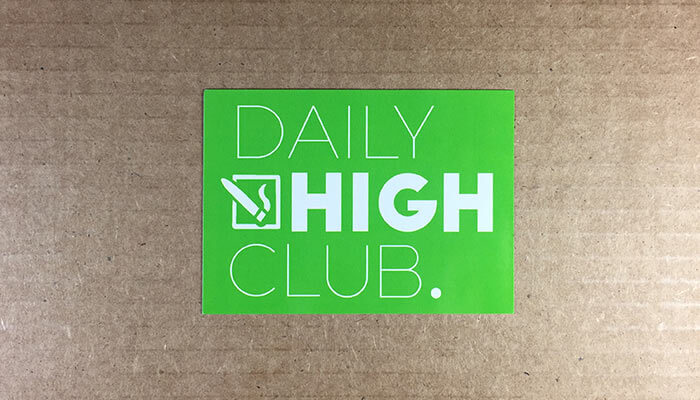 Daily High Club Subscription Box Review
Discretion is very important when it comes to shipping anything related to cannabis. Not many people are comfortable receiving a package that's covered in pot leaves, and I can't blame them. The Daily High Club understands that not everyone wants to wear their cannabis flag on their sleeve, so it arrives in a plain brown box with no discernible markings that would give away what's inside.
Now let's dive in!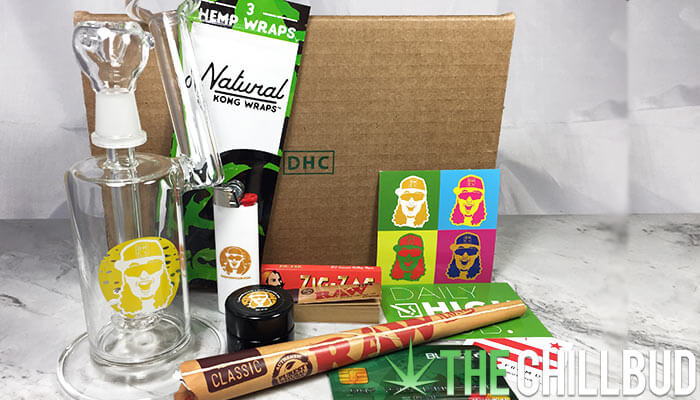 The Daily High Club offers a few subscription tiers to choose from, starting as low as $1 per month for their 'All-Natural' option, and up to $30 for their 'El-Primo' box. We'll be covering the contents of April's El-Primo box which was curated by CustomGrow420.
Stash List
Custom Grow glass bubbler
Freshr UV stash jar
Zig Zags
RAW tips
Credit card stash bag
Kong Hemp Wraps
RAW Emperador Cone
Bic lighter
Glass screen
Dope sticker set!
Our Feels on the Daily High Club
The piece that really shines in April's box was the bubbler, complete with CustomGrow420's face plastered on the side of it. As with most subscription boxes, the most valuable item is the glass piece. Sometimes it can be a simple spoon pipe (usually the case), but in this month's DHC you get a big o'l bubbler that's well worth the $30 all by itself.
New glass is always exciting, but the essentials are important as well. DHC has you covered with papers, tips, fire and some added extras. The RAW Emperador Cone was a fantastic addition for this month as I'm sure plenty of subscribers will find it useful for their 4/20 celebrations.
I really want to say that this month's box was our favorite of all time, and it would be if we didn't curate our own box back in September. We'll give the DHC x CustomGrow420 colab a close second though.
Daily High Club's cheaper subscription options shouldn't be overlooked. Assuming you don't need / want any more glass for your collection (really???) you can get the essential smoking supplies delivered right to your door for $1 (+ $2 s&h) or get even more goodies with their $12 connoisseur box (ships for free).
I love that DHC decided to partner up with CG420 for this month's box. CustomGrow420 is a Youtube stoner super-star that's always releasing new videos where he is toking hard. Curating a box filled with branded stoner goodies allows fans to puff alongside CG420 with a piece designed by the man himself.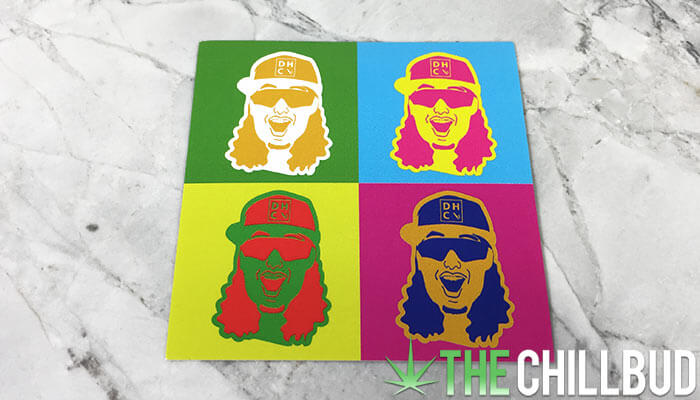 The Daily High Club boxes are shipped out the very next business day, unlike some other services that ship out once a month. One of our favorite things about DHC is that they have a really great store set up. If you missed a box or want to double up on a particular glass piece, chances are you can find it in their store.
May 2017 DHC
Get your box here: DailyHighClub.com
Comments